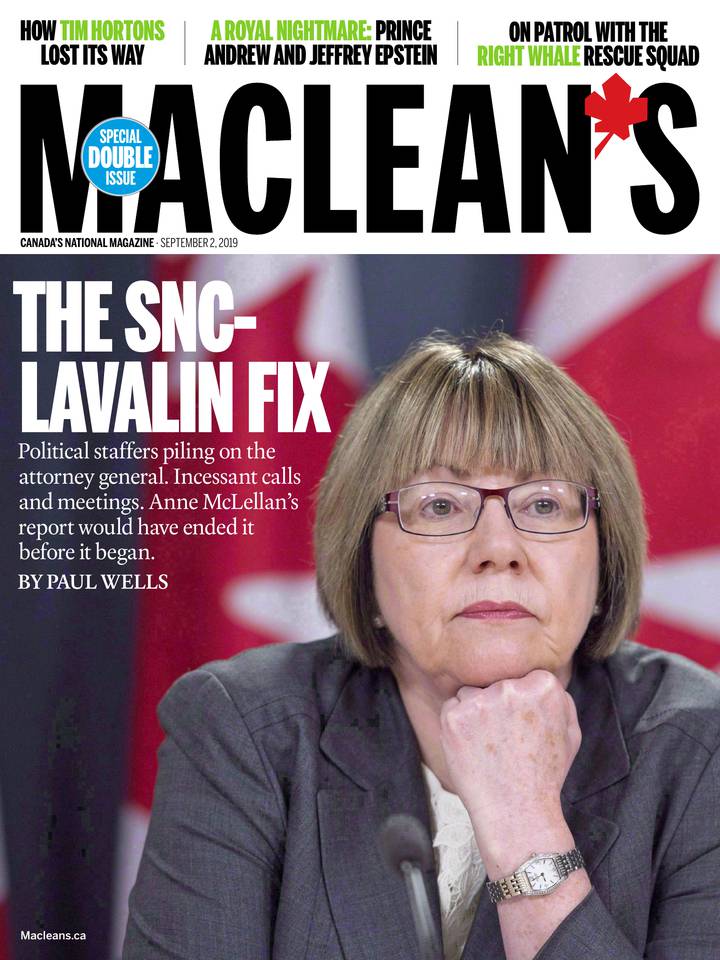 Maclean's
September 02, 2019
Preview
Canada's national current affairs and news magazine
THE EDITORIAL
The ascendancy of anger
KEEP 'EM SMILING. Incumbent politicians are well-advised to ensure voters are feeling happy prior to an election. But what does happy really mean? Conventional wisdom has long held the economy is the...
Read More
September 2, 2019
THE EDITORIAL
The ascendancy of anger
KEEP 'EM SMILING. Incumbent politicians are well-advised to ensure voters are feeling happy prior to an election. But what does happy really mean? Conventional wisdom has long held the economy is the...
THE COLUMNISTS
The deafening sound of Canada's silence
All flights out of Hong Kong International Airport were cancelled one afternoon last week as authorities blamed protesters for disruptions following a brutal police crackdown on street demonstrations...
A fix that might have spared us the SNC affair
I want to talk more about Anne McLellan's report, which the Prime Minister's Office released last week on the same day Ethics Commissioner Mario Dion released his own report into the SNC-Lavalin...
NATIONAL
Why so shy, SNC?
The ethics commissioner's report suggests SNC-Lavalin took a pass on Wilson-Raybould's offers to relay its public-interest arguments It's hard to imagine anyone shrugging off today's finding from the...
How a bill becomes custom-made law
SNC-Lavalin had two former Supreme Court justices, a former Privy Council clerk and the PMO on its side—but still landed in court Sixty-seven times a day, typically somewhere in Ottawa, a lobbyist has...
His own 'Just watch me!' moment
Justin Trudeau reframed his ethics violation as a civic virtue—this government will protect jobs, even if lines need to be crossed Justin Trudeau doesn't apologize, at least for non-historical...
Petitioning for re-peel
Gas station owners proposed their own fuel-pump stickers, but the carbon tax-obsessed Ford government found them too revealing Faced with the Ontario Conservative government's plan to force gasoline...
The campaign starts here
On Thursday, Sept. 12, Maclean's and Citytv are hosting the first leaders debate of the election calendar, moderated by Paul Wells MACLEAN'S AND CITYTV are hosting the first National Leaders Debate of...
Wait, what am I signing?
At Ontario's highest court, a judge signed off on a 25-page ruling. Appeal courts are, to put it roughly, in constant search for errors in judgement by lower courts. The error recently flagged by the...
A whale for the saving
A North Atlantic right whale is entangled in fishing gear and likely to die—unless a team of dauntless rescuers gets to him first It was sunrise as Mackie Green and his team launched from the...
A slippery green slope
Toronto's ravines look good from afar. A closer look shows they're choked by non-native trees, weeds and vines. At first glance, there seems little amiss in the thickly forested valleys that wind...
Foraging in spring
Water foragers are turning off their taps—and going straight to the source. Their ideas range from the earthy to the fanciful. Once a month, Susan Chipman drives to a mountainside spring that burbles...
INTERNATIONAL
Greta Thunberg: A message in a racing yacht
The 16-year-old climate activist is on a daring trip sailing across the Atlantic instead of flying. Greta Thunberg does not mince words. The teenage climate activist scolded British lawmakers to their...
NATIONAL
The bearable lightness of Boris
The British PM's strength lies not in a calculating lust for power but in how few tosses he gives. Here's why voters find it irresistible. There are few values that unite the British across history...
SOCIETY
What would Frederick Banting think?
Insulin's co-discoverer donated the patent to try to avoid today's tragedies It has been called "insulin tourism." But to a caravan of Americans who crossed the border to Canada earlier this summer,...
A princely stun
Buckingham Palace denies any criminal link between Prince Andrew and Jeffrey Epstein, but the pictures have already done damage Throughout his adult life, Prince Andrew has surely known that the sword...
Hazy summer days
A photographer documents the diversity of rural life in western Manitoba Photographer Tim Smith was driving on an August evening when he saw a fleck of movement across a Manitoba field. Children from...
A tsunami's reverberations
Linden MacIntyre tells the story of a Newfoundland disaster whose lethal legacy lasted for decades On Nov. 18, 1929, fisherman Patrick Rennie watched from higher ground in Lord's Cove, Nfld., as a...
Dear Nate and Aislyn . . .
Edward Piva on his kids' curiosity, their own path to reconciliation and Gord Downie's enduring lessons for Canadians IT WAS AUGUST 20, 2016, and in Kingston, when Gord Downie took the stage with The...
THE BEST FOR LAST
How Tim Hortons lost its way
In one of our favourite stories this week, Corey Mintz stops for a double-double and discovers an alternate dimension of waffie breakfast sandwiches, nitrogen-infused cold brew and a shiny new...
Thank you
You just used 1 credit. You have left.