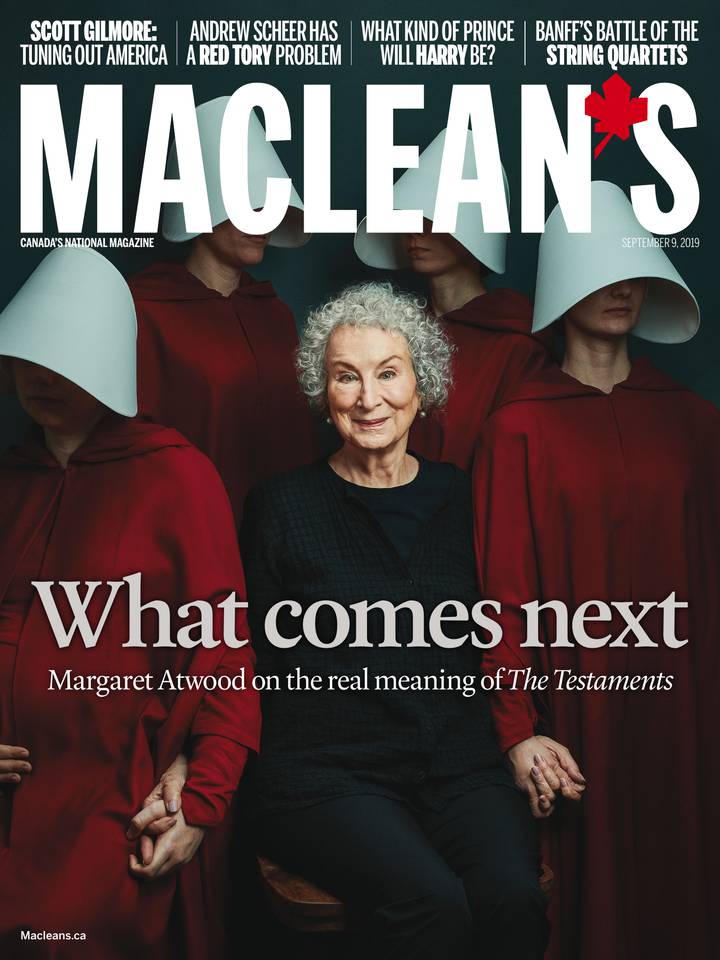 Maclean's
September 09, 2019
Preview
Canada's national current affairs and news magazine
THE EDITORIAL
We're doing this
"An election is coming," British novelist George Eliot noted wryly in 1866. "Universal peace is declared, and the foxes have a sincere interest in prolonging the lives of the poultry." You could say...
Read More
September 9, 2019
THE EDITORIAL
We're doing this
"An election is coming," British novelist George Eliot noted wryly in 1866. "Universal peace is declared, and the foxes have a sincere interest in prolonging the lives of the poultry." You could say...
THE COLUMNISTS
A cherry picker's guide to climate change
Joe Oliver, who served as natural resources and finance minister in Stephen Harper's government, appeared on Global TV's West Block show on Sunday to tell viewers that they have the wrong idea about...
Tuning out America
Presidential legacies are slippery things. Occupants of the Oval Office always try to frame their administration in the best light possible, hoping that history will remember their accomplishments and...
NATIONAL
Red Tory rebellion
I look at Andrew Scheer and his comments on same-sex marriage and can't quite take the measure of the man. He can't afford that. The Liberal Party is speaking to me. Or rather, they're trying to speak...
A new political pipeline
If Albertans want the rest of Canada to take their issues more seriously, they should stop voting Conservative OPINION Like a lot of Albertans these days, Michelle Rempel is frustrated with the rest...
Mr. Almost Fix It
Jason Kenney was handed a convenient blueprint (the one he ordered) to fix half of Alberta's fiscal house The pre-budget messaging Jason Kenney's government solicited and received was in blown-up text...
Where Liberals aren't getting high
Legal weed has brought jobs by the hundred to places that need them. Yet many of those ridings are poised to vote Conservative. In 2018, the veteran Conservative MP Scott Reid was the only Tory who...
INTERNATIONAL
Kicking down the door
Andrew Yang and his outsized ideas have electrified the Dems' nomination race Last year, around 100 people showed up to the Belknap County Democrats' annual summer picnic. Many had white hair and...
Stand up for us before it's too late
'Hong Kong is the foreshadow of what will happen to the western world,' warns one leading demonstrator. Kacey Wong is one of Hong Kong's most beloved and celebrated artists. He's an award-winning...
It's time to start 'meddling' with China
As more and more Canadians are being plunged into the black hole of China's criminal justice system, Canada must stand firm OPINION It is ironic, albeit unsurprising, that the Chinese government...
Jacob Rees-Mogg, the U.K.'s sleepiest MP
Jacob Rees-Mogg, a hardline social conservative-turned-meme machine, slouched his way through a Brexit debate in spectacular fashion BY MICHAEL FRAIMAN The lanky, balmy, bespectacled Jacob Rees-Mogg...
SOCIETY
Atwood's urgent new tale of Gilead
In her much-anticipated sequel to The Handmaid's Tale, the renowned author takes her anti-woman dystopia to the age of Trump. It's not every literary novel that gets to be launched at a midnight bash...
How Canada went to war
In 1939, the country made an independent decision to fight the Nazis, one taken with scarcely a voice raised against it in Parliament "If you were to ask any Canadian," the country's great humorist...
A fork in the red carpet
As a married man and new father, Prince Harry needs to figure out how independent he will be from the rest of the Windsors Popular not only for his warmth and wit but also for how he's talked so...
Battle of the string quartets
Every three years in the Canadian wilderness, young musicians battle to be named the top string quartet—and win a career on a platter How do you judge a music competition? It's apples and oranges,...
THE BEST FOR LAST
The quick and the deadly
In one of our favourite stories this week, Maclean's visits a Langley, B.C., woman who has become the star of an arcane Wild West sport. But first she had to learn to outdraw her mom. Rachel Jansen...
Thank you
You just used 1 credit. You have left.