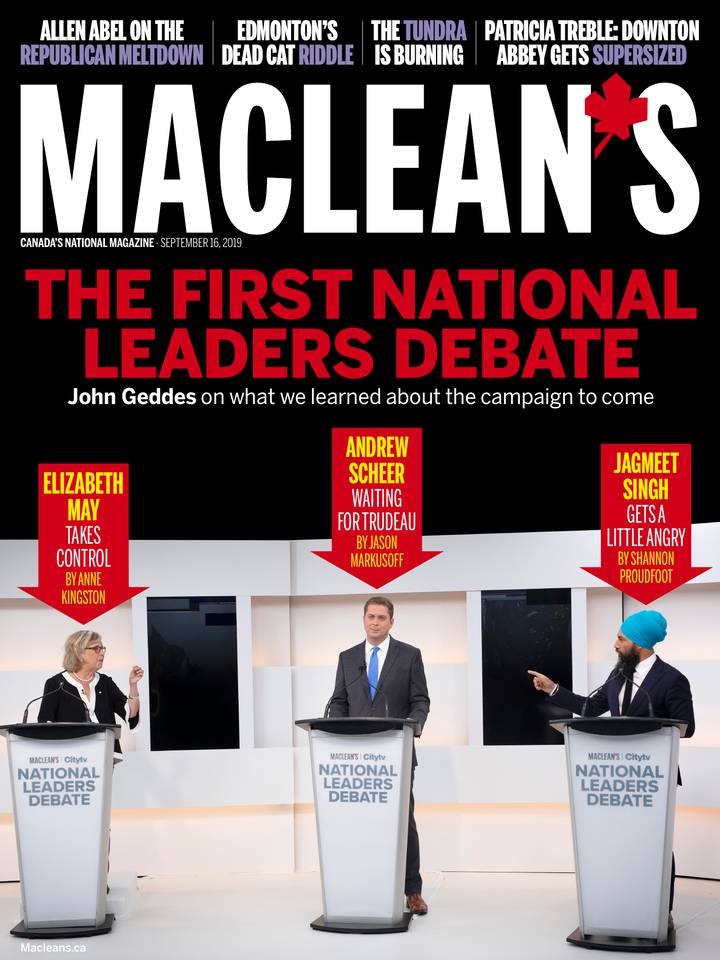 Maclean's
September 16, 2019
Preview
Canada's national current affairs and news magazine
THE COLUMNISTS
Andreescu showed her work, then she owned it
There's nothing more "Canadian," or so goes the cliché, than a big show of humility. We're a nation of people, it's been joked more than once, who apologize when someone steps on our feet. We say...
Read More
September 16, 2019
THE COLUMNISTS
Andreescu showed her work, then she owned it
There's nothing more "Canadian," or so goes the cliché, than a big show of humility. We're a nation of people, it's been joked more than once, who apologize when someone steps on our feet. We say...
NATIONAL
Wanted: a leader with big ideas
This election demands a candidate who can rise to the challenges of trade wars and global instability. So far, the leaders look like trainees. Comes the hour, comes the man, says an old saying in need...
Battleground Ontario
Why the Toronto suburbs—like must-watch Milton—could decide the election Glancing at the trim, dark-haired guy in the booth at the back of a retail-plaza restaurant in Milton, Ont., a lot of Canadians...
Swing towns
Twenty of 30 ridings in Ontario's 905 region, an electoral barometer, have no clear frontrunner It is a Canadian cliché to state that the all-important 905 region of Ontario makes or breaks...
The campaign to come
The party leaders' closing statements at the first debate revealed a lot about their strategy and the path they see to power One way to try to make sense of tonight's federal leader's debate is to...
Green shoots
Elizabeth May faced a crucial test: to show that a vote for her party was a credible alternative to the Liberals and the NDP A foreshadowing of the tone Elizabeth May brought to Thursday night's...
The man who wasn't there
It should be easy to look prime ministerial when the Prime Minister isn't at the debate. But Scheer couldn't quite pull it off. More than two years after Andrew Scheer became leader of Canada's...
Jagmeet Singh gets a little angry
The NDP leader was at his most compelling when he was standing up for a cause. It helped him emerge from the first debate a winner. Jagmeet Singh should get angry more. Indignant. Exasperated....
Brian Pallister's gamble pays off
The NDP increased its seat count, but voters rewarded Pallister's early election call with a second term for the PCs Just as it will be in the federal campaign, voting in the Manitoba election on...
Land of ice and fire
A warming Arctic means wildfire season in the north is starting earlier, while the fires grow ever hotter Chad Thomas started fighting wildfires at 16, sacrificing every summer since battling the...
INTERNATIONAL
Republican meltdown?
Former G.O.P. strongholds like North Carolina are increasingly in play thanks to Trump's toxic politics, boding ill for the party in 2020 Atsu Mable—it rhymes with "wobbly"—was taking a walk around...
ECONOMY
Mix of sun and recession
Are Canadians being left behind or benefiting from a thriving economy? For this election, it's both. If you wanted to put current economic conditions into weather terms, picture sunny skies and balmy...
SOCIETY
The dead cat riddle
The mutilated bodies suggested psychopaths, but a new branch of forensics pointed elsewhere The mystery started with dead, mutilated cats left on front porches and lawns or in schoolyards in Edmonton...
Perilous encounters with strangers
Prone to misjudge people who act outside the norm, humans need to learn to do better, Malcolm Gladwell argues in his new book Malcolm Gladwell's highly successful writing career rests on a signature...
A supersized Downton Abbey
Fans of the hugely popular show can now plunge into the movie, which offers all of the series' visual and narrative treats On a cold, snowy evening in January 2011, millions of North Americans settled...
SPECIAL INTEREST FEATURE
Private Schools: Education Unbound
There are many similarities among private schools, or "independent" schools as they are known if they are not-for-profit – high academic standards, stellar facilities, a wide range of co-curriculars...
SOCIETY
Dear son . . .
As Rachel Wallace-Oberle watched her son pack his U-Haul, everything that matters had already been said A U-Haul trailer doesn't ordinarily evoke emotion. I've passed hundreds of them on the road...
THE BEST FOR LAST
Sins of the flesh
In one of our favourite stories this week Shannon VanRaes talks to Winnipeg grocers about the rise of brazen thefts targeting an untraceable, high-value target: meat Munther Zeid pages an employee at...
SPECIAL REPORT
COMPETITION IS HEALTHY. INSPIRATION IS KEY.
Entrepreneurship is a gladiator's endeavour: between the epic quests for financing, endless nights and weekends, and heart-pumping races to customer's hearts (and wallets), building a business is a...
PUT PEOPLE ABOVE PRODUCT
With its emotionally intelligent, AI-powered algorithms overhauling the world of online advertising, Cluep still places humans at the heart of its innovation "How are you?" It's one of the first...
MASTER THE DIRECT-TO-CONSUMER MODEL
How do these Growth 500 companies thrive in the fierce retail landscape? By working around the middlemen. It's a plight shared by countless up-and-coming entrepreneurs: you have an idea for a great...
BREAK GLOBAL MARKETS
Taking on the job of bringing a menstrual product to the far-reaching masses, Diva International had to expand its marketing creativity—and cultural consciousness During the course of a 15-minute...
KNOW YOUR NICHE
With a background in child care—and a dire need for it herself— Kids & Company CEO (and mother of eight) Victoria Sopik entered the biz with a serious insider's advantage It goes without saying that...
BECOME AN INDUSTRY TRENDSETTER
Consumer preferences can be, well, pretty fickle. Here's how Growth 500 firms became tastemakers, rather than taste-chasers. Take a stroll in any of the country's buzziest neighbourhoods, and it's...
INVEST IN YOUR EMPLOYEES
By offering mentorship and upward mobility to its workforce, Mississauga's When Pride Group Enterprises, a Mississauga, Ont., trucking conglomerate, recently moved to establish a dealership in...
FIND GOOD HELP
The Growth 500 winners clearly know how to run a business; but when even they run out of answers, in come the experts In business, as in life, it can be really (really!) hard to ask for help. Yet,...
EMBRACE THE PIVOT
Tiber River Naturals, the bath-and-body brainchild of Adriana De Luca, makes a solid case for succeeding by any means necessary The 1999 soft launch of Winnipeg-based eco-friendly bath-and-body...
ATTRACT TALENT TO TRICKY MARKETS
How Growth 500 winners have managed to incentivize high-performing recruits to go where few workers have gone before When career car dealer Brad Gregorini took over a mom-and-pop security firm in...
START FROM SCRATCH
Is it possible to recover from 100 per cent staff turnover? According to one co-founder of Calgary-based Glacier: with some serious self-awareness, yes. "I'm getting flashbacks over here." Matt...
THE COMPLETE RANKING OF CANADA'S FASTEST-GROWING COMPANIES
In many ways, the companies on the 2019 Growth 500 ranking of Canada's Fastest-Growing Companies are diverse: they represent a vast array of industries, regions and size. But in one variable they are...
STARTUP 50 OWN YOUR EXPERTISE
For Exzell Pharma, this year's Startup 50 winner, aligning with key opinion leaders (KOLs) in the medical world bolstered its physician founder's already formidable ambitions For years, Markham-based...
STRIKE A BALANCE
Creating a healthy separation between work and life may seem like an impossible task within new-growth companies—but this year's Startup 50 winners are certainly trying Though often flaunted as a...
CANADA'S TOP NEW GROWTH COMPANIES
The brash, bold, bright upstarts on our 2019 Startup 50 ranking of Canada's Top New Growth Companies represent the most promising enterprises the country has to offer. They've successfully brought...
Thank you
You just used 1 credit. You have left.