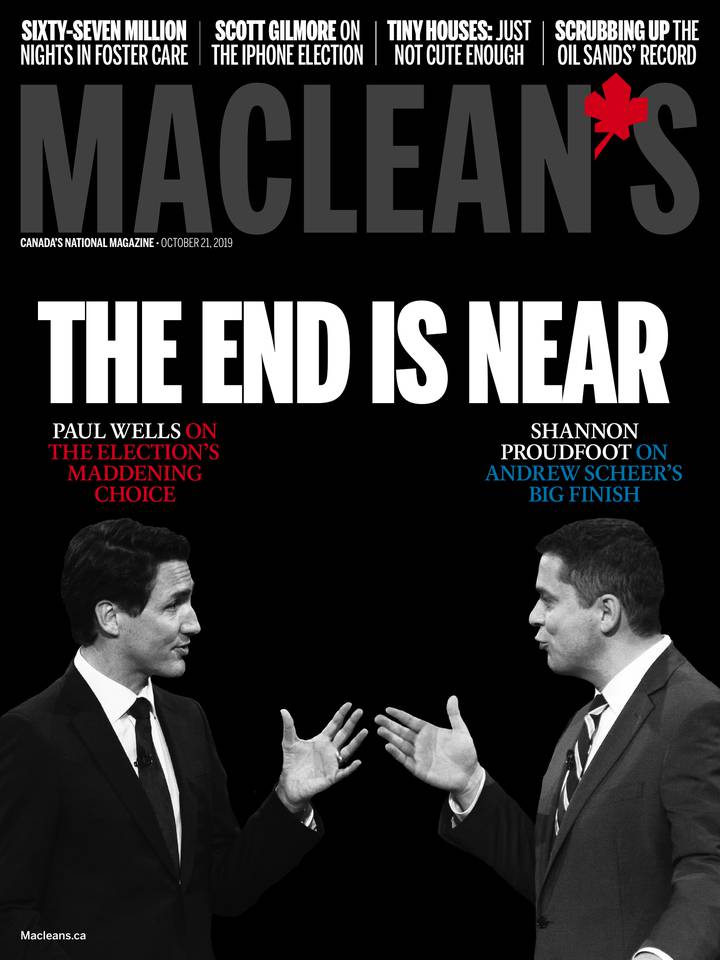 Canada's national current affairs and news magazine
LETTERS
'The courts are of little help, and the police are limited in stopping the violence. More detailed statistics will not change the number of deaths.'
First debate Kudos to Maclean's for having the debate and to Paul Wells for a fantastic job moderating it ("We're doing this," Editorial, October 2019). In my opinion, this debate was better than most...
Read More
October 21, 2019
LETTERS
'The courts are of little help, and the police are limited in stopping the violence. More detailed statistics will not change the number of deaths.'
First debate Kudos to Maclean's for having the debate and to Paul Wells for a fantastic job moderating it ("We're doing this," Editorial, October 2019). In my opinion, this debate was better than most...
THE COLUMNISTS
Canada's iPhone election
Canadian elections are among the most aggravating in the world. Watching the leaders race around the country, bemoaning problems we don't have, promising things we don't need, by spending money we...
NATIONAL
The best of times
Ten days before Election Day, the electoral landscape suddenly changed. And Andrew Scheer was finally smiling. Andrew Scheer's rally in Langley, B.C. was supposed to start at 6 pm, but still there is...
The noise and the stakes
The maddening choice: a government that is fiscally responsible, or one that takes climate action seriously. You can't have both. Much of what's happened in this miserable campaign has been healthy....
If proportional representation was real
How would this tight election end if Trudeau had kept his electoral reform promise? With three powerful parties, for starters. We stand only days away from the 43rd Canadian federal election, an...
Election ad, negative
Why Facebook pulled an anti-Trudeau ad from a third-party group funded by the conservative Manning Centre An anti-Liberal election ad paid for by the Manning Centre has been taken down by Facebook for...
Singh's secret weapon
The NDP leader switches between formal speech and 'multicultural Toronto English,' sounding both educated and down-to-earth When it comes to likability, Jagmeet Singh has gained ground against the...
Sixty-seven million nights in foster care
During the recent federal leaders' debates, Prime Minister Justin Trudeau repeatedly defended his government's judicial review of the Canadian Human Rights Tribunal's decision to award maximum...
Gurkiran Kaur deftly navigates the peculiar role of political spouse
Jagmeet Singh's wife manages to be supportive without seeming as old-fashioned as the concept itself In a country where unmarried prime ministers have been few and far between, a political spouse like...
A work in pieces, and a piece of work
Assad's man in Montreal is celebrated in Damascus for 'repatriating' a 5th century Byzantine mosaic to the blood-drenched regime Waseem Ramli, the notorious Montreal businessman whose diplomatic...
Scrubbing up the oil sands
Canada's bitumen giants say their crude is less carbon-intensive than the average. Do their claims hold up? This summer, with an election call in the offing and the debate over bitumen pipelines...
Jason Kenney's next test
Greta Thunberg's visit to Alberta shines a global spotlight on its oil and gas industry. But will they squander their moment? For months now, Jason Kenney and his United Conservative Party have talked...
INTERNATIONAL
What about 'never again'?
Germany should be a model when it comes to dealing with white nationalism. But recent events suggest otherwise. On October 9, a 27-year-old man killed two people outside a synagogue in the German town...
SOCIETY
First crop of #MeToo books
The books, including a riveting account of the Harvey Weinstein case, reveal the complexity of the #MeToo movement The first of what's destined to be library of #MeToo books arrived in October, the...
BEST FOR LAST
Tinytown hits a big wall
In one of our favourite stories this week Alireza Naraghi looks into why tiny homes—in all their 350-square-feet of adorability—failed to win over the Okotoks town council as an eco-friendly option...
Thank you
You just used 1 credit. You have left.