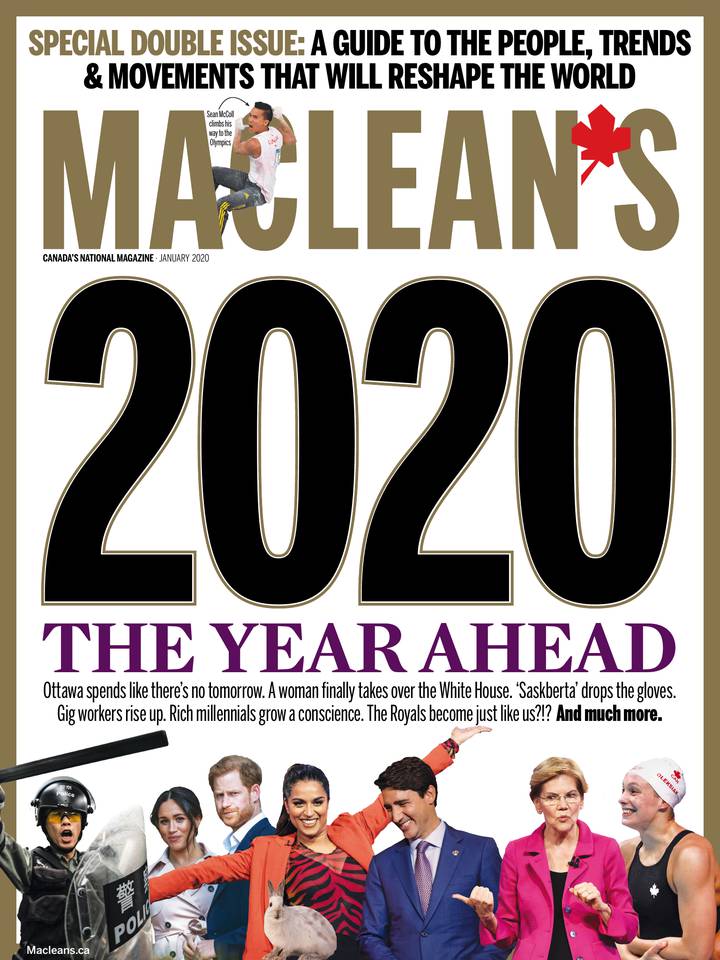 Canada's national current affairs and news magazine
THE EDITORIAL
The human touch
No one would ever accuse the U.S. Navy of being unmodern. Its aircraft carriers, planes and ships are packed with the world's most sophisticated technology. And yet it recently announced a move that...
Read More
January 6, 2020
THE EDITORIAL
The human touch
No one would ever accuse the U.S. Navy of being unmodern. Its aircraft carriers, planes and ships are packed with the world's most sophisticated technology. And yet it recently announced a move that...
THE COLUMNISTS
New world disorder
Democracy is at risk, the planet is in peril, and opioids are deadlier than ever. In 2020, what—if anything—are we going to do about it all? In 1974, the German philosopher Jürgen Habermas coined the...
The courage to save lives
In 2019, about 12 people die every day from an opioid-related overdose. It's Canada's most significant public health threat since 1919, when 55,000 people died from the Spanish flu. Not only are...
No more thanks for injustice
The government of Canada is a repeat offender when it comes to discrimination against First Nations children. Yet it is so bound up in its colonial ideology that it expects First Nations to be...
The sound and the fury
In the year ahead, Albertans will make dark threats about separating from Canada. They will not separate. Everything is going to be just fine. In Ottawa, the Prime Minister will describe in great...
Time for the left to quit capitalism
Late last year, I got an unusual request. A person identifying themselves as an environmental activist sent me a direct message asking if I would recommend a few books, as the organization they worked...
Millennials: Side with Gen Z
In October, the phrase "OK boomer," which got its origins from a TikTok video, went viral. In the split-screen video, an unidentified 60-something male harps on millennials and members of Generation Z...
NATIONAL
Hey big spenders
The days of endless deficits are back, and with minority government pressures and economic trouble ahead, that's a problem Only a few years ago, the notion of running government deficits year after...
EXTRA DAY
Elizabeth May would get on the horn
As our annual calendar gets readjusted with the once-in-four-years tweak, we get the day we get. But if it were magical, if it were an extra day, what would be the best way to spend it? I would do the...
NATIONAL
A disturbance in the federation
When federal and provincial governments clash, there's usually at least a desire to make progress. Not this time. For a glimpse into how regional conflict might dominate our politics in 2020, watch...
How to hang on by a seat
John Horgan is Canada's only NDP premier, thanks to a coalition with the Greens. Will it survive the year? It's only 9 a.m. on a cool fall morning and B.C. Premier John Horgan needs some air. He...
INTERNATIONAL
State of disunion
Donald Trump's final innings would be less daunting if the rule of law hadn't been called out at third base—to the delight of the president's cheering fans The year 2020 brings the Games of the XXXII...
EXTRA DAY
Aurora Browne would set a few fires
If I had a day to do whatever I wanted? I would turn myself into a dragon and carry out some benevolent destruction. I would fly out over the oceans and incinerate every whaling ship I could find. (I...
INTERNATIONAL
Not 'unelectable' after all
The biggest obstacle to putting a woman in the White House might be the belief that other Americans won't In November 2020, Americans are likely to elect the first-ever female to the highest ranks of...
EXTRA DAY
Matt Galloway would make plans to see what happens
I've spent the last 10 years waking up before 3 a.m. and I'm perpetually jet-lagged. So the obvious thing would be to say, I'm going to spend that day sleeping. But I'm not really that kind of person....
ECONOMY
Order up a union
The gig economy keeps growing, but its workers are fed up. On the morning of Nov. 6, a group of Foodora food delivery workers arrived for a "breakfast rally" in front of the Ontario Labour Relations...
EXTRA DAY
Cristine Rotenberg would not come out to play
I would spend the day off social media. That's one thing I haven't done since I stumbled into being an internet personality. I started my YouTube channel in 2014, and I don't think there's been a...
SOCIETY
Young, rich and contrite
Inside the secret group where Canada's wealthy millennials learn how to redistribute their wealth. Could this be the next great trend in philanthropy? Meetings usually begin with a "money story."...
His, hers, and everybody's
From haircuts to jumpsuits, we're moving toward gender neutrality. But not without pushback. In late November, Kristin Rankin, owner of the Toronto hair salon Fox & Jane, travelled to Geneva to meet...
Regular folk, out for a walk
What if Prince Harry and Meghan Markle ditch their titles, the palace and all the trappings of royal life? In recent months, Harry and Meghan have made no secret that they aren't happy with their...
EXTRA DAY
P.K. Subban would seek out some magic
I would take my whole family to Disney World in Florida. Obviously I'd bring my fiancée, Lindsey [Vonn], and my nieces and nephews—I know they'd enjoy it. It's an easy choice, actually. I do a lot of...
SOCIETY
This bud's for stew
Microdosing and terpene-pairing are about to give a whole new meaning to the high in 'haute cuisine' The first time 30-year-old Sarah Best saw a Levo—a slender countertop appliance that could easily...
The shiny-old-thing syndrome
Nostalgia is driving the 'newest' crop of TV shows and movies. That, and the bottom line. Any time someone complains that TV shows and movies are too reliant on rehashes, remakes and reboots, someone...
Whither the white rabbit
With climate change, camouflage has become hazardous for a common boreal forest hare. Will it have time to adapt? The jarring image of a snow-white hare in a brown landscape could be a sign that all...
Ice unknown
Arctic sea-ice reductions have led to huge thaw slumps and displaced animals. Can anyone predict what's next? There's something otherworldly happening in Canada's Arctic as the warming climate burns...
EXTRA DAY
Jillian Vanstone would get a good dose of gabbing
I have a group of girlfriends whom I'm very close with. There are five of us, but only two of us live in Toronto. We all work in the arts. It's very, very rare that all five of us are in the same...
SOCIETY
Will she win three more?
Penny Oleksiak has a big record in her sights this summer. Penny Oleksiak says she's still growing. She's not talking metaphorically about her status at international swimming competitions, which she...
Faster, higher, stronger. . . cooler?
Three new 'alleged' sports at Tokyo 2020 vie for a younger audience Twenty-five years ago, older generations were quick to make fun of the inaugural X Games. One Washington Post sports columnist...
Turning a new page
In 2020, books lose interest in Trump to instead focus on the changes that have reshaped our world (and ourselves) Perhaps it's Trump Fatigue, although it's more likely publishers and writers are...
THE BEST FOR LAST
Dear oven . . .
In one of our favourite stories this week, Katie Underwood affectionately roasts the increasingly obsolete amenity that has warmed our hearts (and hams) for more than a century Like most millennials,...
Thank you
You just used 1 credit. You have left.