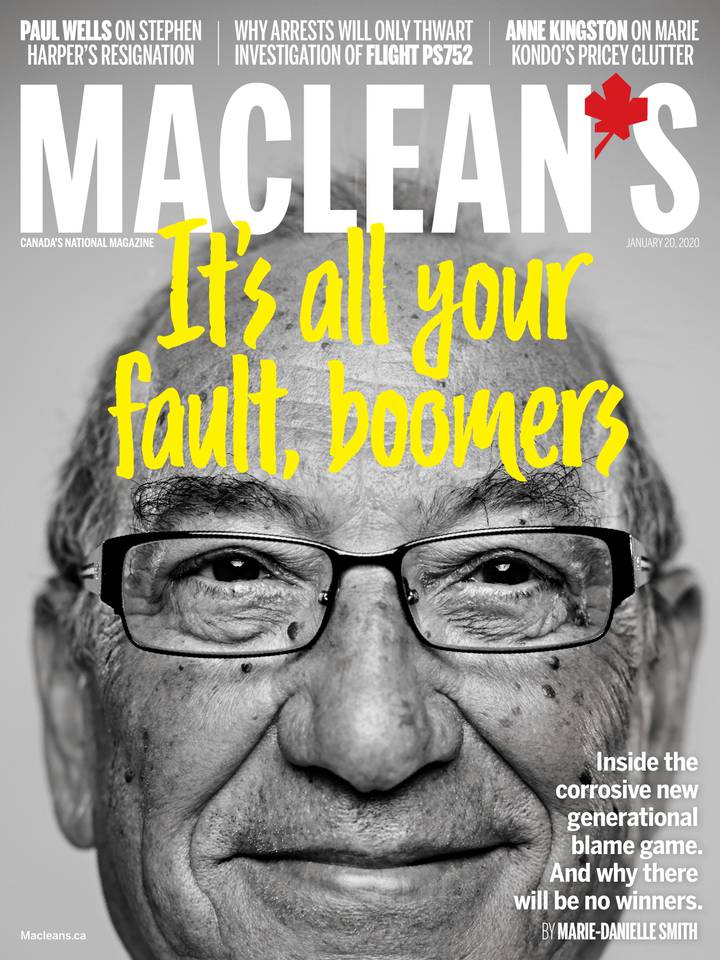 Canada's national current affairs and news magazine
THE EDITORIAL
Why we did this
"Each generation thinks it invented sex; each generation is totally mistaken," science fiction author Robert Heinlein wrote in 1980. The always perceptive Heinlein is correct, of course, if somewhat...
Read More
January 20, 2020
THE EDITORIAL
Why we did this
"Each generation thinks it invented sex; each generation is totally mistaken," science fiction author Robert Heinlein wrote in 1980. The always perceptive Heinlein is correct, of course, if somewhat...
THE COLUMNISTS
The climate blame game
"Within the next decade or so, we are going to pass a number of tipping points beyond which it's going to be very difficult to recover." So begins a video titled "Nature's Emergency," released by the...
The time for Trudeau to draw a line with Trump
Again, Prime Minister Justin Trudeau has shown his message discipline and empathic abilities when responding to events. Last week, Trudeau told Canadians that trusted intelligence reports showed...
NATIONAL
Stephen Harper's plan
The former PM resigned from the Conservartive Fund board. His aim, sources say, is to free himself to counter Charest's leadership bid. Former prime minister Stephen Harper has suddenly resigned from...
Harassment at Rideau Hall
Last year, an employee survey painted a gloomy picture of working at Rideau Hall. The latest survey shows improvement—but a ways to go. One of the first internal evaluations of Governor General Julie...
When arrests are bad news
Crash detectives rely on operational staff, air traffic controllers, airline schedulers—people who feel safe to speak up OPINION The news that Iran arrested an undisclosed number of suspects in...
Standing against a B.C. pipeline from three provinces away
Supporters of Wet'suwet'en hereditary chiefs fighting Coastal GasLink are hitting the streets of their own communities Wet'suwet'en hereditary chiefs and their followers are not backing down for...
War of the ages
The generational divide is society's new battleground, pitting boomers against millennials and everyone in between. The kid with the green mohawk declines to say much about "EAT THE RICH," the bolded...
Why intergenerational warfare is a mug's game
It's dehumanizing, ageist and divisive. Who needs it? Here's a thought: Every time you hear one generation being pitted against another, call out "OK sucker!" That term would have been useful during...
ROUGH GUIDE TO THE GENERATIONS
Tastes and habits may vary from person to person, but every cohort has its calling cards BOOMERS Born: 1946-1964 Fun fact: Women had an average of 3.7 kids during the baby boom period Watched: The...
The music of our youth
What does it mean to be a baby boomer, Generation X, millennial or Gen Z? Four essays from Canadian authors on the events that shaped them–and their cohort. In high school I marched for nuclear...
Meet the slackers
When the editors planned this two-cover magazine, they must have forgotten Gen X. Sandwiched between the bombastic boomers and shouty millennials, we're the overlooked middle child, a small cohort no...
Our future is MASH
When I was a kid, all the girls loved to play a game called MASH. It offered a glimpse of our futures; a fortune-telling predecessor of the horoscopes millennials revere today. We all know our star...
Don't you see yourself in us?
When you think of Gen Z, perhaps the image that comes to mind is a tween hovering over a computer, online shopping, scrolling, posting and commenting. It's difficult to look at Gen Z and not confine...
INTERNATIONAL
Mayor Pete's Iowa
Buttigieg's Christian values, military service and academic aesthetic are drawing support The queue stretches long around Indianola High School, shooting from its red brick gymnasium into the crisp...
On the front lines of 'mega-mega' fires
Inside the terrifying battle against the bush blazes, and the efforts of Canadians who are in the thick of the crisis Kenna Sadler figured Australia's wildfires would reach the town of Ensay...
ECONOMY
Amortization what?
When it comes to the $1.6-trillion mortgage market, a government survey shows Canadians don't understand even the basic terms It's no secret that the financial literacy of Canadians is tenuous at...
SOCIETY
Animal farm in the city
Cruelty to animals became an issue in the late 19th century. The solution was to banish them from sight. On Sept. 8, 1827, a group of American hotel entrepreneurs arranged for the Animal Boat, a leaky...
Brotherly shove
Harry and Meghan's absence will increase the pressures on his older brother Prince William and Kate They were the Fab Four—Prince William and Kate, Duchess of Cambridge, and his younger brother,...
Dear Mama. . .
Deidre Olsen thanks her mother for her support and fearless protection. 'You were a superhero in my young mind.' It's difficult to imagine myself as you once knew me—three years old, bright-eyed and...
THE BEST FOR LAST
Marie Kondo's pricey clutter
In one of our favourite stories this week Anne Kingston considers the tidying diva's new product line and finds that while it passed Kondo's own 'spark check,' existential questions remain Could a...
Thank you
You just used 1 credit. You have left.