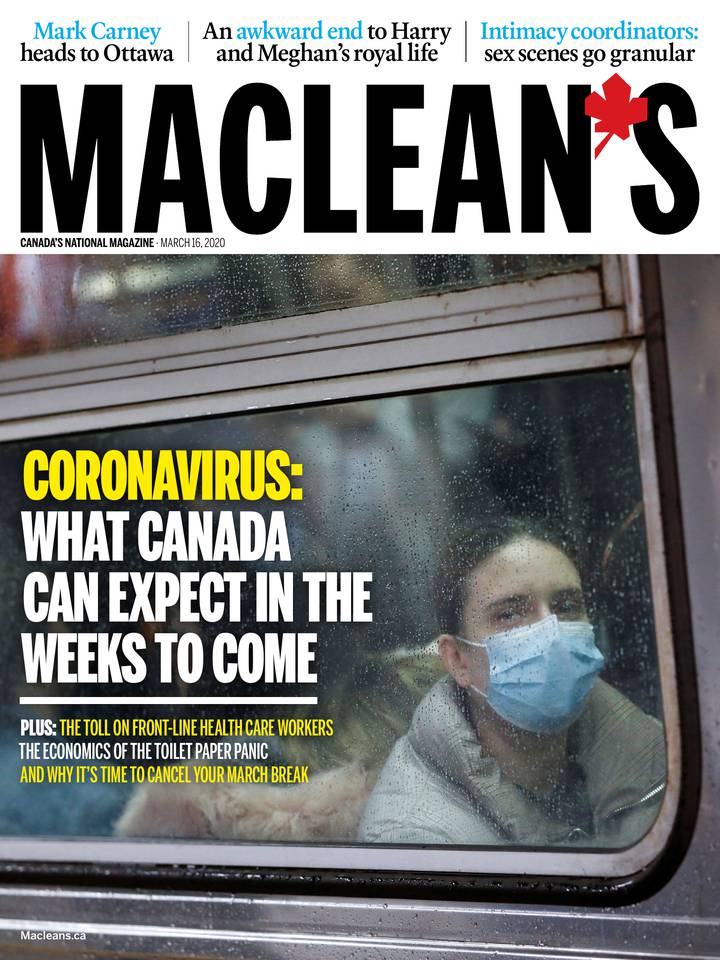 Canada's national current affairs and news magazine
NATIONAL
'Flatten the curve'
A relatively slow rate of spread, and a capacity for more testing suggest Canada may be on the right track to avoid a U.S.-like surge We're washing our hands and hoarding toilet paper. Cruise ship...
Read More
March 16, 2020
NATIONAL
'Flatten the curve'
A relatively slow rate of spread, and a capacity for more testing suggest Canada may be on the right track to avoid a U.S.-like surge We're washing our hands and hoarding toilet paper. Cruise ship...
What Canada can expect next
Infectious disease specialist Isaac Bogoch talks about how Canada could avoid a surge in cases and what people should do Isaac Bogoch is an infectious disease specialist at Toronto's University Health...
Cancel your March break
Fear is the right reaction to the coronavirus, says a top public health expert. It's time to close schools and curtail travel. Dr. David Fisman is afraid of COVID-19, and thinks you should be, too....
On the front lines of a pandemic
The unsung heroes of the battle against COVID-19 work gruelling hours while placing themselves in danger When British Columbia's chief public health officer, Dr. Bonnie Henry, shed a few tears during...
The next Spanish flu
Efforts to contain coronavirus in Canada have been commendable so far. But the odds are against this scenario remaining unblemished. We are very likely heading toward the pandemic of the century. We...
Blazing a trail in familiar territory
Canada's only female premier defies political labels—and doubters In early 2015, Caroline Cochrane sat at her kitchen table in Yellowknife to read the local newspaper with her partner, Rory, by her...
INTERNATIONAL
The only thing to fear is . . .
'A lot of good things are going to happen,' said the U.S. president as the number of COVID-19 cases in his country approached 1,000 "Our common difficulties concern, thank God, only material things,"...
ECONOMY
The man with plans
Mark Carney's stint as governor of the Bank of England is ending. Ottawa, here he comes. The morning I meet Mark Carney is the first clear bright day in London in what feels like months. Just a week...
Roll up your personal info to win
As Tim Hortons launches its first entirely virtual Roll Up The Rim contest, a lot of Canadians aren't thrilled with what's involved Three decades after launching the Roll Up The Rim contest, Tim...
SOCIETY
Field of cheats
Major League Baseball has dropped the ball on a sign-stealing scandal that threatens the fabric of the game If the game of baseball matters—and it has mattered deeply for more than 150 years to...
Sex scenes go granular
Spurred in part by the #MeToo movement, 'intimacy coordinators' have emerged as key liaisons between directors and performers on set What Salvatore Antonio remembers from filming his first intimate...
MEDIA PLANET
Advancing Women's Leadership Advancing Women's Leadership
Dragons Manjit Minhas and Michele Romanow share advice for young women looking to advance their careers on page 4. Changing the Narrative: A New Approach to Achieving Gender Equality If you're asked...
Women in the Skilled Trades Propel Their Careers Forward with Worley
From building new facilities to sustaining and enhancing these operating assets, women in the skilled trades play an important role throughout the full life-cycle of project delivery. Here's how...
For Women in Engineering, Rewarding Careers Await
Engineers are playing an increasingly important role in society, but with gender biases alive and well, there's a wealth of female talent that's going untapped. Three female engineers weigh in on how...
The Powerful Impact of Leading by Example
The stigma around women in leadership has decreased, but there's still much to be done toward achieving gender parity. Below, four leading wom en share their experiences and career advice for young...
Why Women Entrepreneurs Need to Create their Own Success
Mediaplanet What issue in the women's empowerment movement resonates with you the most? Laurie Clark It's difficult to find just one. From corporate boardrooms, to private industry, to...
Empowering Women in the Bioeconomy
My journey in business began when I graduated from Queen's University in 1986. At the time, I was naively unaware of the gender-based challenges that I would be faced with — many of which persist...
Let Us Lead With Respect: manacihitowin
When University of Saskatchewan (USask) alumna Jacqueline Ottmann was appointed as USask's first Vice-Provost of Indigenous Engagement in 2017, she couldn't wait to get started. "I feel that th is...
One Year Down The Road, The Scotiabank Women Initiative Is Just Getting Started
Lisa Grogan, Co-Chief Executive Officer of Overlap Associates, a design consultancy firm, attended Scotiabank's Un-Mentorship Boot Camp™ in Waterloo, ON last year. Grogan credits Overlap's success to...
SOCIETY
An awkward end to royal life
At the Commonwealth Day service, the tensions between royal family members and Harry and Meghan were unmistakable There are relaxed, fun family gatherings that members of the clan eagerly attend,...
THE BEST FOR LAST
The economics of the toilet paper panic
In one of our favourite stories this week, Jason Kirby examines how fear—as contagious as the coronavirus—is leading shoppers to do some crazy things. Expect to see more stockpiling. IT'S BECOME AN...
Thank you
You just used 1 credit. You have left.