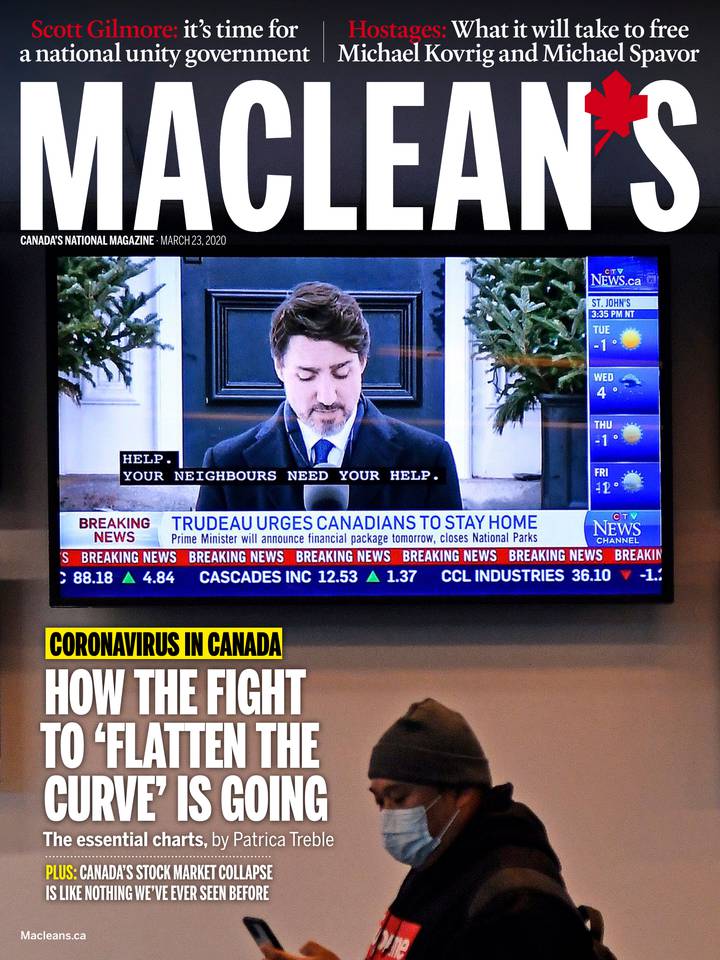 Canada's national current affairs and news magazine
THE COLUMNISTS
It is time for a national unity government
We are in a new place. The world is facing a simultaneous economic and health shock that has no precedent. Hourly, we are seeing developments and threats that would have been unthinkable even a few...
Read More
March 23, 2020
THE COLUMNISTS
It is time for a national unity government
We are in a new place. The world is facing a simultaneous economic and health shock that has no precedent. Hourly, we are seeing developments and threats that would have been unthinkable even a few...
NATIONAL
How Canada's fight to 'flatten the curve' is going
The tone of Canada's chief public-health doctor grows urgent as the number of confirmed COVID-19 cases pushes past 750 on March 19 "We don't need to flatten the curve, we need to plank it." That call...
Should children visit grandparents?
Infectious disease specialist Isaac Bogoch weighs in on what is and isn't safe to do as Canada settles into social distancing When the World Health Organization labelled the coronavirus a pandemic...
Schools out . . . for summer?
Parents, teachers and students are considering the possibility that class is out for the year. That doesn't mean the learning stops. Until Sunday afternoon, Alberta was one of the few parts of...
What people aren't panic-buying
Limes, cauliflower pizza and rendered duck fat are among the things shoppers have left behind. And there's a lot you can do with those. If you've been to a grocery store in the last few days, you've...
The coronavirus and God
There have always been Christians who see crises as punishment from God for our sins. Coronavirus has been no exception. Generally speaking, organized Christianity, and religion in general for that...
The NDP's slight edge
The 338Canada model has the B.C. NDP beating the Liberal seat count in 70 per cent of all simulations. But it's still anyone's game. While media attention is wholly focused on the current COVID-19...
INTERNATIONAL
The China problem
Canada will have to work with our allies to assess the Chinese government's responsibility over the spread of coronavirus OPINION On Sunday night, the two remaining Democratic Presidential candidates,...
These honeymooning penguins couldn't care less about coronavirus
A Chicago aquarium gives free rein to the otherwise captive creatures, delighting a suddenly captive global audience With a whiplash-fast news cycle and deaths mounting by the hour, it helps to step...
ECONOMY
Unprecedented
Canada's stock market collapse is like nothing we've ever seen before. That doesn't mean markets should be closed during COVID-19 panic. It can be difficult to comprehend the scale of the wealth...
SPECIAL INTEREST FEATURE
ADVANCEMENTS INS CANCER CARE
TOGETHER WE ARE STRONGER THAN CANCER Our understanding of cancer is improving every day. We have more effective prevention strategies, earlier detection tests, better treatments, and more support for...
CANADIAN SCIENTISTS MADE A REVOLUTIONARY BREAKTHROUGH THAT SUCCESSFULLY TARGETS CANCER
ancer is the leading cause of death in Canada. Inthe past year, almost a quarter of a million new cases of cancer have been diagnosed and more than 80,000 people have died of the disease. The =~...
CURE FOUNDATION: POWERING THE FIGHT AGAINST BREAST CANCER SINCE 1997
For close to 25 years, the CURE Foundation has empowered Canadians to make a real difference in the fight against breast cancer by investing in programs for prevention and early detection, improving...
TARGETED CANCER VACCINES: ONE OF MANY MADE-IN-CANADA INNOVATIONS
In our fast-paced world, few things are advancing as rapidly as cancer research, and some of the most innovative science in the field is being done right here in Canada. At The Ottawa Hospital,...
MYELOMA: MOVING CLOSER TO A CURE
Myeloma 1s the 2nd most common form of blood cancer. Every day, 9 Canadians are diagnosed, yet the disease remains relatively unknown. New and innovative treatments are enabling people with myeloma to...
ADVANCEMENT IN SKIN CANCER
The Save Your Skin Foundation is a national patient-led not-for-profit organization dedicated to the fight against all skin cancers. MP What's the most significant advancement in the last...
PROBING THE PROSTATE: WHAT EVERYONE SHOULD KNOW ABOUT THE MOST COMMONLY DIAGNOSED CANCER IN CANADIAN MEN
Prostate cancer is the most commonly diagnosed cancer among men in Canada. In fact, as many asone in nine men will be affected in their lifetime in North America. The good news? Prostate cancer...
FROM CANCER SURVIVOR TO CANCER THRIVER
Not long ago, having cancer was considered a death sentence by many. Today, 63 percent of Canadians survive at least five years after a cancer diagnosis a number that s improving every year. With...
CANADIAN INNOVATION AND COLLABORATION THE SOURCE OF NEW OPTIMISM IN CANCER RESEARCH AND CARE
he future is tough to predict especially in the field of cancer research. But today, as we enter a new decade, we're seeing the culmination of many breakthroughs and trends in cancer research from the...
CANADA IS HOME TO ONE OF THE TOP 5 CANCER RESEARCH CENTRES IN THE WORLD. HERE'S WHY THAT MATTERS
ver since the 1950s, when Dr. Vera Peters demonstrated that patients with early Hodgkin's disease could be cured with radiation therapy, Toronto's Princess Margaret Cancer Centre has been a beacon of...
SURVIVING PROSTATE CANCER BEGINS WITH ONE CANDID CONVERSATION
While only men have a prostate gland, prostate cancer can affect us all. It's the most commonly diagnosed cancer in Canadian men, impacting not only the patient, but also their loved ones. The good...
SOCIETY
The fight for maize
Mexico's ancestral corn is at risk of becoming extinct. And that leaves not only a culinary hole, but one in the planet's biodiversity. Compadre Rufino Domingo Valeriano pours his guests shots of...
THE BEST FOR LAST
Reading in a time of pandemic
In one of our favourite stories this week Brian Bethune looks at 10 notable works of pestilence literature, both classic and modern. It's a storytelling genre that has existed since the Bible. People...
Thank you
You just used 1 credit. You have left.