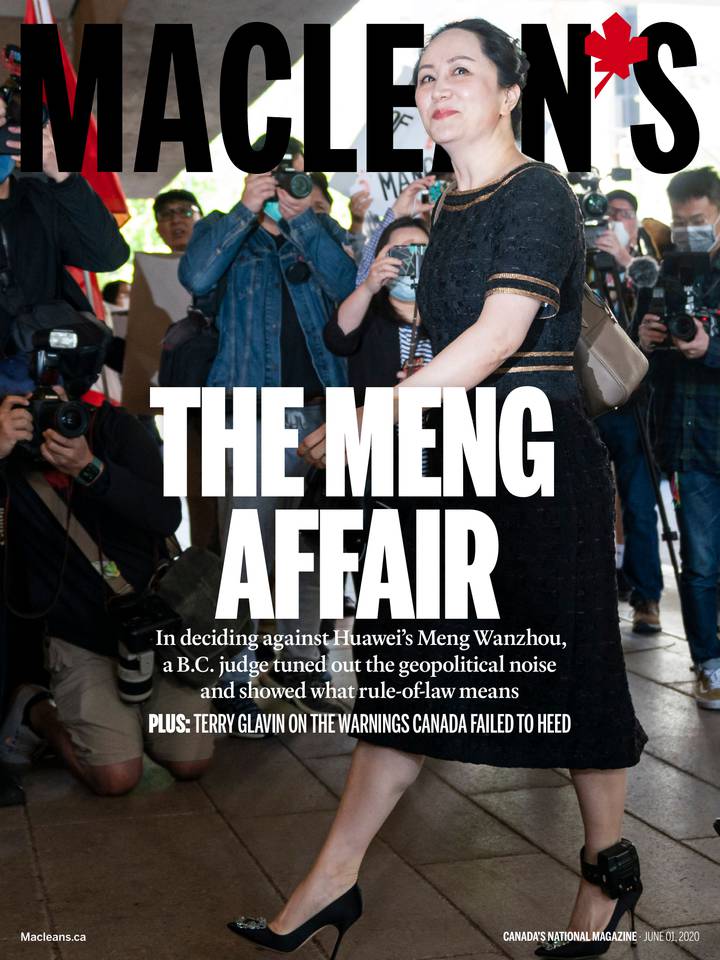 Canada's national current affairs and news magazine
LETTERS
'This is not about feeling smug or hating the U.S. It is about understanding how we as Canadians feel and behave as a society and appreciating how fortunate we are'
Bigger vs. better I would like to congratulate Sarmishta Subramanian on her outstanding article about the pursuit of economic expansion ("The death of growth," GDP, May 2020). It was clear,...
Read More
June 1, 2020
LETTERS
'This is not about feeling smug or hating the U.S. It is about understanding how we as Canadians feel and behave as a society and appreciating how fortunate we are'
Bigger vs. better I would like to congratulate Sarmishta Subramanian on her outstanding article about the pursuit of economic expansion ("The death of growth," GDP, May 2020). It was clear,...
THE COLUMNISTS
Warnings to Canada that went unheeded
For all anybody knows, now that Justice Heather Holmes has rendered a markedly unfavourable decision in the case of Huawei chief financial officer Meng Wanzhou, the notoriously petulant and sadistic...
NATIONAL
Politics aside
In deciding against Huawei's Meng Wanzhou, a B.C. judge tuned out the geopolitical noise and showed what rule-of-law means On the courthouse steps, protestors flashed signs and chanted about the...
'Deeply disturbing'
The Canadian Armed Forces released a scathing report on the dire conditions in Ontario's long-term-care facilities On April 24, Canadian Armed Forces medical personnel and troops arrived at five long-...
An endless crisis
Ford has vowed to 'leave no stone unturned.' Here's one expert's view of how to fix a crisis that's been unfolding for years. On Tuesday Ontario Premier Doug Ford released the military report into...
INTERNATIONAL
The fight for Hong Kong
The Trudeau government's 'concern' about the crisis in Hong Kong is not enough As thousands of angry Hongkongers defied the law and poured into the streets over the weekend in response to the Chinese...
Donald Trump's sick religion
The U.S. president's demand that churches reopen is an attempt to exploit a uniquely American view of Christianity At the end of last week U.S. President Donald Trump followed through on a long-...
ECONOMY
Housing market? Still hot.
Immigration, which drove hot markets like Toronto and Vancouver, is the wild card In all the conversations about Canada's high home prices over the last few years, no one predicted that a global...
SOCIETY
We've seen this 'outbreak'
The 2010 film Outbreak—featuring Theresa Tam—focused on epidemics in Montreal, and little of what's happening now is novel The documentary Outbreak: Anatomy of a Plague, released by the National Film...
We're all the Sopranos now
The Sopranos reminds us how we got here—an extreme wealth gap, an ailing planet—and the world that we don't want to go back to OPINION In its original run from 1999 to 2007, HBO's The Sopranos...
MEDIA PLANET
Managing MS
Now, More Than Ever, We Must Come Together Canada has one of the highest rates of multiple sclerosis (MS) in the world. MS is the most common acquired neurological disease among young adults. It's...
Cost-Effective Options Are Changing the Landscape of MS Treatment
Multiple sclerosis (MS) is a progressive immune-mediated disease that has been known for two and a half centuries, and its complex nature has meant that effective therapies were slow to develop and...
Connecting with Others Is Essential for Those Living with MS, Now More than Ever
Living with multiple sclerosis (MS) can be challenging and isolating at the best of times. Connecting with others for support can make all the difference. With the COVID-19 pandemic redefining life...
Innovative Therapies Helping Canadians with MS-Related Gait Deficit
When Elaine Buckstein was diagnosed with multiple sclerosis (MS) at the age of 27, she quickly learned not to take anything for granted. As a degenerative autoimmune disease, MS is known for robbing...
SOCIETY
Dear Talya. . .
Susie Sokol tells her daughter, who was born with developmental delays, how proud she is of the independent person she has become MY DEAR DAUGHTER, you are almost 36 years old, but chronological age...
THE BEST FOR LAST
An episode of hee-haw
In one of our favourite stories this week Hamdi Issawi found that when a donkey joins your video-conference meeting, all but one of the long faces disappear IN A BID TO liven up his regular Friday...
Thank you
You just used 1 credit. You have left.