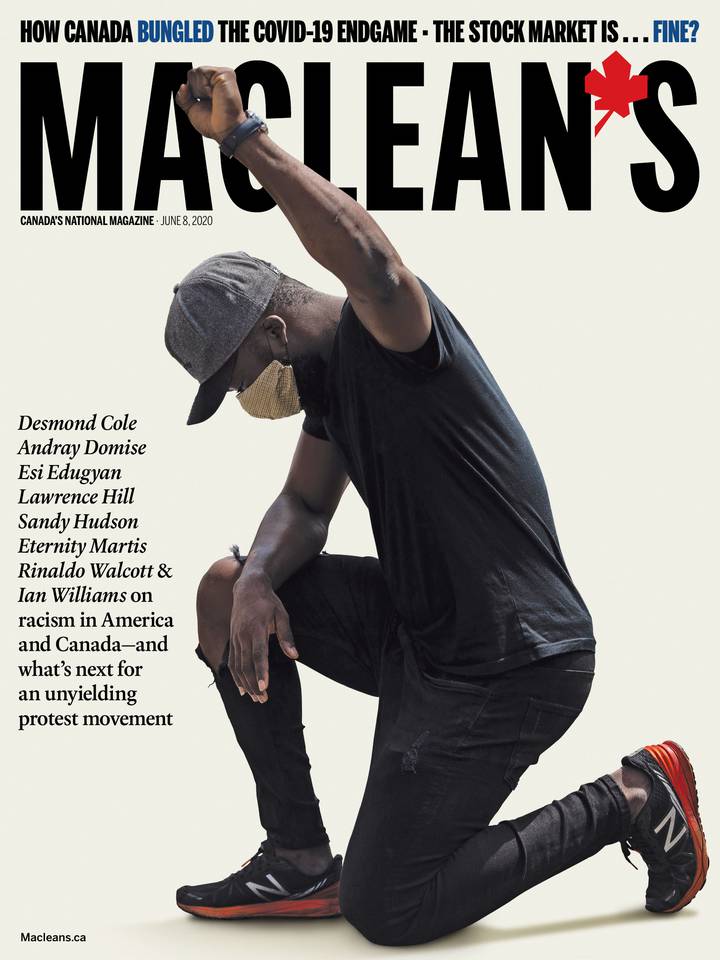 Canada's national current affairs and news magazine
THE COLUMNISTS
Donald Trump, a Bible and blasphemy
If there is one thing we have discovered to our cost about Donald Trump it's that he can always surprise us. Not with delight at his eloquence or empathy, or some desire for harmony and decorum, but...
Read More
June 8, 2020
THE COLUMNISTS
Donald Trump, a Bible and blasphemy
If there is one thing we have discovered to our cost about Donald Trump it's that he can always surprise us. Not with delight at his eloquence or empathy, or some desire for harmony and decorum, but...
Better race-based data
Canada's highest incidence of Indigenous COVID-19 infections is in Saskatchewan. On that, the federal government and independent researchers agree. But they're sharing wildly different numbers: as of...
NATIONAL
Stumbling to the end
Canada is mismanaging its most significant peacetime crisis in a century, and the seeds of our failure are everywhere About two months ago, as Canada was thrust into a terrifying lockdown, I wrote a...
Smiley, friendly and cunning
Can Foreign Minister François-Philippe Champagne guide Canada through a period of unprecedented global change? It's 1999. A fresh-faced lawyer just shy of 30 walks into the headquarters of a major...
The end of the NDP
By facilitating Justin Trudeau's shutdown of Parliament, the NDP has written itself out of relevance. It could have done so much more. Now, I don't know if NDP leader Jagmeet Singh ever played...
What the NDP is doing for Canadians
The party has never been more relevant as it pushes the government in its pandemic responses. What have the Conservatives done lately? OPINION Back on March 11, the day before a conservative premier...
INTERNATIONAL
LETTERS TO AMERICA
Eight Black Canadian writers on the racism crisis gripping the world With three words and his life, George Floyd delivered a message that, down the centuries, America's ruling class has seemed no more...
Ian Williams
The cameras on your phones make Black people invisible Dear cellphone manufacturers, Something seems to be wrong with the cameras on your phones. They're recording double exposures. When Black people...
Esi Edugyan
'The weight of change should not rest on the shoulders of Black people' To the woman on the plane, It was the spring of 2018, and we were flying from Denver to Seattle. You were in late middle age,...
Desmond Cole
One lake divided by a line. They said it would be different on this side. To the Canada-U.S. border, You lied to us. You promised us things would be different on this side. They are, but not different...
Eternity Martis
'Black women: It's time society fights for our lives, too' Dear Black women, America was built and sustained on your labour and loss. You've picked up your signs and loudspeakers more times than you...
Rinaldo Walcott
'The passing ceremonies marking his death did not stop the war' To the late Essex Hemphill, Your poetry and essays have been a force in my life since my first encounters with them. As a Black gay man,...
Lawrence Hill
Vote that Willy Lump Lump out of the White House Dear Dad, It has been a century since you were born in Missouri; 75 years since you served as a Black, non-commissioned officer in the American army in...
Sandy Hudson
'We must defund the police; it is the only option' Dear white people, I have a singular focus in my appeal to you today, and I need you to hear me. Our lives depend on it. It's time to defund the...
Andray Domise
Canada's own legacy of oppression To my brothers and sisters in America, I owe you a debt of gratitude, more than you can possibly know. I watch as protests blossom across the United States with...
ECONOMY
The stock market is . . . fine?
Many investors are still feeling bullish about the economy, despite all the volatility. Here's what's driving the market's rosy outlook. Stock markets hate uncertainty, or at least that's what...
SOCIETY
An ocean of hope
One of the world's most famous marine ecologists dials back his doomsday predictions and tries optimism A few years ago, discouraged by the mess the ocean is in, Boris Worm took a trip to the coral...
THE BEST FOR LAST
Cleared for takeoff
In one of our favourite stories this week Nadine Yousif looks inside the painstaking efforts of wildlife rescuers in Edmonton to save the lives of aquatic grebes that landed this spring in an oil...
Thank you
You just used 1 credit. You have left.