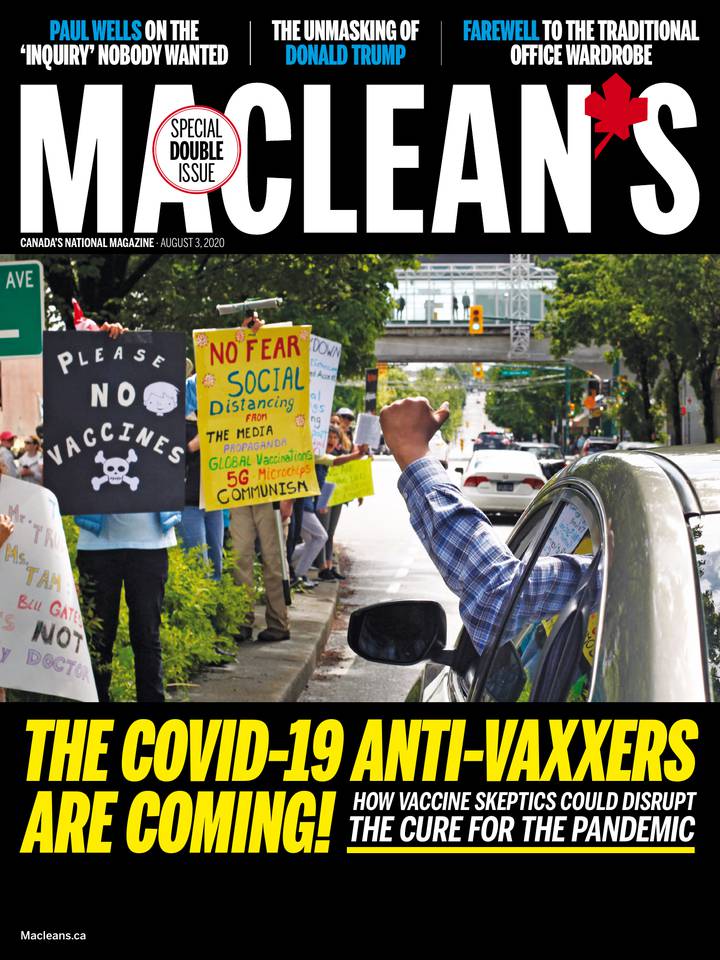 Canada's national current affairs and news magazine
THE EDITORIAL
The measure of love
At the onset of the Great Lockdown, two of the most frequent and eagerly shared predictions were that there would be a boom in babies nine months hence, and that we'd soon be witnessing a spike in...
Read More
August 3, 2020
THE EDITORIAL
The measure of love
At the onset of the Great Lockdown, two of the most frequent and eagerly shared predictions were that there would be a boom in babies nine months hence, and that we'd soon be witnessing a spike in...
LETTERS
'Certainly, we have to change the function of "serve and protect" so that all are equally protected and equally served'
Bouncing back In your article about what steps Canada should take to stabilize the economy, the experts you included wanted policy clarity, pump-priming, entry-level jobs, a reformed EI and fair taxes...
THE COLUMNISTS
In defence of WE
I am one of the last people you would expect to write a defence of the Kielburgers and their WE movement. I don't like what they do, and being highly suspicious of all charismatic movements, I...
The 'inquiry' nobody wanted
We might as well give it a name, this odd feeling of having been heard, understood—and ignored—by government. It's a familiar enough sensation, after all. It's not that the lines of communication have...
NATIONAL
How to keep the herd together
Will anti-vaxxers disrupt the most sought-after cure for the pandemic? When Maya Goldenberg started research for her forthcoming book on vaccine hesitancy—the term for delaying or outright refusing to...
The next wave
It won't be seasonal, it will be an outbreak based on behaviour. Less distancing and less use of masks will be a match on dry forest floor. Your favourite restaurant patio, bar and campsite may be...
The unsafe country to our south
The Trudeau Liberals were afraid to break an asylum deal with an anti-refugee White House. A Canadian judge did it for them. With Wednesday's ruling in federal court, Canada's fraught asylum pact with...
A field trip to Washington
Each year, a key Canada-U.S. lobbyist assembles a group of insiders to show Canadians how politics really works in America Under cover of darkness on Presidents Day this past February, less than two...
INTERNATIONAL
Unmasking Trump
As his poll numbers plummet, a desperate U.S. president reveals his true colours, and finds theatrics can only take him so far In 1997, Mark Singer, a staff writer at New Yorker magazine specializing...
Trump's impromptu security force gives a scary glimpse of things to come
That shadowy team of officers yanking people off the streets of Portland, Ore., is one more hallmark of the autocrat the U.S. president seems to wish he could be News spread quickly when videos...
Can the EU survive COVID-19?
The pandemic has thrust an uncomfortable truth into the fore—that European solidarity is weakening In February, when I left China, where I was born, I thought I had escaped the worst of it, the...
ECONOMY
An open letter to work attire
To the Traditional Office Wardrobe now hiding in the back of our closets, we put you on notice. A revolution is nigh. OPINION We see you hiding in the back of the closet. The trusty black jacket. The...
Sun sets on the strip
To live in Toronto is, increasingly, to mourn places imbued with personal memories and nostalgia When it opened in 1952, the strip of shops set back from the intersection of Bayview and Eglinton in...
SOCIETY
'I'm doing wonderful'
The pandemic has put pressure on parents and raised hard questions about schooling. But what do children think about life in these times? Children's lives may be the most dramatically reshaped by the...
Father. Diplomat. Murderer?
Jeff Blackstock unravels the story of his mother's death and lays it in the hands of his father It came as a profound shock yet no real surprise, Jeff Blackstock allows, when he learned in 1979 how...
Dear sister . . .
Canadian writer Téa Mutonji says sorry to her sister Nella for all the times she remained silent when Nella experienced racism DO YOU REMEMBER that night when you were in Grade 11 and you complained...
THE BEST FOR LAST
The joy of looking up
In one of our favourite stories this week Nick Taylor-Vaisey writes about discovering your 'spark bird,' keeping your eyes trained skyward and how birding can bring solace in pandemic times A SPECK OF...
Thank you
You just used 1 credit. You have left.