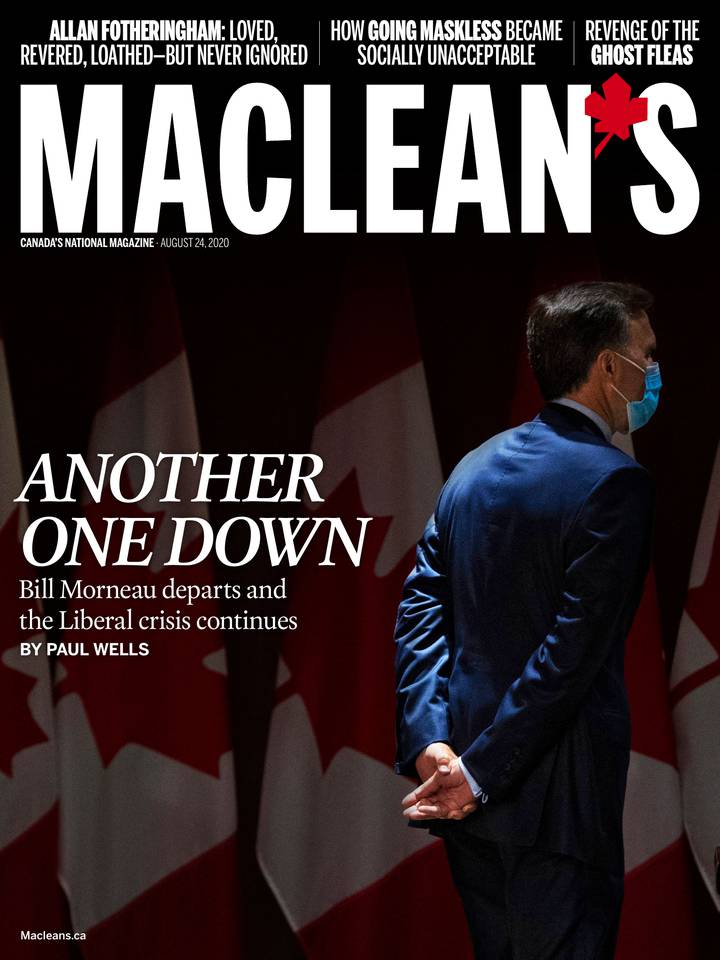 Canada's national current affairs and news magazine
THE EDITORIAL
They were loved
When a 21-year-old architecture student submitted her entry for a new Vietnam memorial in Washington four decades ago, she kept names at the centre of the design. Maya Lin's vision for a fitting...
Read More
August 24, 2020
THE EDITORIAL
They were loved
When a 21-year-old architecture student submitted her entry for a new Vietnam memorial in Washington four decades ago, she kept names at the centre of the design. Maya Lin's vision for a fitting...
NATIONAL
Bill Morneau, melting away
The PM allowed his finance minister—the supposed incarnation of his government's fiscal credibility—to be set up. It does not bode well. This column, written hours before Bill Morneau announced his...
An anti-racism blueprint
In order to address systemic racism, we must discuss the Conservative Party's policies on immigration, the economy and education It can be argued that two topics leading discussions in 2020 are...
A hole in the Sock logic
'Jughead' was a racist insult thrown at Jagmeet Singh as a kid. Whatever Ed the Sock intended by using it, his premise is flawed. Let's get the obvious out of the way. Anyone who insults Jagmeet Singh...
The estate of a killer
The Nova Scotia shooter's former partner has filed a claim against his estate, setting up a legal battle with his victims' families The former partner of the denturist who killed 22 Nova Scotians in...
They Were Loved
A cowboy at heart. A devoted caregiver. A grandpa who sent the best gifts. A nurse who chatted up Freddie Mercury. They are among the first people commemorated in They Were Loved, a partnership with...
The stone angels
Winnipeg has fallen for the phenomenon like no other Canadian city, allowing its parks and streetscapes to fill with tiny seeds of cheer Walking the trails around Dalhousie School in Winnipeg's south...
Targets of hate
The pandemic has exposed Chinese Canadians to new levels of hatred and abuse. Here are just a few of their stories. IN MAY, HUMAN Rights Watch compiled a list of xenophobic acts stemming from the...
Inthida Ngeth, 40, vice-president of operations at a financial company, and her two daughters, Emily, 11, and Audrey, 8
Waterloo, Ont. When my daughters listen to the news with me, I try to make sure they understand what's going on around the world. I explain that because the virus originated in Wuhan, some...
Revenge of the ghost fleas
Translucent, one-eyed zooplankton that only come out at night may be the source of mercury that taints fish in Prairie lakes The best time to catch a walleye on Katepwa Lake is early in the morning....
Tim Hortons and Barbie: two minutes each for delay of game
Tim's was set to roll out an exclusively white Hockey Barbie when it suddenly woke up to the times In a classic example of brands teaming up to create junk nobody asked for, Tim Hortons partnered with...
INTERNATIONAL
The trouble with Kamala
Harris's status as running mate to Joe Biden is indeed historic. But representation does not imply loyalty or any degree of respect to Black and brown communities beyond the superficial. In late 2009,...
SOCIETY
The stigmatization of the naked face
For many Canadians, a non-religious face-covering used to signal danger or shame. Now going without one does. In June, I walked briskly into my local bank then stopped just inside the front doors,...
INNOVATINGCANADA.CA
HOW A CANADIAN GOLD MINING COMPANY IS HELPING TO SAVE THE BLACK RHINOS
Namibia is home to valuable deposits of gold, the world's last and largest free-roaming population of black rhinos, and the brave community-based rangers who risk their lives to protect them. One...
SOCIETY
Learning about my son's loneliness
Melanie Williams's son was born with Down syndrome. Isolation and social distancing are experiences he faces in his everyday life. If there's a silver lining to this pandemic and the restrictions...
Loved and feared but never ignored
Maclean's icon Allan Fotheringham shook Canadian politics with a blast of post-'60s insouciance, but could never hide his love of country Allan Fotheringham was the king of nicknames. He fancied...
Thank you
You just used 1 credit. You have left.