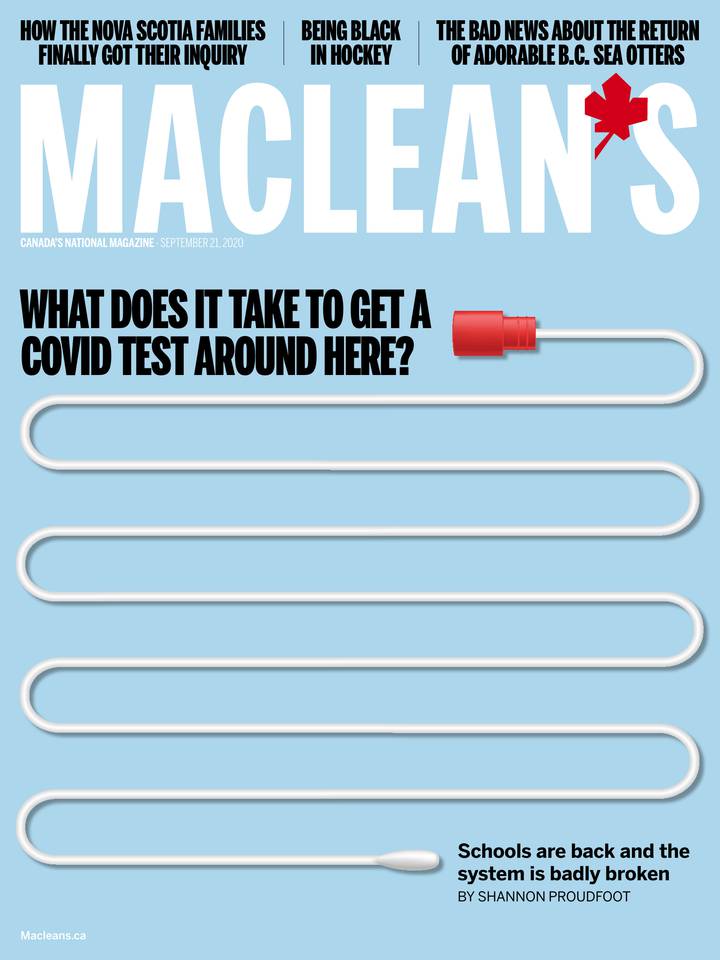 Maclean's
September 21, 2020
Preview
Canada's national current affairs and news magazine
THE EDITORIAL
Finally, an inquiry
A terrible vortex of trauma opened up in Portapique, N.S., on the night of April 18, when a denturist dressed in an RCMP uniform began killing his neighbours. By the time he was stopped, more than 12...
Read More
September 21, 2020
THE EDITORIAL
Finally, an inquiry
A terrible vortex of trauma opened up in Portapique, N.S., on the night of April 18, when a denturist dressed in an RCMP uniform began killing his neighbours. By the time he was stopped, more than 12...
THE COLUMNISTS
Why is Hajdu still the minister of health?
Somewhere in Communist Party HQ in Beijing, somewhere deep in the Division of Digital Monkeybusiness, sits a staffer who monitors the Canadian media. Heck, there might even be two of them. And boy, do...
Idle No More 2.0
Prime Minister Justin Trudeau has prorogued Parliament in the middle of the COVID-19 pandemic, a reset that may serve to intensify simmering tensions across the country rather than quell them. While...
NATIONAL
Pause the green revolution
Liberals are coming to terms with the fact COVID-19 didn't cancel gravity, and that 'building back better' will, in fact, be hard work I'm grateful to the excellent Toronto Star columnist Heather...
My search for a COVID test
Line-ups start at the crack of dawn. Wait times stretch for days. As schools reopen, prepare for a new kind of lockdown purgatory. A couple of months ago, I was at a friend's place for distanced beers...
Bracing for the second wave
Which sports are okay to play? Does 'deep-cleaning' do any good? And should you steer clear of exhaling smokers? We ask an expert. The good news is Canadians are way better informed than we were six...
Under the dome of smoke and ash
After the months-long COVID lockdown, B.C.ers have been forced back indoors as yellow, sooty air swallows entire streetscapes In a province that relishes the outdoors, it's hard not to feel trapped....
The fight for what's right
Betrayed by politicians, they forced an inquiry into the Nova Scotia shooting. Here is how they won. On July 27, Harry and Cory Bond were among the 22 people who lay down in front of the Bridgewater...
Being Black in hockey
Nine hockey players on what it's like to love a sport that doesn't love them back. Interviews by Andray Domise and Matthew Amha Every year, the Institute for Diversity and Ethics in Sport (TIDES)...
Treating Allergies: Effective Treatment Options Available for Patients
You don't have to suffer with allergies or the side effects of over-the-counter medications anymore. There are more options. According to Statistics Canada, more than 25 percent of the Canadian...
The Klondike gold flush
On the orders of a judge, Dawson City began a never-ending quest to build a sewage system that works—and doesn't bankrupt the place For decades, Dawson City was notorious among Canada's poorest...
AD
on Why CFIB Created #SmallBusinessEveryDay
Small businesses are especially vulnerable to changes in the economy, like those brought on by the COVID-19 pandemic. Laura Jones, Executive Vice President of the Canadian Federation of Independent...
SOCIETY
Visa Supports Small Canadian Businesses with Innovative Offerings
We're all living in a new normal and it's far from business as usual for Canadian small businesses. Visa Canada is rising to the occasion with new offerings and initiatives designed for an evolving...
Here We Grow Again
For Canadians seeking a rejuvenated work-life balance, North Bay is the place to be. In this time of change, the need to work safely and productively from anywhere in the world has made the City of...
Otter, otter everywhere
Once within a whisker of extinction, the adorable creatures are back with a worrying vengeance From the stern of a skiff speeding away from Vancouver Island, Joe Martin trains a steely gaze on the...
Ahead of its time
Canadian leaders never needed to huddle underground as nuclear bombs fell. But the 'Diefenbunker' was more than an empty shell. I stood alone in front of the prime minister's bed, wearing a mask. He...
Money does not equal merit
Michael Sandel on how we've wrongly assumed that people's income 'is the measure of their contribution to the common good' If the Western world has a unifying social concept any longer, it's the ideal...
Honey bees are battling their own pandemic
As humanity fights the virus, its best friends in the insect world are also battling a scourge in the form of a fungus that truncates their already short and precious lives While COVID-19 wreaks havoc...
THE BEST FOR LAST
A folksy charm offensive
In one of our favourite stories this week Patricia Treble pulls back the curtain on the much loved @CAFinUS Twitter account, finding a clever officer from Newfoundland who has a full battery and a...
Thank you
You just used 1 credit. You have left.