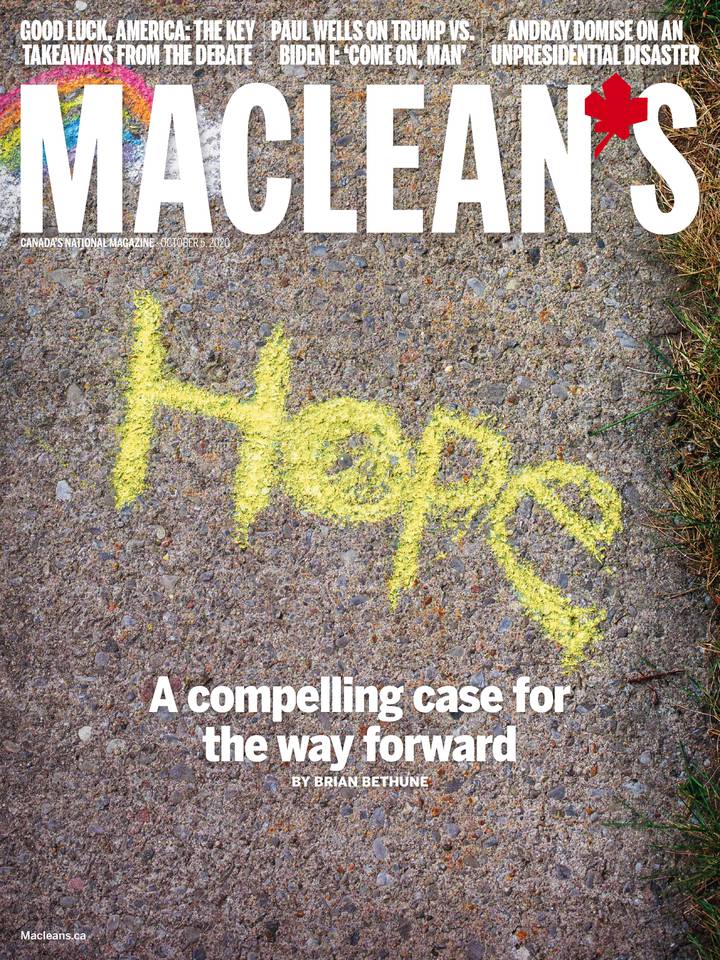 Canada's national current affairs and news magazine
THE COLUMNISTS
Trump vs. Biden I: Come on, man
Almost my only theory of political debates is that voters couldn't care less who "wins" a debate. They're looking for a leader. And they don't much care about tone or stature or whatever because...
Read More
October 5, 2020
THE COLUMNISTS
Trump vs. Biden I: Come on, man
Almost my only theory of political debates is that voters couldn't care less who "wins" a debate. They're looking for a leader. And they don't much care about tone or stature or whatever because...
For want of a good cop
In 1780, more than 50,000 men decorated in cockades gathered in central London to protest what they imagined was one of the greatest threats to English liberty and way of life: a sect so regressive,...
NATIONAL
'They'll never beat us'
Cut traps. Threats of violence. Twenty-one years after a landmark Supreme Court ruling, the Mi'kmaq fight for the right to fish rages on. When Michael Sack, chief of Nova Scotia's Sipekne'katik First...
Zone defence is a grind
No jurisdiction in Canada has been more rigourous and successful at keeping out COVID than Nunavut. But it comes at a cost. A row of camping chairs lines a section of the Ottawa Airport Residence Inn...
Horgan's gambit
The B.C. premier wants to capitalize on his party's recent tide of popularity, but the move carries risks On Sept. 21, B.C. Premier John Horgan finally answered the question political observers had...
'A friendship of minds'
Former Supreme Court of Canada justice Claire L'Heureux-Dubé on her close connection with Ruth Bader Ginsburg When former Supreme Court justice Claire L'Heureux-Dubé heard of U.S. Supreme Court...
INTERNATIONAL
Good luck, America: The key takeaways from the debate
The first debate between Donald Trump and Joe Biden was uncivil, uninspiring and at times difficult to follow. It was America in 2020. In such an unpredictable year, it would almost have been...
Tuning out Trump
Joe Biden's strongest debate moments came when he turned to the cameras and acted as if the incumbent wasn't there Pre-debate advice for Joe Biden was thick with that old, widely mis-attributed...
An unpresidential disaster
Trump showed up as a wrestling match villain, while Biden's inability to dial into anti-establishment anger left him hopelessly outmatched It's difficult to pin down quite what went wrong with Joe...
Compassion versus Donald Trump
A moment captured after the debate illustrates the one useful distinction that Tuesday's fiasco revealed In a presidential debate that seemed perfectly at home near the end of a surreal and appalling...
ECONOMY
The long view
Experience has shown that spending vast sums of public money on infrastructure both quickly and effectively is almost impossible With the policy priorities announced in last week's Speech from the...
SOCIETY
Have a little hope
The planet is burning, the pandemic runs rampant, millions of refugees are adrift from their homes and Black and Indigenous lives are under constant threat. Now is no time to give up. For many people...
A SPECIAL INTEREST SECTION
Funding Research Is the Key to Understanding Neurological Conditions
Neurological conditions — disorders that affect the brain and nerves — are the leading cause of disability and the second cause of death worldwide. There's an urgent need to develop innovative...
A New Age of Epilepsy Research Is Dawning, If We Can Fund It
Epilepsy is recognized by the World Health Organization as the most common serious brain disorder worldwide, and it can be thoroughly debilitating. Hundreds of thousands of Canadians are living with...
Older Adults Need Support Throughout the COVID-19 Crisis
Older adults have been disproportionately impacted by the COVID-19 pandemic and it's affecting their ability to manage their physical and cognitive health. We're all in this together" has been a...
Important Research: COVID-19's Effect on Older Adults
Scientists at the Rotman Research Institute are studying how COVID-19 affects the brain, mental health, and more. The COVID-19 pandemic has dramatically affected organizations' ability to conduct...
Supporting Seniors' Needs and Canada's Economy with Smart Innovations
Through partnerships with industry-leading innovators, the Centre for Aging + Brain Health Innovation is helping address unmet seniors' needs. The Centre for Aging + Brain Health Innovation (CABHI) is...
Canadians Affected by MS Need Life-Changing Research
Imagine life turning on a dime. Imagine sitting in a doctor's office and being diagnosed with an incurable neurological disease. Imagine the uncertainty of multiple sclerosis. "I remember sitting with...
Brain-Related Research Helps People to Live Better
Research into neurodegenerative diseases and traumatic brain injuries is crucial for successfully preventing, diagnosing, treating, and curing these conditions. The Brain Repair Centre (BRC) is a...
The Restorative Power of Neuroplasticity in People with MS
Enabling neuroplasticity in people with MS-related gait deficit can help improve their walking ability and quality of life. One morning, Suesanne Polzin got out of bed and immediately fell to the...
SOCIETY
Gord Downie returns
The vaults are opening, 'like an old friend checking in,' on the artist's extraordinarily productive last years Gord Downie is gone. Gord Downie will always be here. There's a new solo album, Away Is...
THE BEST FOR LAST
A 'Natural'-born ball crowd
In one of our favourite stories this week Nick Taylor-Vaisey looks at fan cutouts: a novelty everywhere but in the Jays' playoff home of Buffalo, where you might have seen them before It was mostly...
Thank you
You just used 1 credit. You have left.