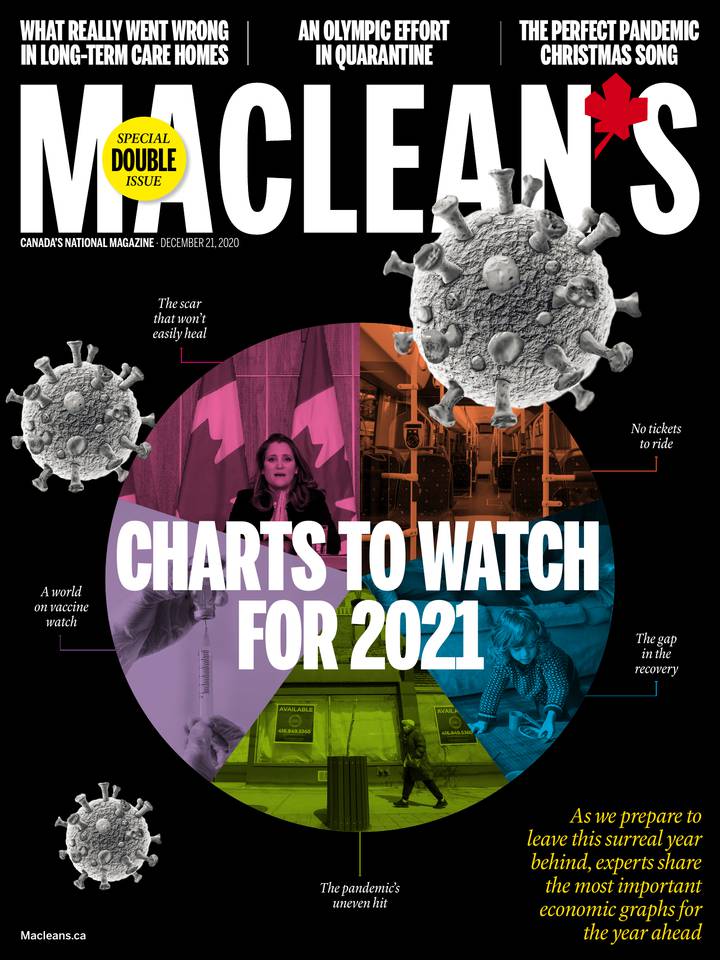 Maclean's
December 21, 2020
Preview
Canada's national current affairs and news magazine
Summary
Michael Sabia's sure going to do something
The reviews of Michael Sabia's appointment as deputy minister of finance are as positive as they are comically vague. "I think he's going to shake up the department," Scott Clark, one of Sabia's...
Read More
December 21, 2020
THE COLUMNISTS
Michael Sabia's sure going to do something
The reviews of Michael Sabia's appointment as deputy minister of finance are as positive as they are comically vague. "I think he's going to shake up the department," Scott Clark, one of Sabia's...
NATIONAL
Relief is in sight
But the general running Canada's vaccine rollout says distributing up to seven different ones poses a huge logistics challenge "Vaccines are coming," Prime Minister Justin Trudeau said on Monday....
A hard look in the mirror
One of the country's largest long-term care home operators commissioned a report on what went wrong—and it's unsparing Here's something new: a thorough, sometimes scathing report on the COVID-19...
They really are in it together
Community buy-in has proved critical to Nova Scotia's 'magnificent' handling of the pandemic, helping curb the second wave On Nov. 22, Dr. Lisa Barrett was standing in a closed nightclub in Halifax at...
Coming back stronger
As we emerge from these trying times, Canada's world-leading researchers and innovators will count among our greatest assets Canada's researchers vital to pandemic response, recovery and building a...
They Were Loved
The magnitude of COVID-19's impact on Canadians' lives is difficult to fathom. Canada has lost thousands of people to the pandemic, with each loss cascading throughout families and communities. They...
Who gave him the bullets?
Gabriel Wortman's common-law wife and two others are charged with getting him ammunition, not knowing what he'd do with it The RCMP have charged the former common-law spouse of the Nova Scotia rampage...
Aye, there's the rub
Killer whales are drawn to a part of northeast Vancouver Island, where they engage in a strange activity—'beach rubbing' There's a duality to killer whales that belies their name. They're calculating...
INTERNATIONAL
Waiting, and wishing
Reports of a deal for Meng raise hopes for the two Michaels. But China looks unkindly on co-operating with American prosecutors. It's perfectly understandable that Canadians would want to see...
ECONOMY
What recovery might look like
How does Canada come back from its massive pandemic deficit? Depends who you tax. With its seemingly unending pandemic spending, the federal government is heading toward a major deficit. Finance...
The most important charts of 2021
COVID looms over this sample from Maclean's annual charts to watch package. Check out Macleans.ca for the full collection, as chosen by the experts. Provincial debt levels are not sustainable Trevor...
Escape from the screen
As objects that are perfect in a lockdown, books are making for good business during the pandemic The website for Balfour Books reads: "Won't you come and say hello? We promise to keep a respectful...
MACLEAN'S
McDonald's New Rewards Program a Win-Win
McDonald's Rewards, available on the McDonald's mobile app, lets Canadians get rewarded quicker than ever by adding its iconic, guest-favourite fries. From its self-order kiosks, mobile app, ordering...
How to Choose a Loyalty Program That Will Work for You
Two industry leaders discuss how loyalty programs continue to provide value to consumers despite the challenges presented by the COVID-19 pandemic, and how to choose the ones that'll work for your...
A SPECIAL INTEREST SECTION BY MEDIAPLANET
AIR MILES Is Rewarding Canadians, Every Day
Canada's most-recognized loyalty program continues to connect and reward nearly 11 million Canadians with valuable and flexible choice. AIR MILES is part of the fabric of Canada, with a 28-year...
New Offerings from SCENE Give Its Members More Value
To give members more value in the program, SCENE is extending a wide range of new of new offerings everyone can enjoy both in and out of home. Canada's #1 award-winning entertainment loyalty program...
How to Maximize Your Value with SCENE
Movies Earn and redeem SCENE points for FREE movies at Cineplex Theatres. Earn 1 point for every $5 spent on food and drink at the movies. Earn 10 points for every $1 spent when you rent movies on the...
The One-Stop Way to Holiday Shop
Find unique gift ideas this holiday season and earn cash back — all in one place. The festive season is around the corner, and you're looking for unique ideas for those special people on your holiday...
SOCIETY
On your mark . . .
Canada's best athletes have found creative ways to train in quarantine and now they're limbering up for Tokyo 2021 —as told to Aaron Hutchins Andre De Grasse, sprinting 2016...
The best gambit of all
Period drama, check. Vulnerable young woman, check. Yet the absence of sexual violence liberates this hit TV series. About fifteen minutes into the first episode of The Queen's Gambit—the wildly...
The big (gigantic) trip
Fun was more or less cancelled in 2020. Now, people are getting ready to go away on the vacations of their dreams. Gabriele Mabrucco and his girlfriend, Christine Estima, were supposed to visit...
Dear first mother . . .
'I now realize I was never unwanted, but rather imperfectly loved by imperfect people,' writes Brittany Penner to her birth mother In 1989, you gave birth to a brown-eyed baby girl and all too quickly...
THE BEST FOR LAST
The perfect pandemic Christmas song
In one of our favourite stories this week Jason Markusoff delves into a 76-year-old classic that captures our moment like nothing in the holiday canon. But you want the original lyrics—not that...
Thank you
You just used 1 credit. You have left.