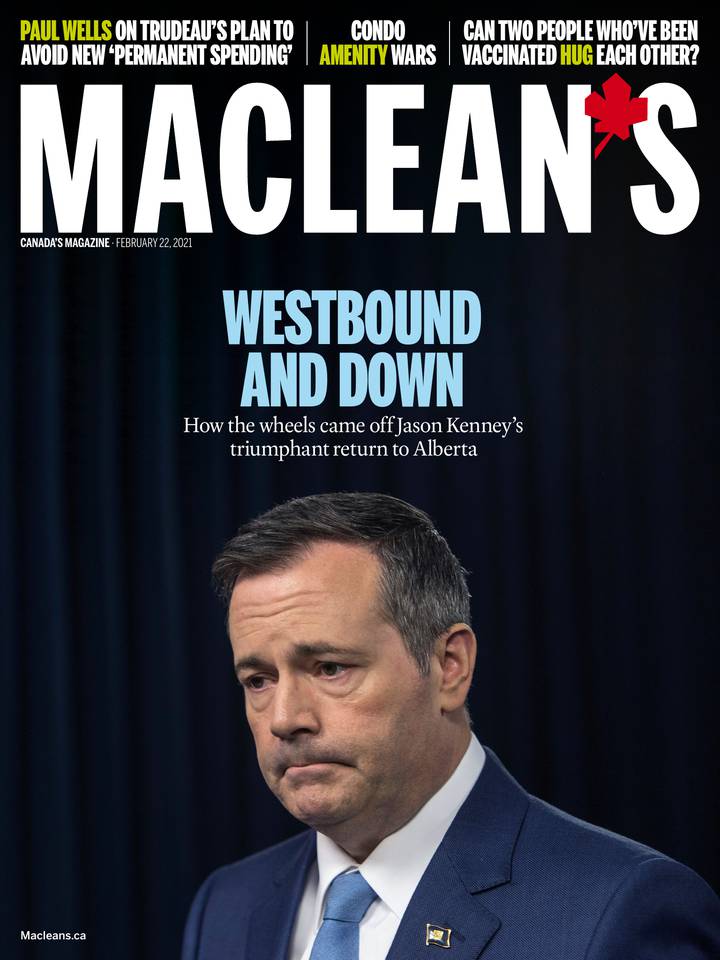 Canada's magazine since 1905
Summary
'Avoid creating new permanent spending'
So here's something. On Jan. 15, five months after she became finance minister, Chrystia Freeland received a mandate letter from Prime Minister Justin Trudeau. It told her to "use whatever fiscal...
Read More
February 2021
THE COLUMNISTS
'Avoid creating new permanent spending'
So here's something. On Jan. 15, five months after she became finance minister, Chrystia Freeland received a mandate letter from Prime Minister Justin Trudeau. It told her to "use whatever fiscal...
The death of better things
In 2011, British writer and cultural theorist Mark Fisher penned an essay entitled The Privatisation of Stress, perfectly capturing the relationship between depression, social conditions under...
Jeff Litwin
A message from three friends, in memoriam, to May 20, 1955 - November 11, 2020 It is far too often the case that very fine people—who are often outstanding Canadians in their own right—do not get the...
NATIONAL
This is not what Jason Kenney came back for
He returned from Ottawa with a suitcase full of ideas about who Albertans are. How a seemingly perfect political match went wrong. Jason Kenney had a series of ambitions for himself and Alberta when...
Follow the leader
America is moving ahead with an ambitious climate plan. This would be a good moment for Canada to try something new. With the election of Joe Biden, Canada suddenly finds its neighbour and biggest...
Can two people who've been vaccinated hug each other?
Theoretically, the answer to the question should be a qualified yes, but new information has experts counselling caution "Can I hug my mom if we're both vaccinated?" It's one of the most common...
INTERNATIONAL
Bring them home
Pressure is rising on Ottawa to take back more children of Canadians who fought in Syria for ISIS—and to prosecute the fighters here It's been two years since the final territorial redoubt of the...
ECONOMY
Amenity wars
Competition for affluent condo buyers has developers piling on frills—car fleets, meditation walls and even perks that assuage the social conscience The marketing material for Vancouver House listed...
SOCIETY
Why I write about the Canadian Shield
The novelist on her profound, unreasoning love of the iconic Canadian landscape of Northern Ontario After almost a decade, Mary Lawson releases a new novel, A Town Called Solace, on Feb. 16. Her 2002...
A SPECIAL INTEREST SECTION BY MEDIAPLANET
RareConnect: Building Communities for Rare Diseases
One million Canadians are affected by the more than 7,000 rare diseases that have so far been identified by medical researchers. These diseases are so rare that most doctors have never heard of them....
The Rare Disease Opportunity of a Lifetime
What could the promised Pan-Canadian Rare Disease Drug Program mean for families living with rare diseases? It could mean that three-year-old Jason, diagnosed with neuroblastoma and whose cancer...
A Better Approach to Rare Diseases in Canada
Canada's innovative pharmaceutical industry calls for a more collaborative, patient-focused approach to tackling rare diseases. The social isolation and other disruptions created by the COVID-19...
Collaboration Is Key to Success in Rare Disease Research and Development
One in 12 Canadians, two thirds of them children, are affected by a rare disease. But because each rare disease affects only a small number of individuals, awareness, research, and expertise are...
The Rare Neurological Condition That Masquerades as MS
In 2009, Jennifer van Amerom was 27 years old, in good health, and happily planning her destination wedding in Mexico. She had no way of knowing that a rare disorder of the brain and spinal column was...
A Rare Disease Isn't Stopping This Ambitious Young Artist
Rebecca Van Fraassen is a 21-year-old OCAD student who loves painting and animation. She planned to travel to Florence for an art fellowship before COVID-19 intervened. After she graduates, Rebecca...
Patient Support Programs Help People with Rare Diseases
C anadians with a rare disease experience many struggles. It often takes years before they're correctly diagnosed, potentially leading to incorrect treatments, frustration, and uncertainty. While a...
THE BEST FOR LAST
Monster smash
In one of our favourite stories this week Marie-Danielle Smith explains why an old-school movie featuring brawling behemoths perfectly captures the tenor of our times Can you think of anything more...
Thank you
You just used 1 credit. You have left.