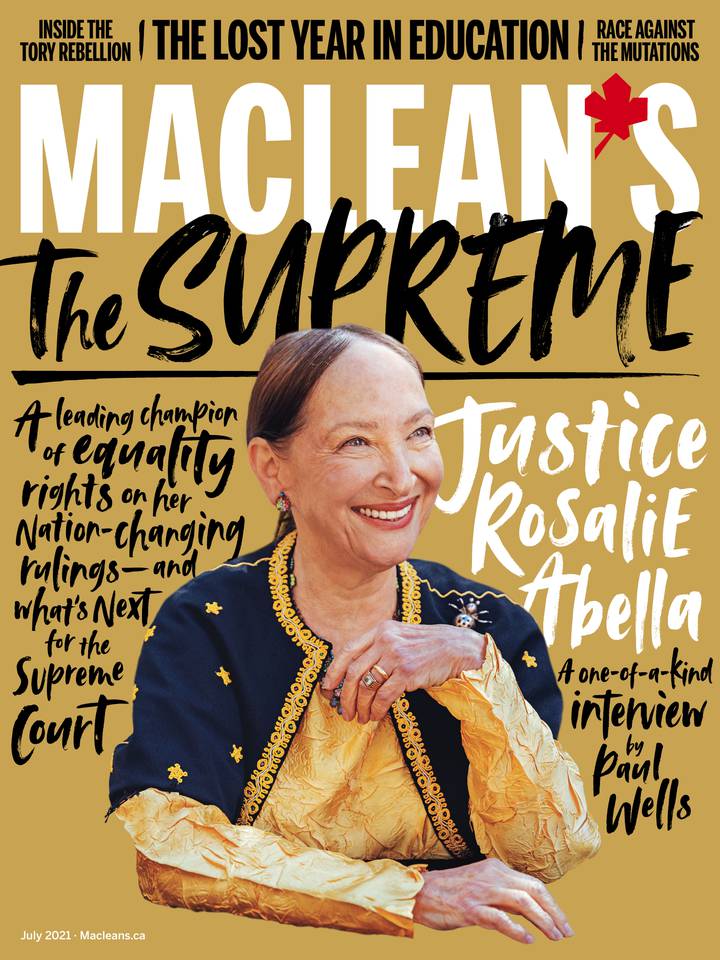 Canada's magazine since 1905
Summary
Ermine adjacency
Rosalie Abella didn't shy away from many hard questions during the extraordinary exit interview she gave Maclean's this month. The longest-serving justice on the Supreme Court of Canada, who retires...
Read More
July 2021
THE EDITORIAL
Ermine adjacency
Rosalie Abella didn't shy away from many hard questions during the extraordinary exit interview she gave Maclean's this month. The longest-serving justice on the Supreme Court of Canada, who retires...
THE COLUMNISTS
What Joyce Echaquan knew
Imagine being hospitalized with a serious health condition and instead of being treated with professional care and compassion by the hospital, the last words you hear from hospital staff are that you...
Can we shake on it?
Among the forbidden acts revisited since the coronavirus made physical contact a sin, the most sublime for me, so far, has been an accidental handshake. There is a special quality to the once-mundane...
NATIONAL NOTES
War of the words
A battle of sign messages proves the corn still grows thick and strong in southwestern Ontario What do an auto glass repair shop, a Dairy Queen, a small-town fire department, a Presbyterian church and...
Soap on a roof
Just after lunch on a Saturday in May, about 30 employees of Belfor Property Restoration, wearing hard hats and orange safety vests, headed to the rooftops of Sage at Auguston, a large townhouse...
The luck of the draw
Breaking an election tie doesn't have to be complicated. In some parts of Canada, it can come down to a flip of the coin. When Anne Marie Shea ran for council in a recent by-election in Kinkora,...
Signs of their times
The iconic placard that once welcomed motorists to Inuvik is giving way to a new, modern one. But it will rise again. Kristine McLeod remembers driving past and watching as Inuvik, N.W.T.'s iconic...
THE BIG PICTURE
Freeze frame
In Iceberg Alley, the 'blue hour' lights up spectacular chunks of 10,000-year-old ice that have broken off the glaciers of Greenland Award-winning photographer Michael Winsor snapped this shot of Fort...
NATIONAL
The supreme Rosie Abella
She said she would answer questions when she turned 75. Rosie Abella is 75.* A one-of-a-kind interview by Paul Wells On the last Friday morning of the spring session of the Supreme Court of Canada,...
The shaky blue tent
While the inner circle has faith in Erin O'Toole, regional and ideological schisms pose a growing threat Picture a rolling video montage of happy, diverse Canadians, filming themselves on their...
SOCIETY
The lost year in education
Education disruption is the 'shadow pandemic' that could eclipse the health crisis in its impact. And with mounting learning gaps and lagging policy, Canadian students are falling behind their global...
NATIONAL
Alone and afraid
A Calgary physician captures COVID-19 in the ICU: trauma, heartbreak and immense love and resilience COVID-19 transformed hospitals. There are no more families or friends at bedsides, just waves of...
They Were Loved
A year ago, Maclean's committed to paying tribute to everyone who dies of COVID-19 in Canada. We called this project They Were Loved, and through a partnership with Carleton University's Future of...
Honouring the 215
An Indigenous mother describes the exhaustion of hearing about residential school trauma, and her determination to share those stories with the next generation Last week, when I first heard about the...
When it's time to give back
In a key step toward reconciliation, Canada's museums are slowly starting to return Indigenous artifacts The Cree beaded hood After surviving European incursions, colonialism and a 500-km journey from...
INTERNATIONAL
How to try the world's biggest crooks
Canadians are leading the push for a global anti-corruption court There are a number of reasons why Canada would seem an unlikely country to champion a groundbreaking international effort to rein in...
EDUCATION
A techie is born
Private companies are offering accelerated IT training to people with no related experience or education. Is it an alternative to a computer science degree? A SPECIAL SECTION...
Think on your feet
Movement is critical to learning. It can also help bring distance education students 'together.' A SPECIAL SECTION DISTANCE...
SOCIETY
Fighting the mutations
Variants of SARS-CoV-2 arise through errors in the virus's replication process. But some mistakes give the virus a deadly advantage. Salim Abdool Karim had never seen his colleague so quiet. Tulio de...
The old man and the sea floor
Inside über-inventor Phil Nuytten's latest quest to take his Exosuit 2000 to new depths—and subsea history On a cool, bright Saturday morning in March, Phil Nuytten stands on the deck of a 23-metre...
A SUMMER OF READING
Here are 20 recently published or upcoming novels and non-fiction works to enliven time spent at the park, at the cottage—or on a comfy chair in the backyard PERSONAL STORIES Likeness David Macfarlane...
Dear Deb . . .
Your public persona was 'Madame Ambassador,' writes Verla Chatsis to her sister. 'To us, you are Deb, the little sister I still long to protect.' We were close as children, partly because we were less...
Thank you
You just used 1 credit. You have left.