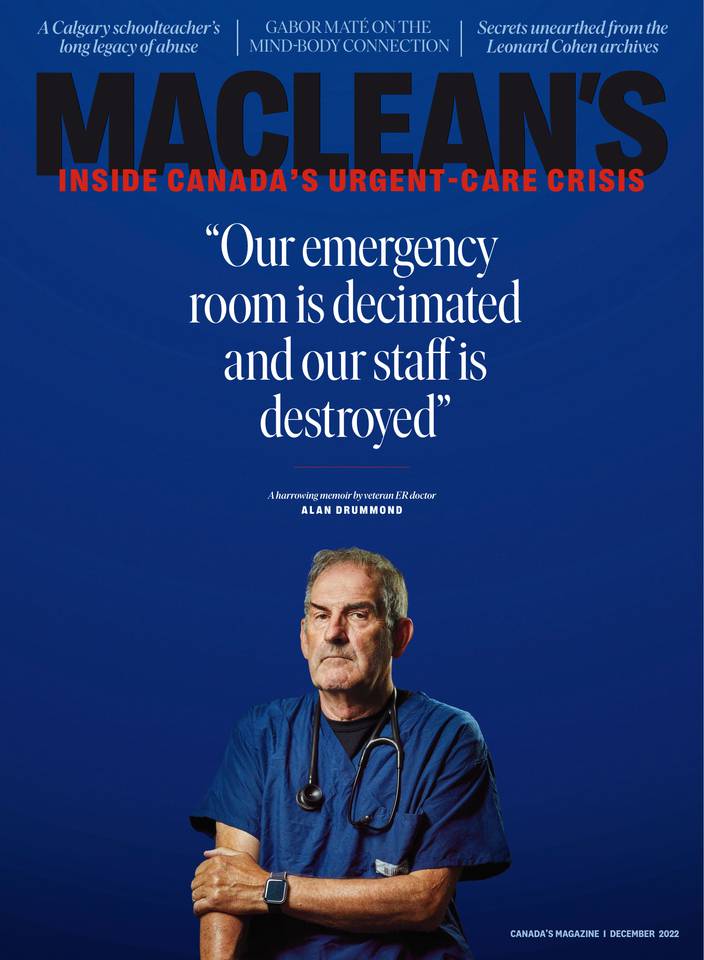 Canada's magazine since 1905
Summary
EDITOR'S NOTE
IN THIS ISSUE OF MACLEAN'S It's painful to talk about the collapse of the Canadian healthcare system. Excellent universal health care that treats every citizen equally is a source of great national...
Read More
December 2022
EDITOR'S NOTE
EDITOR'S NOTE
IN THIS ISSUE OF MACLEAN'S It's painful to talk about the collapse of the Canadian healthcare system. Excellent universal health care that treats every citizen equally is a source of great national...
THE INTERVIEW
The author and superstar physician Gabor Maté says: go ahead, blame your childhood
GABOR MATÉ HAS had an unusual life. Long before his rise to ubiquity as a medical maverick—and a darling of the podcast circuit—Maté left Hungary for Canada with his Holocaust-survivor parents in...
THE BIG IDEA
Send in the Airships
One of the best solutions to Canada's supply chain and shipping woes isn't a bird or a plane. It's a cargo airship. By Pierre-Yves Fouillen WHEN MOST PEOPLE think of airships, the first thing that...
THE GIG
"Simply saying, 'Death sucks!' validates clients' feelings"
Kayla Moryoussef, death doula, Toronto Early days: My parents worked a lot when I was growing up, so my grandmother, Judith, helped raise me. I was 15 when she was diagnosed with cancer, and I kept...
THE MOVE
Wake-Up Call
For Ontarians Doug and Teri Johnson, a health scare was the catalyst for a slower pace of life in Prince Edward Island The buyers: Doug Johnson, a 58-year-old retired operations manager, and his wife,...
THE PROSPECT
The Leading Lady
Shayla Brown , starring this month in Women Talking , is a talent to watch. Just ask Sarah Polley. SHAYLA BROWN had less than a week to prepare for the biggest audition of her life. Last year, the 19...
THE BUILDING
Upward Spiral
Vancouver Island's Malahat SkyWalk is a tourist spectacle—in the best sense of the word TWENTY YEARS AGO, David Greenfield and Trevor Dunn, part of the team behind the Sea to Sky Gondola in Squamish,...
COVER STORY
STATE OF EMERGENCY
I've been an ER doctor for 39 years, and my department has never been this close to collapse. We're overcrowded, underfunded and short-staffed. And we're not alone. A few months ago, a middle-aged...
FEATURES
MONSTER IN THE CLASSROOM
MICHAEL GREGORY WAS THE MOST POPULAR TEACHER AT CALGARY'S JOHN WARE SCHOOL. HE WAS ALSO A SERIAL ABUSER WHO PREYED ON SCORES OF VULNERABLE STUDENTS—AND FOR YEARS HE FELL THROUGH THE CRACKS. Pretty,...
The Leonard Cohen You Don't Know
A new exhibition, filled with notebooks, photos and intimate archival materials, unveils a yet-unseen side of the Canadian icon's creative life An artist's true identity can be a slippery thing to pin...
THE HOT SPOT
THAT CHARLEVOIX CHARM
Where to find fine art, fine wine and fine fondue in the Quebec resort region AROUND 350 MILLION YEARS AGO, a meteorite crashed into the earth, creating the roughly 54-kilometre crater where...
Where to Stay
Whether you want a day at the spa or a hike in the mountains, these hotels show off the best of Charlevoix BEST SPLURGE LE GERMAIN CHARLEVOIX HOTEL & SPA 50 Rue de la Ferme, Baie-Saint-Paul...
CULTURE
A MARITIME DELIGHT
MAUD LEWIS Art Gallery of Nova Scotia November 26 to April 30 FAME AND FORTUNE (mostly) eluded the reclusive Nova Scotian folk artist Maud Lewis in her lifetime—her husband, a fish peddler, never sold...
A FLOOR-STOMPING ROMP
THE STRUMBELLAS Horseshoe Tavern, Toronto December 1 to 3 INDIE ROCK BAND the Strumbellas will stop in their hometown of Toronto for a trio of special shows at the intimate and iconic Horseshoe...
A LONG-AWAITED EPIC
AVATAR: THE WAY OF WATER Various theatres December 16 THIRTEEN YEARS AftER THE ORIGINAL, Avatar's sequel finally brings us back to the moon Pandora and the big blue Na'vi. Director James Cameron...
A CINEMATIC COMEBACK
THE WHALE Various theatres December 16 DIRECTOR DARREN ARONOFSKY waited a decade to find the perfect lead for his psychological drama The Whale. The winning candidate? The '90s hunk Brendan Fraser,...
MANAGING DIABETES
A Growing Epidemic — Diabetes Isn't Slowing Down, and We Can't Either
Inching forward, the new diabetes framework instills hope in millions of Canadians affected by the disease. With 640 new cases daily, 26 hourly, or one every three minutes — diabetes isn't slowing...
A Framework to Help End the Effects of Diabetes in Canada
Canada is moving forward with a national plan of action to support people affected by diabetes. For the past five years, Diabetes Canada, in collaboration with more than 100 stakeholders across the...
A SPECIAL INTEREST SECTION BY MEDIAPLANET
Improving How We Prevent, Diagnose, and Treat Diabetic Retinopathy
People living with diabetes, physicians, patient advocates, and policymakers must work together to prevent, diagnose, and treat diabetic retinopathy. People living with diabetes have an elevated risk...
MY ARRIVAL
"My husband can't leave Ukraine until the war ends. He might have to fight again."
I fled my country and landed in Surrey with my son and younger sister. But I had to leave some of my family behind. By Anastasiia Kholod DURING MY CHILDHOOD IN PAVLOGRAD, UKRAINE, my mother was an...
Thank you
You just used 1 credit. You have left.