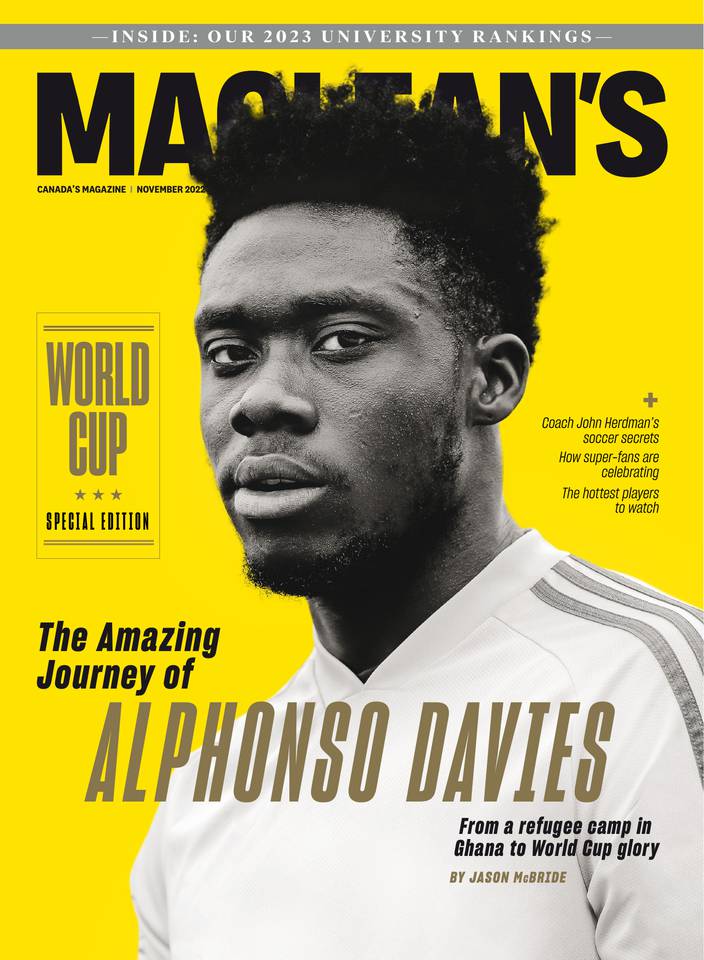 Canada's magazine since 1905
Summary
EDITOR'S NOTE
IN THIS ISSUE OF MACLEAN'S A year and a half ago, a family was out for an evening stroll on a suburban sidewalk in London, Ontario, when a 20-year-old man driving a pickup truck jumped the sidewalk...
Read More
November 2022
EDITOR'S NOTE
EDITOR'S NOTE
IN THIS ISSUE OF MACLEAN'S A year and a half ago, a family was out for an evening stroll on a suburban sidewalk in London, Ontario, when a 20-year-old man driving a pickup truck jumped the sidewalk...
THE INTERVIEW
Unifor president Lana Payne wants Canadian workers to know—and get paid—what they're worth
CANADA'S LABOUR MOVEMENT is ripe for a resurgence after decades of stagnant wages—not to mention the health-and-safety nightmare that was the pandemic. Leading the charge is Unifor, the country's...
THE BIG IDEA
Embrace the future of farm-tech
The next agricultural revolution will be digitized. Canada needs to help its farmers buy in. OVER THE LAST FEW YEARS, I started farming crickets—four billion of them. My company, Aspire, which opened...
THE GIG
"I avoid shouting now that my voice is a real money-maker"
Tiffany Ayalik, audiobook narrator, Vancouver Early life: As a child, I loved putting on plays and concerts with my sister, Inuksuk. We created our own pretend worlds. Education: I studied theatre at...
THE MOVE
Island Time
In 2021, the Bergot-Brownings were itching to leave Toronto. One year and 14 goats later, they're among greener pastures on Vancouver Island. The buyers: Nicole Bergot-Browning, a 47-year-old...
THE PROSPECT
The Shift Dresser
Sujitha Shivajothi never bought into fashion's gender binary. Now she's sending her form-bending designs down the world's biggest runways. AS A CHILD , Sujitha Shivajothi used her tiny fingers to tack...
THE BUILDING
Top-Down Convertible
Calgary's $80-million 9th Avenue Parkade is made for a time when cars aren't king FEW BUILDINGS ARE DESIGNED not to stand the test of time, but Calgary's 9th Avenue Parkade was always headed...
WORLD CUP MANIA
World cup MANIA
FOR THE FIRST TIME SINCE 1986, CANADA'S MEN'S NATIONAL TEAM HAS QUALIFIED FOR SOCCER'S MARQUEE TOURNAMENT. THE PLAYERS—AND THE COUNTRY'S RABID FANS—ARE MORE THAN READY. F YOU ASK LONG-SUFFERING SOCCER...
Everybody Loves Phonzie
HOW ALPHONSO DAVIES BECAME THE BEST CANADIAN FOOTBALLER TO EVER PLAY THE GAME WHEN PEOPLE TALK ABOUT ALPHONSO DAVIES AS A SOCCER PLAYER, the first thing they mention is his speed. It's his superpower,...
COACHING FIRE
Coaching Fire
HOW DID JOHN HERDMAN, A BRITISH TRANSPLANT AND FORMER SCHOOLTEACHER, TURN CANADA'S PERENNIAL UNDERDOGS INTO A BROTHERHOOD OF CHAMPIONS? HE WENT STRAIGHT FOR THEIR HEARTS. Every coach dreams of leading...
MEMORIES OF 1986
Memories of 1986
MUCH LIKE THIS YEAR'S RUN, CANADA'S FIRST WORLD CUP APPEARANCE 36 YEARS AGO DEFIED EXPECTATIONS. A LOOK BACK AT THE MOST ELECTRIC MOMENTS FROM OUR NATIONAL TEAM'S HISTORIC QUALIFYING EFFORT, AND THE...
CHEERINE SECTION
Cheering Section
FIVE SOCCER SUPER-FANS CHAT ABOUT THEIR LOVE OF THE BEAUTIFUL GAME AND WHAT IT'S LIKE TO ROOT FOR BOTH CANADA AND THEIR LONG-TIME FAVOURITE NATIONAL TEAMS Amadou Mbaye, 40 Translator...
SOMETHING EVIL
Something Evil
The Afzaal family were out walking in London, Ontario, when a truck mowed them down. Here, the untold story of the man accused of their murder: a disturbed 20-year-old factory worker from a troubled...
UNCERTAIN STARDOM
Uncertain Stardom
Sort Of is the most acclaimed, defiantly original show on Canadian TV—and it might be star and co-creator BILAL BAIG'S launchpad to fame. They're still not sure how to feel about that. The first time...
CULTURE
ILLUMINATING LEGENDS
Through the lens of his glamorous alter ego Miss Chief Eagle Testickle, artist Kent Monkman amends the historical record THE CREE ARTIST KENT MONKMAN HAS A STRIKING ALTER EGO: Miss Chief Eagle...
A GOTHIC PERIOD DRAMA
THE WONDER Netflix November 16 THE NEW ADAPTATION of Irish-Canadian author Emma Donoghue's novel The Wonder marks another foray onto the big screen for the writer after Room, which earned her a best...
A POST-APOCALYPTIC BALLET
MADDADDAM National Ballet of Canada November 23 to November 30 MARGARET ATWOOD'S DYSTOPIAN MaddAddam trilogy gets reimagined with pliés and pirouettes in a three-act show set in three distinct bleak...
A TWISTY FAMILY SATIRE
THE OPPORTUNIST Elyse Friedman November 29 FRIEDMAN IS A PROMINENT TORONTO SCREENWRITER and infrequent author with a self-confessed "naturally snide sensibility." She outdoes herself in her...
HABITAT
THE MAGICAL TREEHOUSE
A Quebec couple renovates their whimsical property in a fairy-tale forest IN JUNE OF 2018, ÈVE LENOIR was visiting a friend in Tingwick, Quebec, when a handsome neighbour popped over to borrow some...
THE TRADES TREND
Why there's never been a better time to start a career in construction
TALK TO ANYONE in construction and they'll say everyone needs workers. Some industry experts believe the demand for skilled tradespeople will soon rise to dizzying heights. So, the industry is eager...
Technology blurs the line between white- and blue-collar work
IN A MODERN AUTO PLANT, robots are everywhere. People? Not as much. Even if thousands are employed there, they may be hard to spot on the assembly line. "You walk through and you say, 'Where are they?...
IN PARTNERSHIP WITH LEDCOR
'The trades just made me an overall happier person'
From an early age, Chyenne McPherson knew she wanted to be a skilled tradesperson. She had grown up around them, enjoyed math, problem solving and hands-on work. She originally thought she wanted to...
To fill a need for workers, the face of the skilled trades is changing
A SIMPLE BROCHURE changed the whole course of Andrea Osborne's life. She was visiting the band office at her boyfriend's reserve to apply for welfare when she spotted a pamphlet from Trade Winds to...
LEDCOR PROGRAM PROMOTES TRADES CAREERS FOR LOCAL FIRST NATIONS
It's a beautiful morning in Kitimat, B.C., and hundreds of employees are arriving to work on one of the most important construction projects in Canada's history, a massive, $40-billion liquefied...
OPEN MINDED
Open Minded
Athabasca University lets you study anywhere, at your own pace LIKE HIS FAMILY before him, Tyler Harbaruk imagined a lifelong career in the oil and gas industry. Growing up in the oilpatch town of...
PROGRAM PUTS OVERSEAS STUDY IN REACH
Program puts overseas study in reach
INTERNATIONAL INTERNSHIP had always appealed to Marina Melanidis, but financially, it was out of the question. At 19, she was living with her parents to save money and making 90-minute trips by bus...
UNIVERSITY RANKINGS 2023
Measuring Excellence
For more than three decades, Maclean's has collected the data and crunched the numbers to evaluate Canadian universities MACLEAN'S ANNUAL university rankings continue a tradition...
How We Rank
Maclean's assesses universities on several key points, allocating a weight to each, to find out who is top of the class CATEGORIES Maclean's places universities into one of three categories to...
Medical Doctoral: McGill
The Montreal university keeps its top spot among institutions that offer a broad range of Ph.D. programs and research, as well as medical schools THIS COMING MARCH, McGill will be the first university...
Comprehensive: Simon Fraser
After tying with Victoria last year, SFU holds the No. 1 spot among universities with a significant amount of research and a wide range of undergraduate, graduate and professional programs SIMON...
Primarily Undergraduate: Mount Allison
After slipping to second last year, Mount Allison is back in first among schools that focus on undergraduate education SAM MCGAW, a fourth-year biochemistry student at Mount Allison University,...
MACLEAN'S
EARN AN INTERNATIONAL EDUCATION EXPERIENCE AND BUILD A GLOBAL NETWORK WITHOUT LEAVING CANADA
At University Canada West, you can earn a globally recognized degree and invaluable opportunities As reported by McGraw Hill Canada, research has shown that classroom diversity enriches all students'...
UNIVERSITY RANKINGS 2023
Canada's Best Programs
Maclean's ranks university programs in five popular areas according to their reputations for research and overall quality CHOOSING A UNIVERSITY is one of the most important decisions students make in...
TEACHERS AT THE HEART OF NUNAVUT COMMUNITIES
Teachers at the heart of Nunavut communities
ONE AUGUST DAY when she was 24, Brittany Rosborough stepped off a plane in Kugluktuk, Nunavut, to begin her new job as a teacher. She was north of the Arctic Circle, but the weather was warm — and so...
MACLEAN'S
Financial planning: A rewarding career that lets you make a difference
FRED ZHOU'S CAREER as a financial planner has roots in his childhood. Growing up in Kamloops, B.C., Zhou would often serve as a translator for his mother, who did not speak much English. When he was...
High demand for financial planners ensures long-term job security
FOR YEARS NOW, businesses and policymakers have warned of the so-called skills shortage in Canada. Most Canadians have heard about the urgent need for more employees with science and technology...
How to become a financial planner
JAY MALLARI immigrated to Canada along with his wife in 2012. Like many other new Canadians, he wanted to expand his horizons in his adopted home. With a background in finance in his native...
Work at a Marriott hotel, see the world
GROWING UP, Mitch Hince didn't know much about the wider world outside of Timmins, Ont. — only that he wanted to be part of it. His interest in travel led him to obtain a university degree in...
Canada's Nuclear Future
Tracy Primeau Past Shift Manager, Bruce Power & Board Member, WiN Canada The nuclear industry is currently going through a renaissance and change, innovation, and growth in the industry are only going...
Nuclear Has a Waste Solution, Not a Waste Problem
Managing highly radioactive nuclear waste presents a unique challenge. Canada is up to the task and is moving forward to protect people and the environment for the long-term Canada has been one of the...
Embracing Nuclear Energy Is Key to Canada's Success and Goals
If Canada wants to achieve energy security, create jobs, boost our economy, and reach our ambitious net-zero goals, we must support nuclear. Nuclear power is playing an increasingly vital role in...
Ontario's Nuclear Expertise Is the Key to a Clean Energy Future
Greening Ontario's energy portfolio is essential, but renewables aren't enough. Experts in Ontario's energy sector offer a vision of a green energy future with a robust nuclear foundation. There are a...
Environmentally Elite Saskatchewan Uranium Project Could Unlock a Carbon-Free Global Future
The climate crisis is here, and it has brought an energy crisis with it. Canada's uranium reserves can provide a way forward. The future of Canada, and the future of the world, depend on clean energy....
McMaster Is Leading the Way in Nuclear Energy Innovations
McMaster University's pioneering nuclear research and small modular reactor innovations will help Canada meet its net-zero target. Canada has a history of innovation in the nuclear space, and McMaster...
Canada's Green Future Brings a New Twist on the Country's Storied Nuclear Legacy
Shepherding Canada into a clean energy tomorrow will require various green technologies working in harmony. The advent of SMRs is prompting a re-evaluation of the role nuclear could play in that plan....
Could Actinium-225 Transform Cancer Treatment? CNL Plans to Find Out
Actinium-225, one of the most sought-after isotopes in the world, is being studied and produced in Canada's national nuclear laboratories. If you haven't heard of Actinium-225, it's for good reason....
Preparing Climate Leaders of the Future In Nuclear Energy
Nuclear is not only a means to help Canada reach net-zero carbon but also a dynamic and exciting career choice. Nuclear power has been integral to Ontario's energy landscape for years. "It has...
A Novel Micro Reactor Is Unleashing the Power of Human Ingenuity
The new eVinci™ microreactor is delivering the next generation of nuclear reactor technology for decentralized energy applications. Nuclear power is gaining momentum worldwide as countries look to...
MY ARRIVAL
"I didn't feel homesick until two weeks after I arrived. I missed the mountains of Ecuador."
After moving from Quito to Waterloo, I found comfort and community in salsa dancing. IN MY SENIOR YEAR OF HIGH SCHOOL in my hometown of Quito, Ecuador, I fell in love with computer science. It was...
Thank you
You just used 1 credit. You have left.