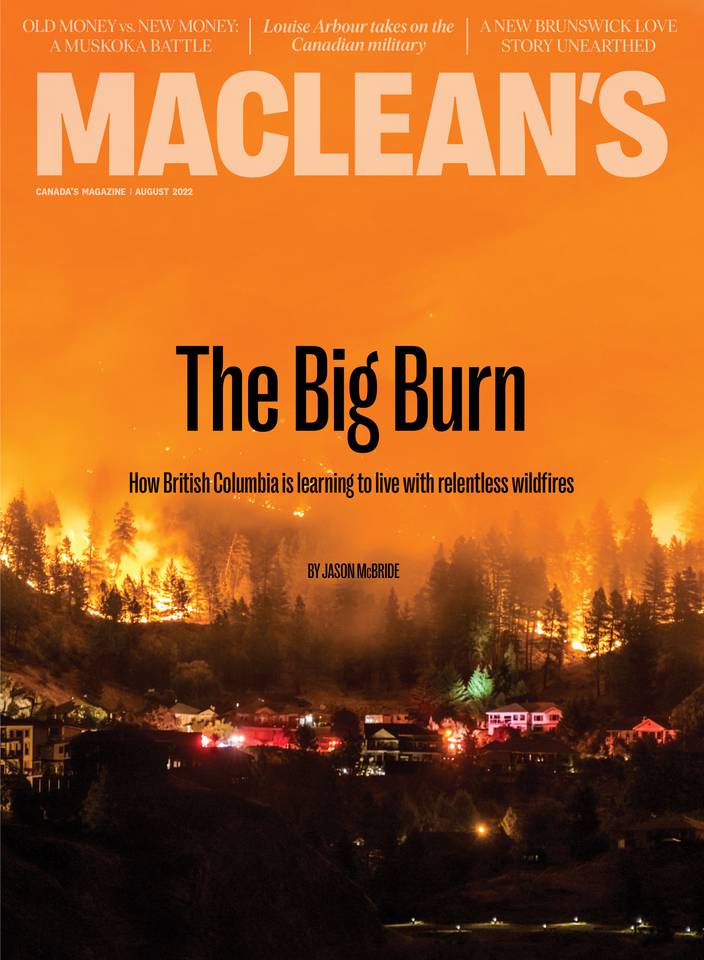 Canada's magazine since 1905
Summary
Louise Arbour, former Supreme Court justice and human rights champion, is fighting to reform the Canadian military
LOUISE ARBOUR, a former Supreme Court justice and United Nations high commissioner for human rights, has spent her career taking on the world's most notorious human rights violators. And yet one of...
Read More
August 2022
COVER STORY
Louise Arbour, former Supreme Court justice and human rights champion, is fighting to reform the Canadian military
LOUISE ARBOUR, a former Supreme Court justice and United Nations high commissioner for human rights, has spent her career taking on the world's most notorious human rights violators. And yet one of...
Tax million-dollar-home owners
Tackling the scourge of housing unaffordability isn't impossible. Older, wealthier homeowners just need to chip in. I'M 47 YEARS OLD NOW, but I started the "think and change tank" Generation Squeeze...
The Rez Rebel
Paulina Alexis , breakout star of the FX series Reservation Dogs , is upending Hollywood tradition while upholding her own IT DIDN'T TAKE LONG for Reservation Dogs to secure Hollywood's stamp of...
Wild at Heart
The animals that inhabit Montreal's beloved Biodôme are at the centre of its recent architectural overhaul JULIE JODOIN IS FINE WITH most descriptions of Montreal's Biodôme—just not zoo. "At a zoo,...
Sam Effah Co-chef de mission, Commonwealth Games TORONTO
Sam Effah's Olympic sprinting days may be in the past, but he's still a man on the go. In late July, Effah will represent Team Canada as one of two chefs de mission for the 2022 Commonwealth Games in...
DOUG WILSON
FIRE CHIEF, Logan Lake "I cut my teeth as a volunteer firefighter in Langley, starting in 1989. In 2015, when we moved up here, the chief saw my fire hat. After six months, he said, 'You start...
MARK & LISA SCHUITEMA
FARMERS, Merritt LISA: "We've been here for seven years. When you live here and you start to see the smoke—and all you see is smoke—it makes you feel a little panicky and anxious. There were some...
BARBARA RODEN
MAYOR, Ashcroft EDITOR, Ashcroft–Cache Creek Journal "For the first 20 years that I lived in Ashcroft, we thought of fire season in very general terms, if we thought about it at all. But in 2017, the...
MACLEAN'S
New Jobs, Reduced Pollution, and Improved Health: Are You Driving Electric?
Mediaplanet sat down with Daniel Breton, President and CEO at Electric Mobility Canada, to discuss the challenges facing Canada's EV industry and EMC's EV Action Plan. What challenges does Canada's EV...
A SPECIAL INTEREST SECTION BY MEDIAPLANET
The Past, Present, and Future of EVs: An Adventure in Invention
The electric vehicle revolution began earlier than you realize. It's going further than you can imagine. And at every step, Nissan has been present. It's been twenty years since electric vehicles...
Leading the Future of Transportation with Sustainable EV Battery Recycling
Li-Cycle's innovative battery recycling process is transforming how we deal with electric vehicle lithium-ion batteries. Today, one technological shift is changing the future of transportation –...
Going Green Is a Team Sport. We Need to Support Ridesharing Drivers to Go Electric
Uber Canada is moving toward its ambitious zero-emission platform goal through a series of smart collaborations and incentives. As the largest mobility platform in the world, we know that our impact...
Q&A with Kia Canada COO Elias El-Achhab on the Canadian EV Market
What concerns do Canadian shoppers have about EVs? When surveying Canadians, the biggest concerns are still around range, charging infrastructure, and lifestyle. It's true that much of Canada is made...
The Tipping Point: How Electric Vehicles Became the Norm While We Weren't Looking
The argument for EVs has always been multifaceted: climate change, gas prices, the appeal of new technology. But the newest argument is quite simple — they're some of the most practical vehicles on...
FEATURES
TROUB LE IN PARADISE
A TORONTO REAL ESTATE DEVELOPER IS BUILDING A MANSION ON MUSKOKA'S EXCLUSIVE LAKE JOSEPH—AND THE NEIGHBOURS ARE DOING WHATEVER THEY CAN TO STOP IT. INSIDE A BATTLE FOR THE SOUL OF COTTAGE COUNTRY. it...
LOVE A SECRET
Len Keith and Cub Coates fell for each other in early 20th-century New Brunswick, at a time and place where queer relationships were taboo. Their story was almost lost forever—until a collection of...
IDEAS
CREE IS CANLIT
In Making Love With the Land, Joshua Whitehead moves between genres and languages in a series of essays that open up a whole new window on the meaning of Canadian literature IT HAS BEEN AN INTENSE...
TOKENS OF APPRECIATION
NFTs are great for artists: there's no shipping required, brokers are on board and collectors are ready to pay big money for what amounts to a digital receipt. So is blockchain the future of art—or a...
AGAINST THE ODDS
Ontario's newly legalized online single-game sports betting—and the flood of ads promoting gambling—puts recovering addicts like me at risk When single-sport online gambling became legal in Ontario in...
SPECIAL ADVERTISING FEATURE
Courting Appeal
How MBA-program applicants can impress admissions recruiters You've decided to pursue an MBA—great! Now comes the hard part: impressing the admissions team and earning your acceptance letter. While...
Five Important Benefits of an MBA
Studying for an MBA isn't just about getting a new degree. Here are a few of the unexpected benefits of earning an MBA. Expand your network MBA programs offer students the opportunity to meet and...
Coming from Away
Why Canadian universities are so appealing to international MBA students Consistently ranked among the world's best, Canadian universities have a global reputation for academic excellence. According...
MACLEAN'S 2022 MBA DIRECTORY
Athabasca University ATHABASCA athabascau.ca Athabasca University launched the first fully interactive online MBA program in the world, and since then has continued to build a legacy of online...
IDEAS
"Sharing my recipes from Mexico helped me reclaim my identity here"
Fearing for our safety, my family and I fled Mexico. To make a home in Canada, I had to reconnect with with my culinary roots. I GREW UP IN MAZATLÁN, MEXICO, right by the beach. I moved to Guadalajara...
Thank you
You just used 1 credit. You have left.