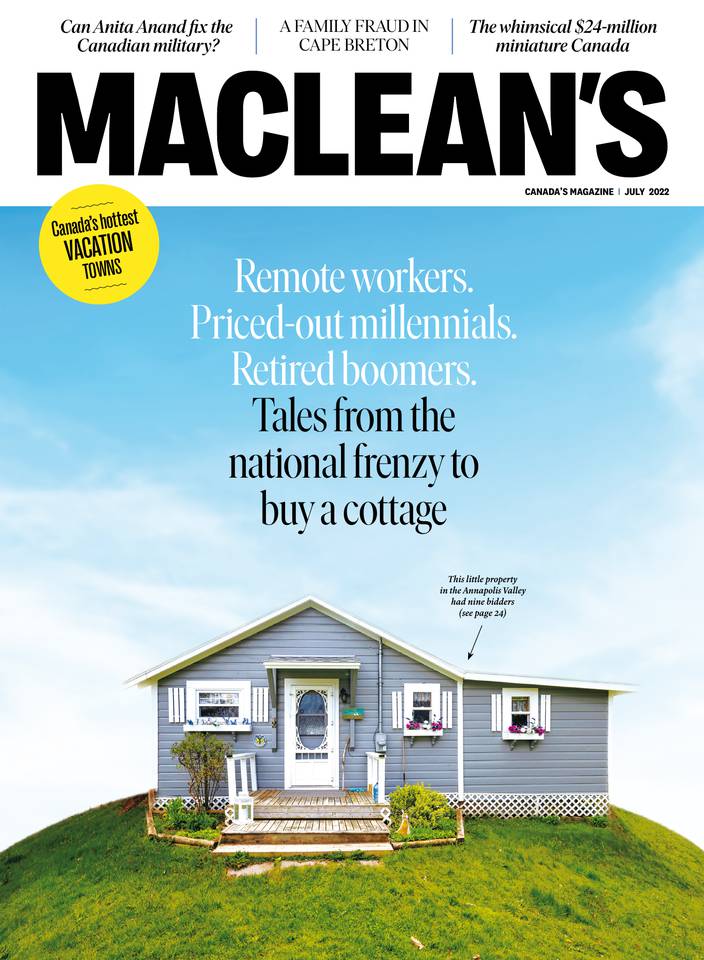 Canada's magazine since 1905
Summary
Dear MACLEAN'S  CALL AND RESPONSE
I read Maclean's piece about the plight of paramedics in Canada with interest ("Distress Call," May 2022). I'm a paramedic from North Vancouver. I spent most of my career with BC Emergency Health...
Read More
July 2022
EDITO
Dear MACLEAN'S  CALL AND RESPONSE
I read Maclean's piece about the plight of paramedics in Canada with interest ("Distress Call," May 2022). I'm a paramedic from North Vancouver. I spent most of my career with BC Emergency Health...
THE INTERVIEW
Moderna's Patricia Gauthier has Canadian-made plans to fight the next viral menace
IN NOVEMBER OF 2020, Patricia Gauthier walked away from her post as head of vaccine business at pharmaceutical giant GSK to become the general manager—and first employee—of Moderna Canada, a...
THE BIG IDEA
Make Malls That Matter
Canada's dead and dying shopping centres are ideal sites to house much-needed community services. I HAVE A VERY LONG HISTORY WITH MALLS. Before embarking on a 30-year career in retail design, I...
THE MOVE
A Space Odyssey
A million-dollar view awaited the Grant family in Kelowna. But first they had to part with their beloved Toronto. The buyers: Sarah Grant, a 40-year-old home-organization entrepreneur; John Grant, a...
THE PROSPECT
The Air Apparent
Shaedon Sharpe has become one of the most sought-after players in this summer's NBA draft—without playing a minute of college basketball IT TOOK A FOOTBALL injury for Shaedon Sharpe to get serious...
THE BUILDING
The Height of Ambition
Toronto's CIBC Square is built for the free-form future of work WHEN BRITISH ARCHITECT DOMINIC BETTISON visited Toronto for the first time in 2013, he saw a whole lot of Mies: Ludwig Mies van der...
SPENDING DIARY
Nick Farkas
After a two-year hiatus, Montreal's Osheaga Festival takes over Parc Jean-Drapeau from July 29 to 31. This week, co-founder Nick Farkas loaded up on plenty of coffee and doughnuts. He also dove into...
Practices Made Perfect
Why doctors are moving to Sault Ste. Marie to join its innovative Group Health Centre FOR FAMILY DOCTORS PASSIONATE about delivering quality medical care and maintaining a healthy work/life balance,...
COVER STORY
COTTAGE INDUSTRY
Surging prices, bidding wars, blind offers—the search for seasonal real estate has become a battlefield. Tales from 10 of Canada's hottest vacation towns. Canadians call their vacation homes by many...
1 ANNAPOLIS VALLEY The Eastern Attraction
The Market: Nova Scotia's Annapolis Valley—chockablock with Acadian culture, wineries, whale sightings and more wineries—has long been a great place to visit. What's new is how many out-of-province...
JOE'S FOOD EMPORIUM
This Wolfville mainstay prides itself on serving something for everyone—and lately, that's included a whole lot more cottagers AS A CHILD, Hussein Rafih watched as his father, Joe, tried to create the...
2 MUSKOKA The Old Faithful
The Market: Known to some as the "Hamptons of the north," Muskoka has been a go-to for affluent vacationers—including the Weston and Rogers families—for decades. (A new twice-weekly flight service...
ROSS HALLORAN, PORT CARLING
This veteran agent was preparing for the pandemic to pummel the Muskoka market. Instead, it exploded. What was the state of the Muskoka market in early 2020? Prices were increasing by about 15 per...
3 INVERMERE The Best-Kept Secret
The Market: In-the-know Calgarians have long braved the mountainous three-hour trek to holiday in Invermere, British Columbia, a town of 4,000 people that borders the Rockies. Its charming downtown...
4 SOUTH SHORE The Seaside Buy
The Market: Nova Scotia's southern coast is synonymous with maritime charm: it's home to the iconic lighthouse of Peggy's Cove, the Bluenose II, oceanfront beaches and seemingly endless reserves of...
5 SAINT ANDREWS The Historic Holiday
The Market: This quaint, 1,800-person town on New Brunswick's southwestern tip has been a reliable summer escape since the turn of the 20th century. But the area's resort industry now has stiff...
6 KAWARTHA LAKES The New Muskoka
The Market: On a good traffic day, residents of the Greater Toronto Area can make it to tree-studded Kawartha Lakes in under two hours. Its proximity to urban centres and abundance of waterfront views...
SHEEPDOG BREWING, CANMORE
Adventurous tourists are always blowing through this Rocky Mountain town. Sheepdog has found success serving those who stay. AFTER A LONG, hard day of hiking or spelunking through the mountains, many...
8 BAIE-SAINT-PAUL
The Nouveau Locale The Market: There's no better evidence of Baie-Saint-Paul's tourist clout than the opening of Club Med's first North American mountain resort 20 minutes south of the town last...
9 INTERLAKE
The Fisherman's Friend Karen: I bought my first seasonal cottage in 2012. At the time, I was looking at properties for a client in the village of Dunnottar, on the shores of Lake Winnipeg. The place I...
JOANNA WANG AND JP LETNICK, KELOWNA
Wild demand for vacation properties across the Okanagan kicked this husband-and-wife team into high gear How did the pandemic impact your business? Joanna: It completely stopped in March of 2020. We...
FEATURES
The Swindler Sisters
The Saker women were the model of rural ingenuity, running a successful restaurant and several gourmet food businesses on Cape Breton Island. It turned out they were mostly cooking the books. WHEN...
Open Dialogue Is the First Step to Living Well with Prostate Cancer
To mitigate the health implications of prostate cancer, patients and their physicians must maintain an open dialogue and participate in shared decision-making. According to the Canadian Cancer...
IT'S A SMALL WORLD
The Little Canada museum in Toronto recreates the nation's landmarks in miraculous, miniature detail. We spoke to the builders about how they pulled it off. In a basement in downtown Toronto, there's...
IDEAS
THE THEATRE OF ORVILLE PECK
Canada's most famous gay country singer has cultivated intrigue—and heaps of fans—with his singular look and made-up name. What's true about the man behind the mask? WHEN ORVILLE PECK first appeared...
THE OUTER CHILD
Grown-ups are getting into kidcore, a trend defined by bright colours, zany accessories and the carefree instincts of childhood "Hi everyone! So today, I want to get dressed in an outfit I would wear...
THREE TO READ
REHEARSALS FOR LIVING by Robyn Maynard and Leanne Betasamosake Simpson Knopf Canada, June 14 In 2020, a year of pandemic lockdown and worldwide anti-racism protests, two prominent Canadian scholars...
WATERFRONT WARS
Set in northeastern Ontario, Amazon Prime Video's new eight-episode series The Lake is a cottage-country comedy loosely based on writer Julian Doucet's life. The show follows Justin (Jordan Gavaris),...
A KNIGHT'S TALE
As the new lead writer for Batman, Chip Zdarsky wants to explore the superhero's weaknesses A couple of years before the pandemic, Chip Zdarsky had a funny idea for a Comic-Con panel: a PowerPoint...
INTO THE ABYSS
Twelve years ago, Melissa Bond found herself racked by insomnia as she struggled to care for an infant daughter and a one-year-old son with special needs. Her doctor prescribed Ativan, a fast-acting...
'The people here are open-minded. I'm always going to art and fashion shows and concerts.'
I grew up in Nigeria and came to Toronto for school when I was 16. The city was a perfect launching pad for my career as a digital designer. I COME FROM A FAMILY OF ENTREPRENEURS. My dad operates a...
Thank you
You just used 1 credit. You have left.