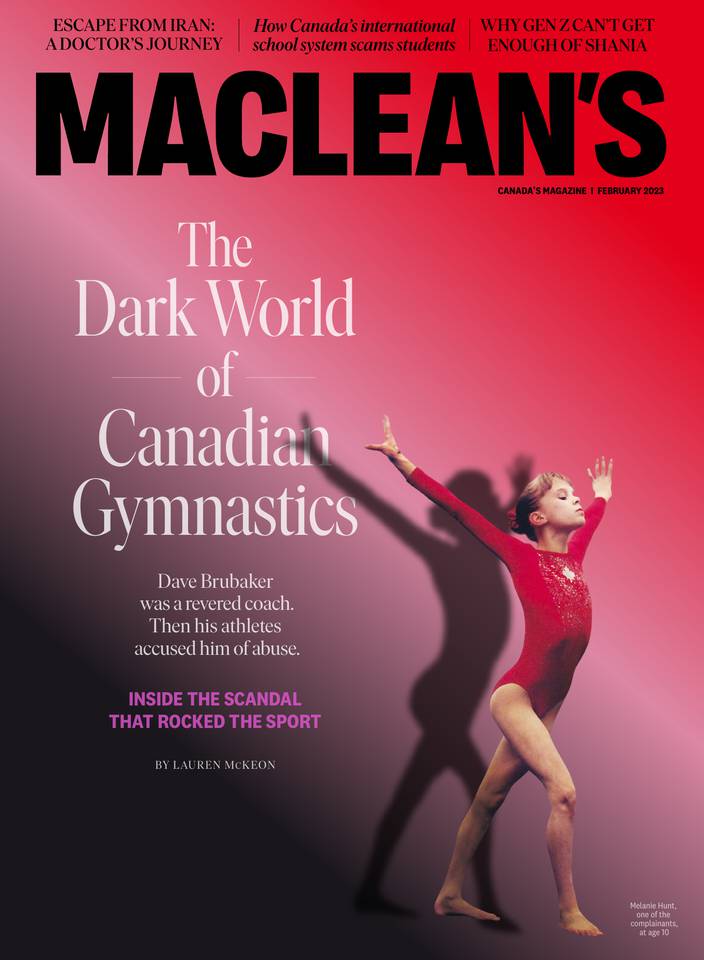 Canada's magazine since 1905
Summary
EDITOR'S NOTE
IN THIS ISSUE OF MACLEAN'S Over the last few months, I have watched the events unfolding in Iran with awe and admiration. The protests, sparked by the murder of 22-year-old Mahsa Amini at the hands of...
Read More
February 2023
EDITOR'S NOTE
EDITOR'S NOTE
IN THIS ISSUE OF MACLEAN'S Over the last few months, I have watched the events unfolding in Iran with awe and admiration. The protests, sparked by the murder of 22-year-old Mahsa Amini at the hands of...
COMMENTS
COMMENTS READERS WEIGH IN
CRISIS POINT In his December cover story, the Ontario ER doctor Alan Drummond wrote about the overcrowding and underfunding in Canadian emergency departments. His candour and clarity earned a swell of...
THE INTERVIEW
For author and addictions doctor Vincent Lam, the professional is always personal
IN HIS GILLER PRIZE–WINNING SHORT story collection, Bloodletting & Miraculous Cures, Toronto physician Vincent Lam took readers behind the exam-room curtain and into the hectic, heart-straining lives...
THE BIG IDEA
Bring back nuclear power
Small modular reactors, also known as SMRs, are a third of the size of traditional ones and open a new road to net zero. AS A TEENAGER IN THE '80S, long before anyone cared much about climate change,...
THE MOVE
Family Ties
Rental prices in Toronto are out of control. So Daniella Quagliara moved in with her 65-year-old aunt. ABOUT A DECADE AGO, when I was 25, I moved out of my parents' Toronto home and started renting on...
THE PROSPECT
The Toast of the Town
Anika Sawni, co-founder of the non-alcoholic beverage company Grüvi, has become a saviour for the sober-curious GROWING UP IN Richmond Hill, Ontario, Anika Sawni was the rare kid you'd call a wellness...
COVER STORY
The Harder They Fall
Dave and Elizabeth Brubaker became top Canadian gymnastics coaches by pushing young girls to their limit. Their former athletes say the tough training was a cover for abuse. How gymnastics became yet...
FEATURES
The Revolution At My Door
I turned my cosmetic medicine practice near Tehran into an ad hoc ER for the protesters fighting an oppressive regime—until the regime came after me. How I escaped Iran and found my way to Canada. IT...
A BROKEN EDUCATION
When a private college owned by a scandal-plagued Montreal family imploded, so did the dreams of hundreds of international students. How fraud artists and fly-by-night schools are exploiting Canada's...
CHOSEN FAMILY
In his Queer Portraits series, Montreal photographer JJ Levine set out to document his own community. He captured the story of a much bigger one. JJ LEVINE WAS EIGHT YEARS OLD when his mother bought...
HABITAT
SHACKING UP
A newly smitten Ontario couple gave up plenty of possessions to move into a 360-square-foot tiny home on Vancouver Island. They gained a whole new life. ASHLEIGH TRAHAN AND Elyse Wellhauser met on...
CULTURE
A LITTLE BIT COUNTRY
On her genre-jumping new album, Shania Twain still luxuriates in her crossover appeal WHAT DO HARRY STYLES, Diplo and Haim all have in common? They've all duetted with, covered or shouted out Shania...
A SURREAL PHOTO EXHIBIT
MERYL MCMASTER: BLOODLINE McMichael Canadian Art Collection, Kleinburg, Ontario February 4 to May 28 THE CANADIAN large-scale photographer Meryl McMaster explores the history and artistry of her...
A FEMINIST DESIGN SHOWCASE
PARALL(ELLES): A HISTORY OF WOMEN IN DESIGN Montreal Museum of Fine Arts February 18 to May 28 AMONG THE TREASURES on display at this exhibit are a Tiffany lamp by Clara Driscoll, a 1950s wall clock...
A TIME-TRAVELLING ROMANCE
PLAN B CBC February 27 FOLLOWING THE SUCCESS of the 2017 French version on Ici Radio-Canada Télé, the Canadian psychological drama series Plan B premieres en anglais this month. Patrick J. Adams—best...
A DYSTOPIAN ADVENTURE
THE LAST OF US Crave January 15 THE AWARD-WINNING video game The Last of Us has morphed into a TV show of epic—even by HBO standards—proportions. The behemoth drama, shot in Alberta and set in a...
MY ARRIVAL
"After I escaped Mexico's cartels, the only steady work I could find was as a janitor"
Fourteen years after moving to Canada, I'm still trying to land a job that makes use of my skills. IN 2008, THE BORDER TOWN OF CIUDAD JUÁREZ, where I lived with my wife and three children, was the...
Thank you
You just used 1 credit. You have left.