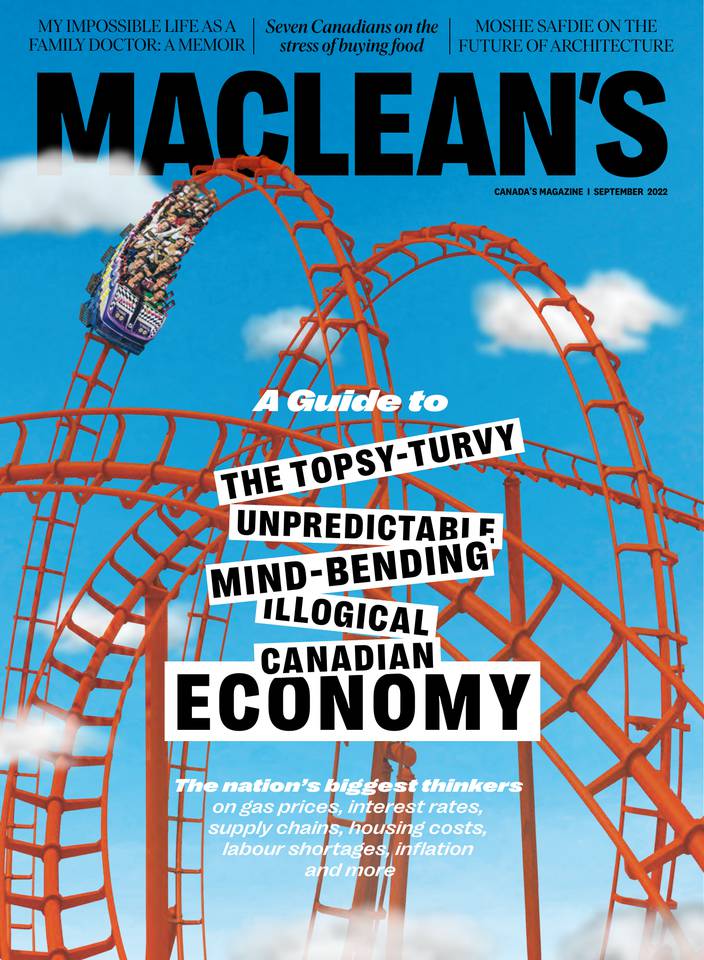 Canada's magazine since 1905
Summary
EDITOR'S NOTE
IN THIS ISSUE OF MACLEAN'S I am very lucky to have a wonderful family doctor. She's smart and thorough. She takes my concerns seriously and calls me in the evening with test results if she knows I'm...
Read More
September 2022
EDITOR'S NOTE
EDITOR'S NOTE
IN THIS ISSUE OF MACLEAN'S I am very lucky to have a wonderful family doctor. She's smart and thorough. She takes my concerns seriously and calls me in the evening with test results if she knows I'm...
COMMENTS
"Anand is one of the bright spots in cabinet. She's one of the few adults."
PUBLIC DEFENDER Shannon Proudfoot's profile of Defence Minister Anita Anand ("The Fixer," July 2022) had a polarizing effect on readers. Some think she's the future of the Liberal party: I can't stand...
THE INTERVIEW
Architectural giant Moshe Safdie wants Canada to rebuild its sense of adventure
MOSHE SAFDIE IS ONE OF THE WORLD'S most iconic and inventive living architects, with projects that include Montreal's famed Habitat 67 housing complex and the prismatic Yad Vashem Holocaust History...
THE BIG IDEA
Make Cannabis Amnesty Happen
Nearly four years after legalization, past cannabis convictions can only be pardoned. They should be expunged altogether. IN LATE MAY, Health Canada approved a three-year pilot project in British...
THE MOVE
Animal House
Adele Doucet dreamed of owning a place she and her many pets could call home. Her family helped make it happen. The buyer: Adele Doucet, a 29-year-old veterinarian. The budget: $200,000 The backstory:...
THE PROSPECT
The Crowd Pleaser
B.C. pop newcomer Jessia is winning over Canadians with her motivational melodies JESSIA'S RISE TO FAME is a classic Cinderella story—with a modern, TikTokky twist. Last year was a particularly rough...
THE BUILDING
Common Ground
The University of British Columbia's CAN ARCHITECTURE ASSUAGE PAIN? Can a building help visitors grapple with grief ? The University of British Columbia's Indian Residential School History and...
SPENDING DIARY
Ola Dada Comedian VANCOUVER
In 2017, Ola Dada got his start as a comic by roasting his friends at Vancouver's Comedy Basement. Now, the 27-year-old Fort McMurray native—and former semifinalist on Canada's Got Talent—is gearing...
MONEY TALK
A Canadian's Guide to the Roller-coaster Economy
BALLOONING INFLATION, MOUNTING DEBT, A LABOUR SHORTAGE—AND HAVE YOU SEEN GAS PRICES? HERE, THE COUNTRY'S SMARTEST ECONOMIC MINDS EXPLAIN HOW CANADA GOT SO FINANCIALLY WILD, AND HOW TO MAKE THINGS...
What's With These Interest Rates?
In June, the Bank of Canada made an announcement that sent shock-waves through the housing market. It hiked its key interest rate to 1.5 per cent, hinting at more aggressive increases to come. It soon...
HOW RENT PRICES GOT SO HIGH
When the pandemic kicked off, rental-housing prices fell by five to six per cent in most Canadian provinces. For the first time in years, some renters could find a good deal here and there. Some...
How Climate Change is Costing Us
Governments and corporations have largely cast climate change as an environmental issue. Even in 2022, they rarely factor its economic toll into their decisions. And many individual Canadians think...
WHY DELIVERY APPS ARE DYING
The so-called servant economy emerged in North America in 2008, in the aftermath of another recession. It was built on a simple, seductive premise: app-based delivery that relied on efficient...
How'd We Get Into So Much Debt?
Canadians have been in debt for a few decades now: the last time the national debt-to-disposable-income ratio was even was in 1994. In the first quarter of 2022, Canadians owed $1.83 in debt for each...
WHY FOOD IS SO PRICEY
In May, Statistics Canada reported that Canadians are paying nearly 10 per cent more for food than they did in 2021: meat and fresh fruit are up by 10 per cent, rice is up by roughly seven per cent...
WHAT TO KNOW ABOUT STUDENT DEBT
When new grads aren't able to land good jobs in their fields, they often end up in unrelated low-wage work. They serve tables or work in retail to make ends meet and pay down their student debt. And...
Where Did All the Rental Cars Go?
When stay-at-home orders went into effect two years ago, the travel industry came to a standstill. Demand for rental cars went down to virtually zero. In response, Canadian rental car operators were...
WHY CRYPTO WENT KABOOM
Right now, there are more than 20,000 kinds of cryptocurrency in the world. This goes against one of the central ideas of Bitcoin—the very first cryptocurrency—which promised a cap on supply. Crypto...
Seriously, These Gas Prices?
Canadians have always been preoccupied with the prices at the pump. Even before this year's spikes, I would hear about cars lining up down the street from Costco to take advantage of the store's...
HOW THE LABOUR SHORTAGE GOT SO BAD
Never in Canada's history have we seen labour numbers like this. This is the tightest the job market has ever been. At the start of this year, there were just 1.2 unemployed people for every job...
DOCTOR'S DILEMMA
A DOCTOR'S DILEMMA
MY JOB AS A FAMILY PHYSICIAN IN SMALL-TOWN BRITISH COLUMBIA IS A DREAM COME TRUE. IT'S ALSO NEARLY IMPOSSIBLE TO DO. DRIP, DRIP, DRIP. I watch the saline flow through the plastic tubing into my arm....
THE FOOD DIARIES
THE FOOD DIARIES
Groceries have become increasingly unaffordable in the last few months, thanks to a deadly combination of inflation, rising housing prices and supply shortages. How Canadians are coping with the cost...
THE HOT SPOT
HALIFAX'S HEYDAY
The seaside city is the perfect coalescence of classic and cool HALIFAX HAS AN EXHILARATING SPRING IN ITS STEP. Amid an abundance of cranes erecting condos for a growing population, a raft of new...
Where to stay
Just five years ago, there were only a handful of hotels in Halifax, with most tending toward the stately instead of the sleek. A wave of new, boutiquey openings has expanded visitors' options. BEST...
Happening This Month
NOVA SCOTIA CRAFT BEER FESTIVAL SEPTEMBER 16 AND 17 nscraftbeer.ca/festival When Nova Scotians talk about "local" beer, they mean really, really local—and with so many options, it can be hard to keep...
THE TREND
SMELLS LIKE TEENY SPIRIT
Miniature artists are building their dream homes with polymer clay and precision. LIKE SO MANY CITY-DWELLING RENTERS, artist Wei Xu was bored of the plain walls she was unable to paint in her Toronto...
HABITAT
A BREATH OF PLEIN AIR
Pining for the outdoors, painter Keiran Brennan Hinton moved to an old brick schoolhouse with scenic views BY EARLY 2020, artist Keiran Brennan Hinton had been living in New York for the better part...
CULTURE
LIDO'S WORLD
On her new CBC show, Lido Pimienta keeps it surreal. IN THE PAST YEAR ALONE, the vivacious multi-hyphenate synth-pop artist Lido Pimienta has scored a performance for the New York City Ballet and...
A RUMINATION ON MORTALITY
COCKROACH Tarragon Theatre, Toronto September 13 to October 9 THE TARRAGON KICKS OFF its season with Cockroach, a coming-of-age play by Toronto Theatre Critics Award winner Ho Ka Kei, also known as...
A LONG-AWAITED LAUGH FEST
JUST FOR LAUGHS TORONTO Various venues, Toronto September 22 to October 1 AfER THE LAST FEW YEARS, we could all use a good laugh. Fortunately, Just For Laughs Toronto will keep audiences howling for...
A HOUSEHOLD HORROR STORY
MOTHERTHING Ainslie Hogarth, Strange Light September 27 NO ONE CRAFTS horror-comedy quite like Ainslie Hogarth. Capsule descriptions of her previous novels are enough to make a ghoul smile: girl...
MY ARRIVAL
"I love living in a place where I can be free about my sexuality without being judged"
Back home in Syria, I was terrified that I'd be arrested for being gay. When I moved to Ottawa, I could finally be myself. By Mohamad Altasseh I WAS BORN IN KHIYARAT DANNUN, a small village in Syria....
Thank you
You just used 1 credit. You have left.