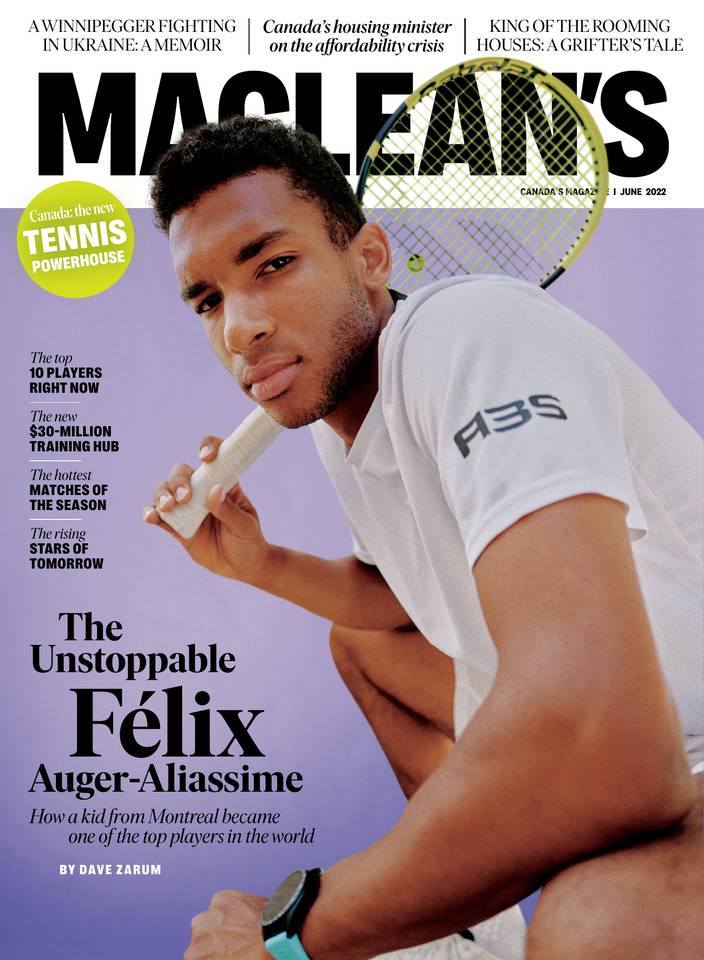 Canada's magazine since 1905
Summary
Dear MACLEAN'S  THE NURSE WHO WASN'T
I read "The Many Faces of Brigitte Cleroux" (May 2022) with memories of the "Great Impostor" Ferdinand Waldo Demara. Ms. Cleroux was an expert in deception and fraud. She infiltrated positions of...
Read More
June 2022
LETTERS
Dear MACLEAN'S  THE NURSE WHO WASN'T
I read "The Many Faces of Brigitte Cleroux" (May 2022) with memories of the "Great Impostor" Ferdinand Waldo Demara. Ms. Cleroux was an expert in deception and fraud. She infiltrated positions of...
THE INTERVIEW
Housing minister Ahmed Hussen still believes in the dream of home ownership in Canada
AHMED HUSSEN'S FIRST HOME in Canada was a social-housing unit on Hess Street in Hamilton that he shared with his cousin. He was only 16 years old then, a refugee who had fled Somalia during the civil...
THE BIG IDEA
Electrify Everything
One of the best ways for Canada to fight climate change is to scale up one of our oldest technologies. By Rick Smith THE FIRST FAMILY ON OUR STREET who bought an electric vehicle back in 2019 were...
THE BIG
'I encourage—and celebrate—nudity on screen'
Early days: My movie-buff father taught me to appreciate powerful performances. One of my first favourites was Dirty Dancing, which stood out for its ability to create tension and chemistry through...
THE MOVE
At the Water's Edge
These Torontonians thought they'd be city folks for life. Then a fateful family trip sent them searching eastward. The buyers: Nevena Nikolich, a 50-year-old education-credential evaluator; Tim...
THE PROSPECT
The Dance Disruptor
The National Ballet's Siphesihle November is a modern visionary in aclassical world SIPHESIHLE NOVEMBERdoesn't remember when he started dancing; he only remembers how it felt. "I knew the power dance...
THE BUILDING
Northern Exposure
Winnipeg's Qaumajuq is more than an art gallery or a stylish feat of architecture. IT'S IMPOSSIBLE TO DIVORCE QAUMAJUQ from Canadian history itself. The $55-million, 36,000-square-foot addition to the...
SPENDING DIARY
Siobhan Detkavich
Chef, Mission Hill Winery, Kelowna Last year, 22-year-old Siobhan Detkavich became the youngest chef—and first Indigenous woman—ever to compete on Top Chef Canada. This summer, she'll be back in the...
THE ONE
FÉLIX AUGER- ALIASSIME
THE MONTREAL DYNAMO GREW UP FANTASIZING ABOUT JOINING CANADA'S TENNIS ELITE. NOW HE'S THE NINTH-BEST PLAYER IN THE WORLD. THE HARD PART? STAYING ON TOP. THE ONE FÉLIX AUGER-ALIASSIME was seven years...
THE KEY PLAYERS
The Key Players
AUGER-ALIASSIME ISN'T THE ONLY BIG NAME ON CANADA'S TENNIS ROSTER. HE'S SURROUNDED BY CHAMPIONS. Bianca Andreescu THE LEGEND IN THE MAKING Hometown: Mississauga, Ontario Age: 21 Turned pro: 2017...
FRENCH OPEN
MAY 22 TO JUNE 5 ROLAND-GARROS STADIUM The red-clay courts of Paris's Roland-Garros make for a mean combo of high bounces, slower play and an all-around physically demanding game—all of which have...
HOLDING COURT
Holding Court
Burnaby's forthcoming Pacific Tennis Centre will give West Coast prodigies a place to achieve greatness BURNABY, BRITISH COLUMBIA, a sleepy suburban city of 250,000, will soon be home to the largest,...
NATIONAL BANK OPEN
AUGUST 5 TO 14 (ATP) IGA STADIUM, MONTREAL AUGUST 6 TO 14 (WTA) AVIVA CENTRE, TORONTO The Canadian Open (formerly the Rogers Cup) is a masters-level tournament with a history that rivals that of the...
THE KINGMAKER
The Kingmaker
THE LEGENDARY FRENCH COACH LOUIS BORFIGA TRANSFORMED CANADA FROM A TENNIS BACKWATER INTO A WORLD-CLASS CONTENDER AS A KID, Louis Borfiga used to hit balls at the Monte Carlo country club where his...
FEATURES
The New Class
MONTREAL'S NATIONAL TENNIS CENTRE HAS ALREADY PRODUCED MORE THAN ITS SHARE OF GREATS. BUT WAIT TILL YOU SEE WHAT THESE KIDS CAN DO. BEING AN ALUMNUS OF CANADA'S National Tennis Centre comes with a...
WORLDS AWAYFROM HOME
My family fled Kyiv on March 1. We travelled to four countries in five days and then spread out across three continents. Now I'm in Canada, hoping to one day see Ukraine again. Before the war, I lived...
A HOMEOWNER'S WORST NIGHTMARE
Arif Adnan Syed turned luxury rentals into rooming houses. Catching him was simple. Evicting him was almost impossible. In early 2019, John Davies and his wife, Li Guo, bought a house in Kleinburg,...
A SOLDIER'S STORY
I left Canada to pursue my pro soccer dream in Ukraine, where I was born. When Russia invaded, I joined the only team that mattered. Svyatik Artemenko travelled from Guelph, Ontario, to Ukraine at the...
IDEAS
WRITING WHAT THEY KNOW
Novelist Georgia Toews is following in the literary footsteps of her mom, the celebrated author Miriam Toews. What's it like when your mother is also your mentor? MIDWAY THROUGH GEORGIA TOEWS'S debut...
EXTREMELY OFFLINE
With their chickens, preserves and off-grid adventures on full display, Canada's homesteading YouTubers are escaping the ills of modern life—in a thoroughly modern format To say Shawn James is well-...
HOW EDMONTON'S UNDERBELLY HATCHED A HIP-HOP CAREER
In Bedroom Rapper: Cadence Weapon on Hip Hop, Resistance and Surviving the Music Industry (McClelland & Stewart, May 31), Rollie Pemberton, better known as Cadence Weapon, traces his life and career...
A STAR IS TRENDING
Moroccan-Canadian singer Faouzia built a huge fan base and netted a Juno nomination—without even releasing an album Earlier this year, Faouzia Ouihya got a cryptic heads-up to tune into the 2022 Juno...
DEAR AUNTY MARY
'You taught me that I could think what I liked, speak up when I wanted to and have the courage to change my mind,' writes Cathy Burrell. The first time we spoke after the war in Ukraine began, you...
Thank you
You just used 1 credit. You have left.