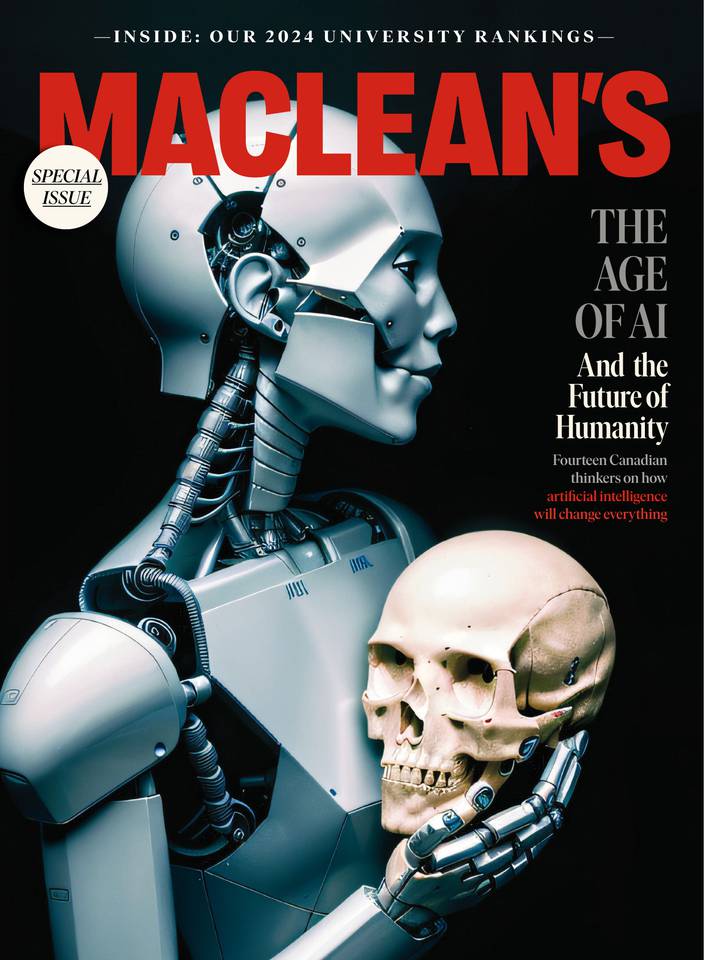 Canada's magazine since 1905
Summary
Stay Local, Sell Global
How small businesses across Canada are using eBay to scale across borders In an era where commerce knows no bounds, small business owners are seeking innovative ways to expand their reach. eBay has...
Read More
November 2023
CREATED FOR
Stay Local, Sell Global
How small businesses across Canada are using eBay to scale across borders In an era where commerce knows no bounds, small business owners are seeking innovative ways to expand their reach. eBay has...
EDITOR'S NOTE
EDITOR'S NOTE
This month, to accompany our issue on the future of AI, Maclean's art director Anna Minzhulina created a striking cover using AI image-making software called Imagine. Anna chose Imagine from among a...
IN PARTNERSHIP WITH VOLVO CAR CANADA
Electrifying Canada's Drive to Zero Emissions
With sales of electric vehicles on the rise, a car manufacturer looks to make range anxiety a thing of the past TWO YEARS AGO, when Canada's federal government made the pledge to ban sales of new...
COMMENTS
COMMENTS READERS WEIGH IN
HEAT WAVE Anne Shibata Casselman's September 2023 cover story, predicting Canada's climate future, was a wake-up call for many readers: I am gobstruck after reading Anne Shibata Casselman's article....
THE INTERVIEW
Director Shawn Levy knows what you think about popcorn movies. He aims to please you anyway.
EVERY NIGHT IS a blockbuster night for Shawn Levy. Coming up in the '90s, the Montreal-born director, screenwriter and producer mastered the buttery box-office banger—think Date Night, Cheaper by the...
Investment and career insights from women in asset management
Five women share their success strategies Whether it's growing up dreaming of stock markets or becoming interested in investing from watching a savings portfolio start to develop, there's no one path...
THE BIG IDEA
Break the food-waste cycle
Many Canadians think throwing out food is an unfortunate fact of life. There's no reason our waste couldn't be close to zero. IN 2016, my sister, Paula, was working as a chef for a catering company in...
MODERN LIVING
Life Is a Highway
Instead of paying Vancouver rent prices, my husband and I chose to renovate an old ambulance and live in it. The open road suits us just fine. IN 2014, AFTER I GRADUATED from film school in Ontario, I...
THE PROSPECT
The Princess of Darkness
How Toronto painter Jeanine Brito 's pretty-macabre creations turned her into an art-world darling AS A CHILD, JEANINE BRITO spent summers with her grandparents in Mainz, Germany, surrounded by...
THE MOVE
Victorian Era
From the time he was six, Stefan Palios dreamt of living in a castle. As the new co-owner of a seven-bedroom century home in Windsor, Nova Scotia, he's closer to his wish than ever. The buyers: Marty...
COVER STORY
The future is now
IT WAS BARELY A YEAR ago that artificial intelligence still seemed safely boxed away into the realm of "let's worry about that later." But, as with climate change and political extremism, the...
Canada has been the spawning ground for the most important innovation of the 21st century.
It's weird. Toronto and Montreal were the birthplaces of artificial intelligence. Not Silicon Valley, not Beijing, not London, not Paris, not New York. Back in 2012, a Canadian team—including the AI...
We'll develop new drugs in months, not decades
Our research team used machine learning to discover a new antibiotic. And that's just the beginning. HUMANITY HAS RELIED on antibiotics for the better part of 100 years. Most of the ones we currently...
AI-enabled SCAMS will proliferate
Ultra-realistic digital trickery will help fraudsters deceive people on an entirely new scale MONEY-GRABBING SCAMS have been happening for longer than we can remember: con artistry, Ponzi schemes,...
The university essay will die out
AI will replace traditional forms of academic assessment—and create new ones LESS THAN A YEAR ago, ChatGPT was unleashed upon the world—and in that short time, generative artificial intelligence has...
POLITICAL DEEPFAKES will spread confusion and misinformation
A flood of manipulative content will erode online trust and polarize voters FOR THE PAST 10 to 15 years, social media bots have been the primary way misinformation is distributed. Often, state actors...
AI will transform the labour market
Many white-collar workers will find themselves out of jobs EVERY FEW DECADES, a new technology comes along that fundamentally redefines society. The last significant one was the internet, and before...
Autonomous weapons will threaten humanity
Militaries will use AI to wage deadlier biological and chemical warfare. But what if the technology turns against us? I'VE BEEN RESEARCHING artificial intelligence and machine learning for more than...
MACHINES will read OUR MINDS
AI brain sensors will translate our thoughts into speech, text or even other languages THE BRAIN HAS ALWAYS been the source of inspiration for artificial intelligence scientists, with billions of...
Machines will make our food tastier and healthier
AI algorithms can reduce food waste, add more nutrition and solve some of our restaurant-staffing woes FOR THE PAST DECADE, farmers and grocers have already been using AI's predictive and analytical...
Personalized, preventive medicine is on its way
We'll use machine learning to predict illness before it starts, reducing pressure on the health-care system FOR SOME PEOPLE, the words AI in health care might evoke the image of a robot conducting...
ROBOTS will help cure LONELINESS
Social companions can read emotions and help with daily tasks CANADA IS FACING an epidemic of loneliness—a crisis that the COVID-19 pandemic only exacerbated. As seniors and young adults found...
Hackers will use AI to orchestrate WORLDWIDE CYBERATTACKS
The new AI might help criminals take down power grids or infiltrate electric vehicle networks WORKING IN CYBERSECURITY is like playing a game of chess. On one side, we have bad actors—criminal groups,...
Studios will steal artists' faces and voices
AI-generated actors, singers and visual artists stand to replace the real thing SOME FOLKS WORRY that AI will eventually make art that is better than what people can create, rendering human artists...
THE SEXBOTS are coming
In the next year or two, we'll have sophisticated, purpose-built bots designed for relationships, sex and intimacy EARLIER THIS YEAR, there was a mass cold-shouldering event—by way of software update....
UNIVERSITY RANKINGS 2024
Measuring Excellence
For more than three decades, Maclean's has collected the data and crunched the numbers to evaluate Canadian universities MACLEAN'S ANNUAL university rankings continue a tradition...
+PERFORMANCE INDICATORS
Universities are ranked on performance indicators in five broad areas 1 STUDENTS (20% OF FINAL SCORE) Student awards (10%): The five-year tally (2018–22) of the number of students per 1,000 who have...
How We Rank
Maclean's assesses universities on several key points, allocating a weight to each, to find out who is top of the class CATEGORIES Maclean's places universities into one of three categories to...
Level up your career
Earn valuable experience through University Canada West's MBA program to advance your career In today's rapidly changing business landscape, companies are seeking visionary leaders who possess a...
RANKING 1 Medical Doctoral: McGill
With a wide array of graduate programs and some high-profile links with buzzy industries, McGill keeps its top spot for another year FOUNDED IN 1821, McGill is one of Canada's oldest universities. The...
RANKING 1 Comprehensive: Simon Fraser
Students are never bored at SFU, where they can learn and play in an astounding variety of academic and extracurricular programs IT'S PEACEFUL AND AIRY atop Burnaby Mountain, home to Simon Fraser...
RANKING 1 Primarily Undergraduate: Mount Allison
This small school has made big waves, frequently dominating the top of the chart in undergraduate education MOUNT ALLISON UNIVERSITY, the quaint liberal arts and science institution inhabiting a...
Canada's Best Programs
Maclean's ranks university programs in five popular areas according to their reputations for research and overall quality CHOOSING A UNIVERSITY is one of the most important decisions students make in...
The Rise of the Application Coach
Anxious students are hiring admissions advisers to improve their chances to get into a top-pick school. The cost? Almost as much as a year's tuition. CHLOE, WHO IN 2022 was an athlete and student...
WORLD SIGHT DAY
Why People Living with Diabetes Need to Prioritize Vision Care
Diabetic retinopathy is the most common cause of sight loss in people living with diabetes. Awareness and proper management are essential. Peter McCarthy, 65, from New Minas, Nova Scotia, has lived...
Eye Van Provides Critical Medical Vision Care To Those Across Northern Ontario
Ontario's travelling eye hospital kicks off 52nd annual trip, continuing its mission bringing life-changing vision care to the provinces' remote and rural northern communities. Northern Ontario plays...
Advancements in Lens Technology Open Canadians' Eyes To Better Vision
Cataracts are one of the most common conditions Canadians will face, but new technology in cataract surgery has benefits that go far beyond just treatment. The eyes are our window to the world. As we...
Canada's Nuclear Future
Everyone's been touched by knowing someone who's had cancer. Between enabling low-carbon, reliable, and safe power generation and increasing access to cancer-fighting medical isotopes, knowing that...
Powering Tomorrow: Nuclear Workers Keep the Lights On
Ontario has its work cut out for it in pursuit of reliable energy and heroic climate goals. The nuclear workforce is here to help. For years — even as Canada and the world set bold emissions targets...
Responsible Stewardship of the Global Energy Future Begins in Saskatchewan
With the global climate crisis fully apparent, and an energy crisis hot on its heels, development of Canada's nuclear fuel resources is essential to keeping society running while meeting net-zero...
Canada's Plan is Ready for the Future
As Canada increasingly relies on nuclear to meet our net-zero goals, ensuring the safe, long-term management of used nuclear fuel is critical. Hardly a day goes by without a story about advances in...
Who's Going to Finance the New Nuclear Capacity Canada Needs?
As Canada gets ready to expand electricity-generating capacity, the question is how this investment will be financed. In the changing landscape of power infrastructure, the answer is: creatively with...
How UNB Is Leading the Way in Nuclear Energy Research and Education
The University of New Brunswick and its Centre for Nuclear Energy Research are delivering world-class education and R&D in nuclear energy. Over the past decade, the federal and provincial governments...
McMaster University is Saving Lives with Medical Isotopes
Federal and provincial investments boost McMaster's medical isotope research and production to benefit more Canadians. Medical isotopes are advancing health care — and McMaster University is paving...
Grants and Research Galore: How Waterloo Is Innovating in Nuclear
The University of Waterloo is becoming a shining star in the nuclear space, with award-winning research initiatives underway. The University of Waterloo, which is currently number one in Canada for...
Nuclear Power Is Green, but What about the Uranium Mines? Yes, Them Too.
While nuclear technology is fast-evolving, nuclear plants remain dependent on fuel like uranium — but its mining isn't as old-fashioned as you'd think. As the nuclear renaissance blossoms in Canada...
Have You Heard of Deep River, Ont.? Learn the Once-Secret Town's Story
Deep River, Ont., is Canada's Los Alamos — home of the top-secret Manhattan Project. Today, it's a growing hub for nuclear innovation in clean energy and medicine. I If you saw Oppenheimer, you...
How AECL Is Driving Nuclear Opportunity for Canada
Atomic Energy of Canada Limited continues to drive nuclear innovation, over 70 years after its formation. At the dawn of the atomic age, the Canadian government created a new crown corporation, Atomic...
HABITAT
DOWN BY THE SEA
Built by a Prohibition-era sea captain, this Nova Scotian home is an exercise in historical preservation IN 2016, when Kate Inglis and her husband, Nick Bakker, bought their home in Lunenburg County,...
SUPPORTING SMALL BUSINESS
Q&A WITH Jenny Bird
We chatted with Jenny Bird, Founder and Creative Director of JENNY BIRD, to learn how she got started in the jewellery business, how she balances work and life, and her advice for aspiring...
Startup Global Pitch Competition: Road to the 2023 Grand Finale
Startup Canada's Startup Global Pitch Competition puts the spotlight on innovative, global-ready, early-stage Canadian startups. Exporting can be a scary word, especially for early stage...
How Purolator Supports Canada's Small Businesses and Entrepreneurs
Purolator's True North Small Business Grant Contest supports small- and medium-sized businesses in growing, thriving, and making ongoing positive impacts on Canadian communities. As recently reported...
Unleashing the Power of Small Biz: How One Organization's Collaborative Model is Driving Innovation
Ninety-eight percent of businesses in Canada are small and medium-sized — and about half of them anticipate a labour shortage in the next three months. Their owners are passionate, but often isolated,...
The City of Vaughan Embraces Automotive and Smart Mobility Solutions
The City of Vaughan is a rapidly urbanizing city, and it's taking bold approaches to harness the mobility solutions of the future. Vaughan is a prosperous community and one of Canada's fastest-growing...
Futurpreneur Is Leading the Way in Supporting Indigenous Entrepreneurs
Futurpreneur is dedicated to supporting young Indigenous entrepreneurs between 18 to 39 through financing, expert mentorship, and access to business resources. For over two decades, Futurpreneur has...
Pathways to Growth: Delivering the World to Canadian Small Business
It's a big world out there. For over 35 years, Canadian businesses have relied on companies like FedEx to bring it to their doorstep. In Vancouver, a small practice immigration lawyer is expecting a...
THE HOT SPOT
COUNTY BOUNTY
A guide to Ontario's always-evolving Prince Edward County PRINCE EDWARD COUNTY is back and bustling after its COVID-induced slumber, thanks in part to the throngs of Torontonians who relocated there...
Happening This Month
FIRELIGHT LANTERN FESTIVAL NOVEMBER 3 & 4 PICTON deptofillumination.org The Firelight Lantern Festival has become a cherished County tradition since its debut in 2013. For $10, you get everything you...
Where to stay
P.E.C. is packed with charming hotels and boutique B&Bs. Here are our favourites. BEST SPLURGE THE ROYAL 247 Main Street, Picton theroyalhotel.ca THE ROYAL HOTEL, once a stop for upscale train...
CULTURE
A COMEDIC BONANZA
MARTIN SHORT AND STEVE MARTIN Various venues November 30 to December 2 THE FIRST TIME Martin Short visited Steve Martin's house and saw the Picassos and Hoppers hanging on the walls, Short asked, "How...
A PERFORMANCE-ART PROTEST
VELVET TERRORISM: PUSSY RIOT'S RUSSIA Musée d'art contemporain de Montréal October 25 to March 10 FEMINIST PUNK BAND PUSSY RIOT are provocative Russian performance artists known for their daring...
MY ARRIVAL
"I always felt uncertain about my future in the U.K. I finally found my home in Calgary."
After moving to three continents, I settled down in Alberta FOR MOST OF MY LIFE, home always felt like a temporary place. I was born in Trichy, India, in 1994; when I was three months old, I moved to...
Thank you
You just used 1 credit. You have left.