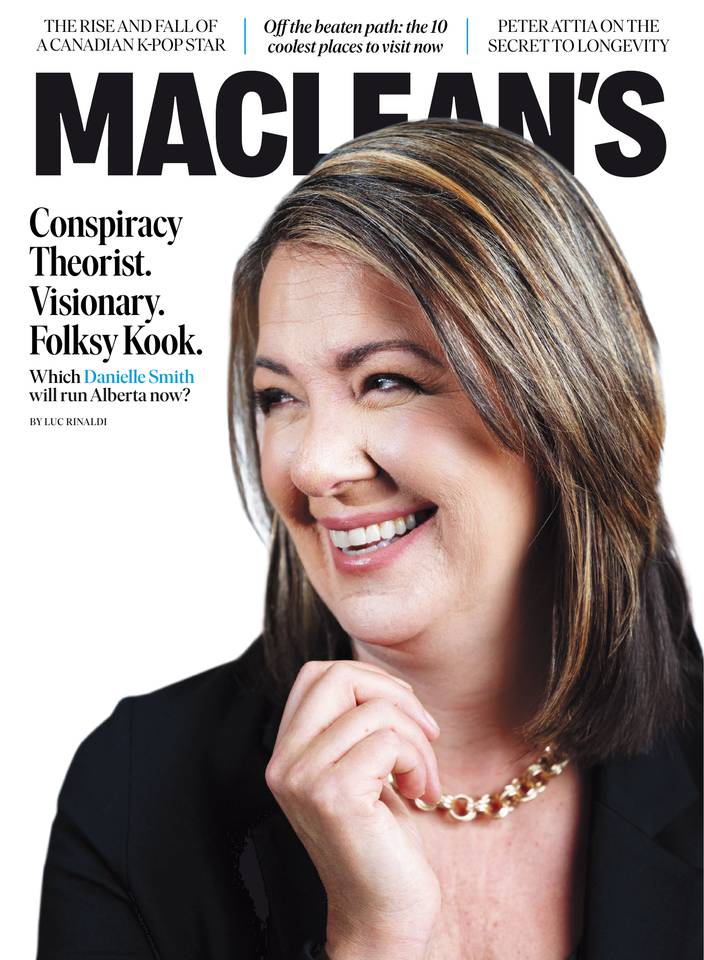 Canada's magazine since 1905
Summary
EDITOR'S NOTE
IN THIS ISSUE OF MACLEAN'S Has there ever been a trickier, more complicated time to be premier of Alberta? The province faces a major doctor shortage, particularly in rural areas. The cost of living...
Read More
October 2023
EDITOR'S NOTE
EDITOR'S NOTE
IN THIS ISSUE OF MACLEAN'S Has there ever been a trickier, more complicated time to be premier of Alberta? The province faces a major doctor shortage, particularly in rural areas. The cost of living...
THE INTERVIEW
Longevity expert and bestselling author Peter Attia can help you cheat death—for a while
WHEN TORONTO NATIVE Peter Attia was working as a surgical resident at Johns Hopkins, he was haunted by a very specific stress dream: he'd see himself frantically running around a city sidewalk, trying...
A SPECIAL INTEREST SECTION BY MEDIAPLANET
Venture with Planet D: Unraveling North American Luxury and Wellness
Mediaplanet interviewed Dave and Deb, founders of Planet D. Discover their luxury travel tales, North American gems, wellness fusion, and expert tips for crafting unforgettable journeys! Luxury travel...
Enjoy the Ultimate Wellness Getaway and Ignite Your Senses
The Groupe Nordik family of spas combines an upscale spa experience grounded with an escape into nature. With the thermal cycle at its core, Groupe Nordik has transformed the traditional spa into an...
RVING FOR ALL: Unleash Your Inner Explorer
For getaways in the great outdoors, you can't beat the convenience of an RV. Get rolling with Go RVing Canada — your one-stop trip planning resource. In today's wellness-conscious era, there's no...
THE BIG IDEA
Target superbugs with phage therapy
In 1917, a Franco-Canadian scientist pioneered a treatment that's become a powerful weapon against antibiotic-resistant infections. It should be available here. I HAVE A CLEAR MEMORY of sitting on a...
THE PROSPECT
The Destined Diva
Charlotte Siegel could've gone pop. If she's honest, it was always going to be opera. THE FIRST MUSICAL Charlotte Siegel ever saw was a dress rehearsal of The Phantom of the Opera at Toronto's...
THE BUILDING
Higher Learning
Centennial College's mass-timber A-Block expansion makes room for Indigenous perspectives—and plenty more students LATE IN 2019, Larissa Roque, an architect with Anishinaabegowned Smoke Architecture...
A SPECIAL INTEREST SECTION BY MEDIAPLANET
Ending the Overdose Crisis Calls For a Unified Front
Polarizing debates are weakening our collective strength in saving lives threatened by fentanyl. There is no one way to solve a problem as huge and complex as the opioid crisis in Canada. Across the...
Challenging Feelings of Shame: Families Coping Through Mental Illness
Supporting a loved one while mitigating the ripple effects that stigma brings. I know from first-hand experience that it can be hard admitting when a family member is struggling with a mental illness....
COVER STORY
THE UNSTEADY REIGN OF DANIELLE SMITH
Alberta's premier rode into office declaring war on the federal government—and won by a tiny margin. Can she keep her rebellious rural base happy, without sparking a national crisis? On a sunny...
FEATURES
The RISE & FALL of A CHINESE-CANADIAN POP STAR
Kris Wu, an ordinary kid from Vancouver, transformed into one of China's biggest celebrities, with chart-topping albums, movie roles and lucrative brand partnerships. Then a series of social media...
A SPECIAL INTEREST SECTION BY MEDIAPLANET
What Can the Rare Disease Strategy Learn from Rare Blood Disorders?
The rare disease (drug) strategy can learn from the Canadian Blood Services and Hema-Québec for Rare Blood Disorders. In 1997, the federal government began the transition of the entire system for...
Treatment Advancements Changing Lives of Individuals with Multiple Myeloma
Innovative research is leading to key advances in therapies and prognosis for people with this blood cancer. Rinat Avitzur says being diagnosed and treated for multiple myeloma changed her perspective...
Advances Bring Hope to Acute Myeloid Leukemia Patients
Acute myeloid leukemia (AML) is the most common blood cancer in older adults. With new treatments, patients are living longer and better. In October of 2021, Shawn Omstead of Toronto and his wife were...
Why It's Important to Be Aware of This Rare Blood Disease
While rare, paroxysmal nocturnal hemoglobinuria can be fatal if not treated. That's why awareness is so important. Zach Cressman, 20, is an aviation student living in Southwestern Ontario. One day in...
One Patient's Guide to Understanding and Navigating the CLL Journey
Every Chronic Lymphocytic Leukemia (CLL) journey may be unique but leaning on trusted resources and a strong support network remain critical to navigating the complexities of a diagnosis. Margaret...
FEATURES
Off the Beaten Path
The 10 most magical—and places to vel in Canada now AFTER A FEW YEARS of (mostly) staying put, Canadians have a major case of wanderlust. And while the old travel standbys—Montreal, Vancouver, Banff,...
The Northern Exposure
There are outdoor adventures, live music and Arctic char tacos under the midnight sun My first summer in Whitehorse, my eyes were wide open. Sunlight streamed through my bedroom window at 10 p.m. A...
The Riverside Drive
The southern shore of the St. Lawrence is home to jewel-box towns, wild vistas and all the shrimp rolls you can eat The Bas-Saint-Laurent is a 300-kilometre stretch of coast with a ton of personality:...
THE PRISTINE PARADISE
The eastern tip of P.E.I. is packed with secluded, tourist-free beaches Every summer for the last decade, my family has escaped to a rental cottage in the village of North Lake, a five-minute walk...
The Laid-Back Getaway
Sechelt offers the best of B.C.'s Sunshine Coast—with a touch of hippie charm A LITTLE OVER a year ago, my older brother moved from Vancouver to Sechelt, part of British Columbia's quiet Sunshine...
The Once-in-a-Lifetime Road Trip
The epic Côte-Nord drive offers up whales, puffin colonies and lighthouse hotels The month I turned 40, I drove 1,319 kilometres from my home in Pointe-Saint-Charles, a neighbourhood in southwest...
THE MARITIME GLOW-UP
A bunch of diverse restaurants and cultural experiences are shaking up the city's traditions I VISITED ST. JOHN'S when I was 19 with the same itinerary that tourists from everywhere have followed for...
The Rust-Belt Revival
The sleepy industrial city has undergone a dazzling modern makeover Many years ago, one of my oldest and dearest friends threw a small bachelor's party for me in Windsor. I had no real attachment to...
The East Coast Time Capsule
This island in the Bay of Fundy is an idyll of lighthouses and lobster I feel about Grand Manan, the tiny New Brunswick island in the Bay of Fundy, the way Anthony Bourdain felt about each sleepy...
THE HISTORIC ADVENTURE
The gorgeous prairie grasslands—complete with a herd of bison—offer a glimpse into Canada's past FOR MORE THAN SIX MILLENNIA, the thunderous hoofbeats of 30 million bison echoed across the Great...
The Storm-Swept Hideaway
Ucluelet has luxurious food, plenty of pampering and a front-row seat to the Pacific Coast's gorgeous squalls THE FIRST TIME I travelled to the west coast of Vancouver Island, I hoped to experience...
HABITAT
CALL OF THE WILD
This remote, fire-resistant home in the Okanagan Valley was modelled after the humble mountain beetle IN THE SUMMER OF 2003, lightning struck Okanagan Mountain Provincial Park, 25 kilometres north of...
CULTURE
KITCHEN CONFIDENTIAL
Mary Pratt, the famed Canadian painter and subject of a new biography, turned jelly jars, egg cartons and a bucket of trout into fine art MARY PRATT SAW THE EXTRAORDINARY in the ordinary objects that...
A SPECIAL INTEREST SECTION BY MEDIAPLANET
Living with Prostate Cancer: The Mental Battle
With September's arrival, a new season can feel like a fresh start, but it also represents an annual opportunity to recognize one of the most common cancers impacting men globally. In Canada, one in...
Prioritizing Men's Health: The Importance of Genetic Testing with BioAro
Cancer remains one of the most formidable challenges to global health. As the field of genetics continues to advance, innovative companies like BioAro are leading the charge in revolutionizing cancer...
Why Consider BioAro?
1 Personalized Risk Assessment: BioAro's genomic testing delves deep into an individual's DNA, uncovering genetic mutations or variations associated with an increased risk of cancer. This information...
Navigating a Bladder Cancer Diagnosis
Bladder cancer may be one of the most commonly diagnosed cancers, but ongoing treatment advancements are offering a renewed sense of optimism. In Canada, bladder cancer is the fifth most common cancer...
A New Chapter is Emerging for Certain Cancers in Advanced Stages
The evolution of cancer management is bringing new answers and hope. Prostate cancer treatment in Canada is rich with success stories. About one in eight Canadian men will be diagnosed with prostate...
Why Men Need to Be Extra Vigilant Against Skin Cancer
With skin cancers more prevalent in men, guys need to be extra cautious. Regular checkups and early detection ensure positive outcomes. Your skin is your largest and most visible organ. That's why...
SPECIAL ADVERTISING FEATURE
PROMOTING EQUITY, DIVERSITY AND INCLUSION
Staff and students work together to ensure safe and welcoming spaces for all In the past, "private school" was usually associated with privilege and, often, a racially, socially, economically and...
THREE WAYS TO IMPRESS PRIVATE SCHOOL ADMISSIONS TEAMS
Scoring an offer of acceptance requires more than just having good grades The admissions process at private schools can feel overwhelming. Between the open houses, applications, reference letters,...
FROM CLASSROOM TO COURTS
Private schools are supporting young athletes with world-class facilities and top-tier coaching What do many world-class Canadian athletes—including figure skater Elvis Stojko, tennis ace Eugenie...
PRIVATE SCHOOLS SPECIALIZE IN TOP-TIER TEACHING
From PhDs to subject-matter experts, faculty deliver an exceptional education The quality of education a student achieves is inherently tied to the expertise of the teachers delivering it. Private...
HOW PRIVATE SCHOOLS KEEP PARENTS INFORMED AND ENGAGED
Collaboration and connection are key throughout a student's enrolment The relationship between parents and a private school is as meaningful as that between the school and its students. Since tuition...
FOUR WAYS PRIVATE SCHOOLS BUILD CHARACTER
Shaping well-rounded students through social, emotional and psychological support Private schools have a well-earned reputation for producing high-achieving graduates. Still, many also pride...
THE PRIVATE AND INDEPENDENT SCHOOL DIRECTORY
Browse through Canada's top private schools to find the right fit for your child The Bishop Strachan School 298 Lonsdale Rd., Toronto bss.on.ca The Bishop Strachan School (BSS) is a leading...
MY ARRIVAL
"My parents applied to live with me in Canada. Five years later, we're still waiting."
We've spent over $10,000 and put our lives on hold I WAS IN GRADE 11 when my parents started talking about sending me to Canada for college. We lived in Muktsar, a small, crime-ridden city in Punjab,...
Thank you
You just used 1 credit. You have left.