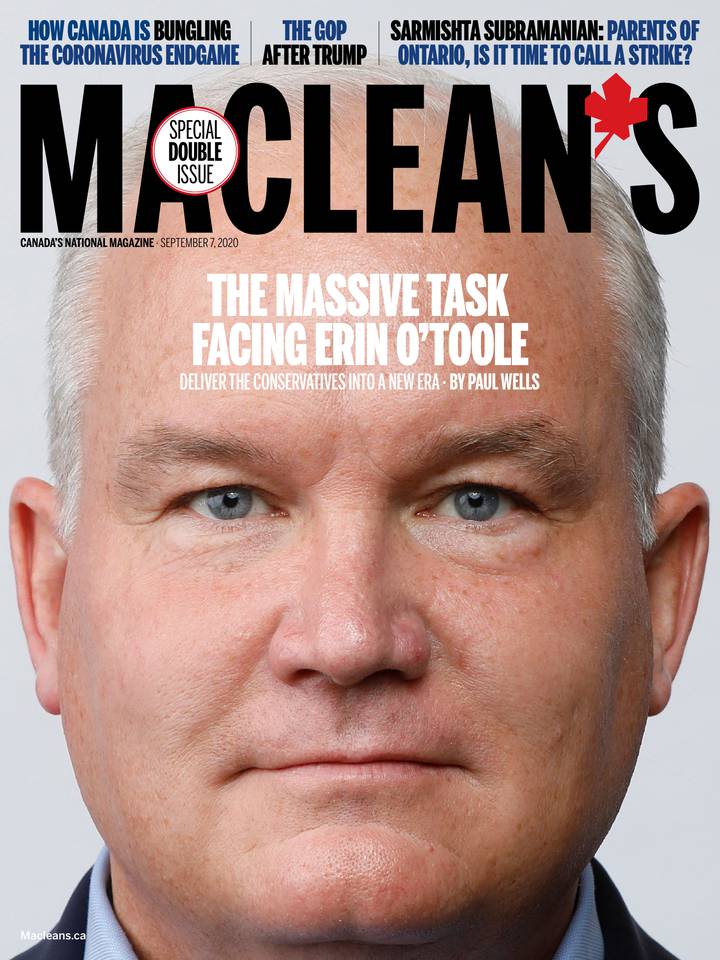 Maclean's
September 07, 2020
Preview
Canada's national current affairs and news magazine
LETTERS
'A cavalry unit circa 1870 would be out of place in our armed forces of today. The RCMP is, in a large part, perpetuating the 1870 cavalry model.'
Force failure Great work on the RCMP file and the Nova Scotia shooting ("The end of the RCMP?" Policing, August 2020). When the B.C. money-laundering inquiry sank due to astounding incompetence, I...
Read More
September 7, 2020
LETTERS
'A cavalry unit circa 1870 would be out of place in our armed forces of today. The RCMP is, in a large part, perpetuating the 1870 cavalry model.'
Force failure Great work on the RCMP file and the Nova Scotia shooting ("The end of the RCMP?" Policing, August 2020). When the B.C. money-laundering inquiry sank due to astounding incompetence, I...
THE COLUMNISTS
Parents of Ontario, is it time to call a strike?
In October, 1975, the women of Iceland, fed up with earning substantially less than men, and intent on winning reproductive freedom and political representation, made an intriguing move: they went on...
We are not the nuclear family
A century ago, historian and civil rights activist W.E.B. Du Bois published a literary tome entitled Darkwater: Voices From Within the Veil, as both an autobiography and discourse on African history....
NATIONAL
A new centre
The Conservatives need to remake their movement for a new era. Is Erin O'Toole the person to do it? The 1996 Ontario Liberal leadership convention was an organizational fiasco. Sometime after 4 a.m....
Team O'Toole takes shape
There's a new cast of Tories on the rise, from heavyweights who lent the new leader support to also-rans who exceeded expectation It's not quite a new generation of Conservative leadership taking the...
The confidence of youth
Millennials and Gen Zers in la belle province are less likely than their baby-boom forebears to identify as Quebecers first The year 2020 will forever be remembered for the COVID-19 pandemic, but it...
Bungling the vaccine endgame
Promising vaccine candidates are nearing the finish line. Why hasn't Canada locked down orders for them like our closest allies have? In March this year, just as the COVID-19 epidemic was settling on...
The elimination game
Stamping out the virus regionally, without a vaccine, is an enticing possibility. But what are the costs? On July 3, the day Atlantic Canada launched its "travel bubble," Prince Edward Island had...
Death and distrust in Alberta
The killing of two Métis-Cree men deepens Indigenous people's sense that their lives are less valued On a frigid Saturday in late March, Jacob Sansom and his uncle, Morris Cardinal, were out hunting a...
For Alphonso Davies, does it get any better than this?
He's won a Champion's League title, he's got an amazing back story and the Canadian soccer phenom is still a teenager Alphonso Davies, Canada's 19-year-old soccer prodigy, is used to breaking records....
INTERNATIONAL
The GOP after Trump
Win or lose this fall, the Republicans are at a crossroads. Do they double down on Trumpism? Or try to put it all behind them? In his 2018 documentary American Dharma, Oscar-winning filmmaker Errol...
MEDIA PLANET
BLACK AND GOLD: HOW A CANADIAN GOLD MINING COMPANY IS HELPING TO SAVE THE BLACK RHINOS
Namibia is home to valuable deposits of gold, the world's last and largest free-roaming population of black rhinos, and the brave community-based rangers who risk their lives to protect them. One...
SOCIETY
Supernatural evil in the White House
Andrew Pyper's forthcoming novel The Residence explores the presence of a demon within the walls of 1600 Pennsylvania Avenue Just like future dystopias, horror stories are almost always tales of their...
Let them eat marshmallows
The U.S. seems to lack the will to beat COVID-19. What does human psychology say about getting people to make better choices? What are the contours of happiness when time warps and planning is shot...
The man who drew Canadian politics
In a new biography Terry Mosher writes about one of this country's most important political cartoonists, Duncan Macpherson "LOTS OF PEOPLE knew Duncan Macpherson, so what qualifies me to write a book...
Dear Laolao . . .
Tiffany Wang tells her grandmother, who lives in China and has Alzheimer's, that she visits every year to dance for her WHEN COVID-19 began claiming lives in elderly homes across the country, I...
THE BEST FOR LAST
Love on the line
In one of our favourite stories this week Jason Markusoff reports on how the sudden border closure drove one budding relationship into the ditch—and that was just fine JULIE ARPS WAS new to Plenty of...
Thank you
You just used 1 credit. You have left.