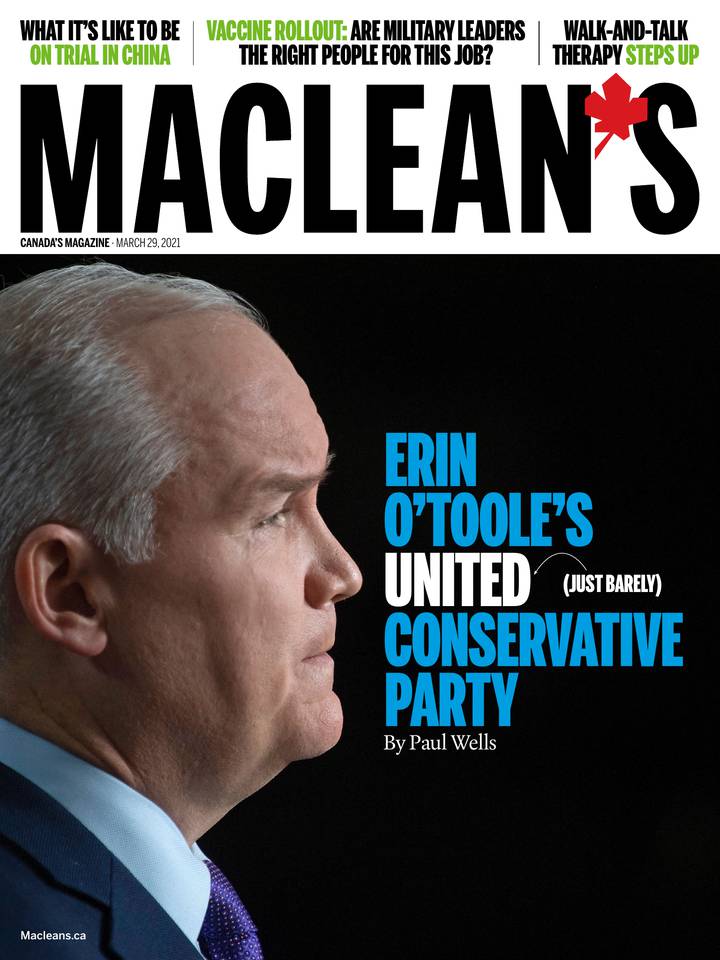 Canada's magazine since 1905
Summary
Erin O'Toole starts to define his conservatism
At least now we know Erin O'Toole prepares seriously for serious moments. That's already a kind of victory, or another defeat avoided. The Conservative leader showed up to the party's national...
Read More
March 2021
THE COLUMNISTS
Erin O'Toole starts to define his conservatism
At least now we know Erin O'Toole prepares seriously for serious moments. That's already a kind of victory, or another defeat avoided. The Conservative leader showed up to the party's national...
NATIONAL
Houses of hate
Dangerous, racist and falling apart. By nearly every metric, the nation's penal system is not just failing, it's making things worse. Michael Ignatieff was staring right at the Prime Minister. "I...
The day the vaccines arrived
After hours of delay, immunizers headed to Old Crow, Yukon, were treated to an overwhelming turnout and a jubilant celebration Dana Tizya-Tramm's advice to anybody who visits Old Crow, a fly-in...
Marching toward immunity
Experts say there really is no one better than military leaders when it comes to tricky logistical challenges like the vaccine rollout It's strange now to watch the press conference in which Prime...
'Who are you bubbling with?'
The pandemic has introduced a host of new terms to our vernacular—and forever changed the meaning of familiar ones A year ago, our lexicon was suddenly filled with new terms like self-isolation, WFH...
Social democracy's moment has come
Just as a better world emerged after the Great Depression, we have a chance to create a country that works for all Canadians. Here's how. As the world struggles back to its feet after the deadly COVID...
INTERNATIONAL
A trying experience
Kevin Garratt, a Canadian wrongfully convicted of espionage by a Chinese court, knows what Michael Spavor and Michael Kovrig are going through Kevin Garratt and his wife, Julia, spent about 30 years...
The woman who can—and must—get Tanzania's COVID battle on track
The East African nation's first female president, Samia Suluhu Hassan, takes over from a notorious COVID skeptic. His opponents claim he died of the virus. When John Magufuli was elected as Tanzania's...
ECONOMY
Playing our cows close
With all we've learned during the pandemic, why would anyone willingly out-source Canada's supply of our most basic food items? OPINION Every crisis is a learning opportunity. So, what have we learned...
"AS LEADERS, WE WANT OUR BEST MANAGED COMPANIES TO FEEL EMPOWERED TO ACT, PAVING THE WAY FOR BUSINESSES ACROSS CANADA. IF WE WANT TO PROSPER AND SUCCEED IN THESE VERY DISRUPTIVE TIMES, WE WILL NEED THE FULL STRENGTH OF THE CANADIAN DEMOGRAPHIC AND WE WILL NEED TO PIVOT FROM THE OLD PRACTICES."
CHINMAYA THAKORE Special Advisor, Diversity, Equity and Inclusion to Canada's Best Managed Companies Partner, Deloitte Private IN A FEW WEEKS, the 2021 list of Canada's Best Managed Companies will be...
A SPECIAL INTEREST SECTION BY MEDIAPLANET
Why Gender Equality Is About More Than Gender
Six years ago, the Oxford English Dictionary officially added the term "intersectionality" to its lexicon, and in 2017, Merriam Webster followed suit — because, as it explained, "Lately, the word...
Fostering Inclusion by Understanding and Embracing Intersectionality
TD's inclusive culture enables colleagues to bring their whole selves to work — and it all starts with an understanding of intersectionality. Diversity has historically been viewed through individual...
Education & Resilient Support Give Rise to Change
Women have been disproportionately impacted by the COVID-19 pandemic, and these impacts are amplified by other identity markers like race and economic status. Women have overwhelmingly shouldered...
How Bell Supports Women in Tech
Having diverse talent, skills, and perspectives drives an organization's ability to innovate. At Bell, diversity includes empowering women in tech. Bell Canada's commitment to diversity and inclusion...
Developing the Innovative Women Leaders of the Future
At Simon Fraser University's progressive and innovative Beedie School of Business, it's all about empowering the next generation of entrepreneurs. Consistently ranked as one of the world's top 100...
Let the Women Speak — It's Good for Business
In early February, Yoshirō Mori — President of the Organizing Committee for the 2020 Tokyo Olympic Games — complained that meetings tended to drag on because the "competitive" women in attendance...
Teamwork and Success Go Hand in Hand
As part of the co-founding team of Borrowell, the fintech company that started in 2014, Eva Wong has become one of Canada's greatest inspirations for entrepreneurs. Read her take on succeeding in the...
Resilience in Entrepreneurship
Serial entrepreneur Laurie Clark is the founder of three fintech companies: Canchek, SmartDirect, and Onyen. She shares her perspective on the impact of the COVID-19 pandemic on entrepreneurs and...
For Biogen Canada, a People-First Culture Is the Key to Success
For Marina Vasiliou, a diverse and empowered team is vital to transforming the lives of patients with neurological conditions. When colleagues are faced with a daunting and difficult challenge, they...
Women Leaders of Tomorrow Need Better Education Now
The pandemic is impacting everyone, but girls and women are bearing the brunt of the burden. Here's how Plan International Canada is mobilizing to address the crisis. Economic empowerment for girls...
SOCIETY
Step-by-step therapy
Walk-and-talk counselling has gone from a niche service to a much-needed solution during the pandemic The pandemic has propelled many Canadians toward an activity that heretofore was mainly the domain...
Ishiguro's return to the near future
The Nobel Prize-winning author describes his haunting new novel, Klara and the Sun, as an 'emotional reply' to Never Let Me Go Born in Nagasaki in 1954, the child of an atomic bomb survivor and a...
Dear Mom. . .
Ellie Parks on the labels her mother carried—orphan, domestic-violence survivor, bipolar mood disorder patient—and the lessons she imparted It's hard to see parents as individuals, but after 58 years,...
THE BEST FOR LAST
Good job, Bruce
Actually, his name is Kevin, and in one of our favourite stories this week Shannon Proudfoot recounts how he and his team at Ottawa Public Health have been a rare source of sincere, useful—and...
Thank you
You just used 1 credit. You have left.