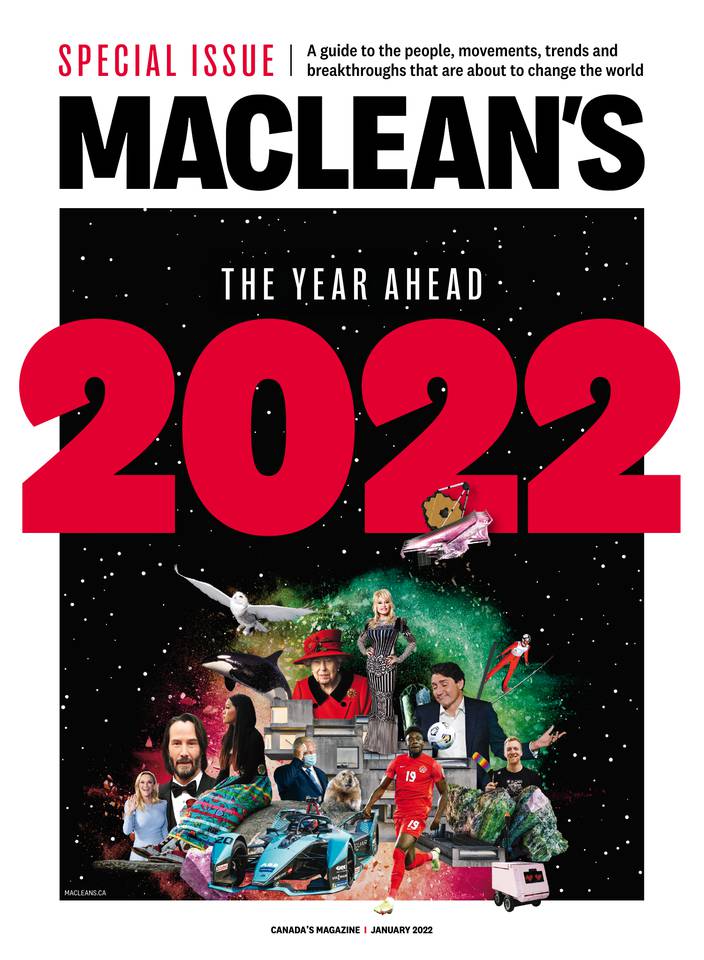 Canada's magazine since 1905
Summary
After the 'before times,' but before the times that come afterwards
The pandemic has brought us no end of idioms, old and new, from "social distancing" to "covidiot." Few, though, have served us as well as "the before times"—a bit of wistful shorthand for life before...
Read More
January 2022
EDITORIAL
After the 'before times,' but before the times that come afterwards
The pandemic has brought us no end of idioms, old and new, from "social distancing" to "covidiot." Few, though, have served us as well as "the before times"—a bit of wistful shorthand for life before...
BEARINGS
OPENINGS January to March. Hôtel de Glace.
As ice architects prepare to begin their work, a Vitruvian bonhomme poses in the moulds that will be used to create a hôtel de glace—an ice hotel—at a family resort near Quebec City. Just as our...
Ruff days at the office
A shortage of veterinarians will get worse in 2022, straining cats and docs in equal measure Kate Simon, a registered veterinary technologist in Edmonton, went on maternity leave in March 2020 as the...
PROPERTY PREDICTIONS
What to expect from the housing market in 2022 PREPARE FOR A SALES DIP The Canadian Real Estate Association predicts the average home price will increase to $718,000 (up 5.6 per cent) in 2022. The...
Luke Prokop on striving to reach hockey's pinnacle—on his own terms
It was a tough decision to come out. I didn't know how it would be accepted by the hockey community. I had some long talks with family and friends, the people I'd come out to previously. At the end of...
The kindest cut of all
Hundreds of seedlings from one doomed tree will sprout this year around Whitehorse, keeping the iconic plant's legacy alive Last summer, Martin Paquette bored into the core of the Mayday tree growing...
Roadside attraction
In the summer of 2017, Chloë Chapdelaine was 18 and living by herself in a trailer near the tiny town of Foremost, Alta., where she was holding down two summer jobs at a pool and community support...
FROM THE ARCHIVE
BACK TO THE FUTURE In 2012, our wildest sci-fi dreams seemed possibly within reach, at least for an elite few. In a story about two up-and-coming flying-car companies, senior writer Nicholas Köhler...
When life serves you lemmings
An explanation for the Arctic rodent's epic population cycle may finally be at hand If you know less about lemmings than Dominique Fauteux does—and you almost certainly do—then what you do know about...
RUNNING LOW
Supply chain gaps meet rising consumer demand. Prepare for a year of shortages. AN EMPTY LOT A semiconductor shortage has already thrown a wrench into the auto parts supply chain. Now warnings about a...
Meals on cute little wheels
An invasion of food delivery robots is set to expand, adding a new wrinkle to the gig economy Imagine an AI-driven future where human workers are at the mercy of mechanical overlords. Or a cyberpunk...
DELETE YOUR ACCOUNT
The CBC is ending Facebook comments on news stories, with tests showing no drop in traffic and improved staff well-being. Facebook is killing its face-recognition system, deleting a billion...
INTERVIEW
Autumn Peltier talks with Marie-Danielle Smith about the environmental challenges ahead, facing intimidation and what motivates her to 'keep on loving the water'
In 2016, at age 12, Autumn Peltier came face-to-face with Justin Trudeau and, in front of hundreds of people in a conference hall in Gatineau, Que., she challenged his environmental record, extracting...
FEATURES
THE LIFE OF TH E PARTY
The Liberals may be forced to consider life after Justin Trudeau—and what they even stand for without him On Sept. 20, voters returned a Parliament that will look a lot like the one Justin Trudeau was...
Hot and bothered
In a year that will see more wildfires, deadly heat waves and drought, climate change policy will dominate the federal government's agenda Crises have a habit of blotting each other out, given that...
The last gasp
While premiers rage about Ottawa's overreach, their big fight over carbon taxes finally ends—and the environmentalists win Scott Moe is so unhappy with the policies Justin Trudeau is bringing in to...
WAY UP. That's where the price of everything is going. By Jason Markusoff Look up.
TO FOLLOW BLAKE DOYLE'S LIFE AND WORK IN Charlottetown is to take a madcap tour of inflationary Canada. In this regard, he's like everyone on Prince Edward Island, where Statistics Canada shows the...
WHYARE WE PLAYING GAMES IN CHINA?
The 2022 Winter Games are set to open in Beijing, but many Canadians believe our athletes should not be going THE OLYMPIC FLAME-LIGHTING ceremony was underway at the Temple of Hera, the oldest temple...
On guard against theknown unknown
A team of scientists will serve as Canada's early warning system for variants that could hurl us back into pandemic misery withdrawn from our old lives by necessity, coping with the immediate crises...
THE WORLD OVER
WHAT TO LOOK OUT FOR IN POLITICS, MUSIC, ENVIRONMENT AND SPORT IN 2022 SPACE The Chinese space station, Tiangong, will be completed after nearly a dozen space missions. WESTERN CANADA Fans can perform...
The electric car crash
We're running out of spots to plug in our cars, and our electrical grid is straining under the pressure. Welcome to the electric vehicle boom. In 2017, Rob and Kim Nelson, both professors at the...
MACLEAN'S
McDonald's Launches New Loyalty Rewards Program Across Canada
The new MyMcDonald's Rewards program lets Canadians earn points on their favourite menu items. McDonald's is constantly innovating to bring its guests more of what they want, including great value,...
FEATURES
Enjoy Life's Extras with the AIR MILES Reward Program
Canada's most recognized loyalty program is revitalizing the collector experience by offering more choice, flexibility and value than ever. This fall, the AIR MILES® Reward Program revamped its brand...
No fixed address
The B.C. orcas known as 'southern residents' have been wandering far away from their Salish Sea digs. Will they return in 2022? It's one of the most jubilant rites of summer. When the world's most...
IDEAS
WALKING IN TWO WORLDS
Tanya Talaga is transforming how Canada sees its past. And how Indigenous people see their future. For Anishinaabe journalist Tanya Talaga, 2022 will be spent working on an urgent, timely book that...
WRITING ABOUT THE HUMAN RACE
When her seventh novel, Girl, Woman, Other, won the Booker Prize in 2019, Bernardine Evaristo saw it as belated recognition that she is a British author, as well as a Black British writer. Evaristo,...
LOVE, SEX AND SURTITLES: OPERA RETURNS
The Canadian Opera Company returns to live performances for the back half of the 2021-22 season with fan favourites that include Madama Butterfly (Feb. 4-25), The Magic Flute (May 6-21) and Giuseppe...
TRIPLE THE TROUBLE
The Queen's Platinum Jubilee year could be overshadowed by Harry, Charles and Andrew As monarch, Queen Elizabeth II has sought to strengthen and rejuvenate the throne she inherited in the dying days...
THE RISE OF KATE
As she turns 40 on Jan. 9, the Duchess of Cambridge is increasingly defining her own role as a royal. She's taking on bigger and more ambitious projects, including the Royal Foundation Centre for...
A FEW MORE GIANT LEAPS
We will rediscover that space is about more than launching billionaires into orbit The Eagle touched down. And Neil Armstrong stepped out. And as millions of people watched the grainy footage on their...
CALM, COOL AND CONNECTED
From Bridgerton-inspired weddings to AI-powered spandex, trends in 2022 reflect both our hankering for escape and our inexorable move into the future ① Weddings: The Bridgerton effect Thank Shonda...
WHAT WOULD DOLLY DO?
Evangelicals like to ask, "What would Jesus do?" But Dolly Parton fans have co-opted this saying, which we genuinely posit here: after donating $1 million to fund research for the Moderna vaccine and...
SHOP YOUR FOOTPRINT
Carbon labels tell consumers the environmental impact of oat milk, dish soap and more. Do they work? Standing in the supermarket aisle, your hand hovers between two cartons of oat milk. You've bought...
LET THERE BE LIGHT—AND LOTS OF IT
More than 50 years after Habitat 67 was built, its principles are finding new life around the world ⮇ HABITAT 67 Montreal, CANADA Israeli-Canadian architect Moshe Safdie's career philosophy—"For...
FIVE WAYS WITH LEFTOVERS!
Upcycled edible waste—Transformation Tomato Sauce, anyone?—is here to help clean up the planet By now, it shouldn't be a secret that the fight against climate change requires an all-hands-on-deck...
AEROHAPTICS
Engineers have figured out how to make holograms feel real to the touch When Tupac Shakur joined Dr. Dre on stage at the Coachella festival in 2012, crowds were awestruck—not only by the quality of...
ALL THINGS BEING SEQUEL
New movies are back, but they're all old Big blockbuster productions have been endangered by the rise of streaming and the pandemic, so Hollywood isn't taking chances on anything new. From Disney hits...
AN ALL-ELECTRIC RACE
Seventeen years after the Molson Indy Vancouver left Western Canada, a new circuit race is coming to the Indy's former racing grounds—and it's literally all electric. Formula E is slated to take place...
READING AHEAD
A riveting review of the hundred years since King Tut's tomb was discovered; a new, luminous offering from Canadian novelist Emily St. John Mandel; plus four other nightstand-worthy titles landing in...
MACLEAN'S
DEAR DINING TABLE . . .
Pandemic life happened here: work calls by day, home-cooked meals by night, a baby's first delightful laugh. And now it's hard to imagine having to leave. Every morning at 8:30, I'd put on a...
Thank you
You just used 1 credit. You have left.