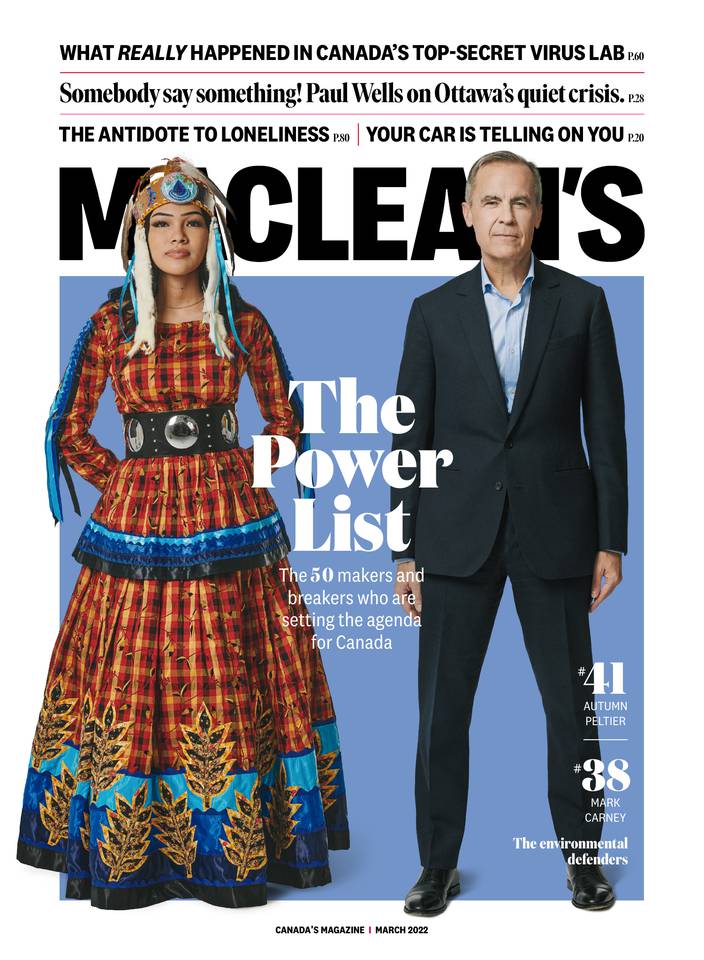 Canada's magazine since 1905
Summary
We failed to hear them when they lived. We are obliged to hear them now.
In 2021, amid report after report of presumed grave sites being found on the former grounds of residential schools, non-Indigenous Canadians experienced what's been generously described as an...
Read More
March 2022
EDITORIAL
We failed to hear them when they lived. We are obliged to hear them now.
In 2021, amid report after report of presumed grave sites being found on the former grounds of residential schools, non-Indigenous Canadians experienced what's been generously described as an...
BEARINGS
OPENINGS March 18-20. Monster Jam.
There are plenty of monster trucks, but for 40 years, Grave Digger has backflipped its way to the front of the proverbial pack. The vehicle is cloaked in a delightfully gawdy swirl of green and purple...
Irish on the rocks
A Newfoundland community dubbed 'Canada's Emerald Isle' is struggling to save its identity As the winter sun rises over Tilting Harbour, Norm Foley is on Oliver's Cove Beach, pitchfork in hand, green...
THE HIGHS AND LOWS
What Health Canada's annual Canadian Cannabis Survey said about the nation's marijuana habits in 2021 MEN WOMEN WHO'S USING In 2021, 29% of males and 22% of females reported using cannabis—down from...
Bethany Stief on the grind of virtual learning—and the joy of pulling the plug
Willa's a very active kid. She's always said online learning is boring, she doesn't want to do it. This year, while it was still challenging, was better. The developmental shift from four to five to...
Dangling attribution
The web has wrongly credited the brooding meditations of a Canadian teen to the artist Frida Kahlo. Is that necessarily a bad thing? In the summer of 2015, Rebecca Martin was perusing Facebook when...
SERIOUS CHEDDAR
Feeding the nation has been an essential job through the pandemic. And a lucrative one. Here's what grocery CEOs made in their companies' last fiscal year. MICHAEL MEDLINE PRESIDENT AND CEO, EMPIRE...
Minding the Blackhawks
Last year, when someone working with the Chicago Blackhawks contacted Patrick Hunter via Instagram to ask whether the Toronto-based Ojibwe artist would be interested in working with the NHL team to...
Tattletales on wheels
Car tech is exposing the nose-stretchers told by drivers trying to scam their insurers The story began with a 20-year-old Manitoban saying he'd fallen asleep at the wheel in a newer model Chevy...
REAL ESTATE
A condo fit for a Cadillac—or three Looking for a piece of real estate in one of the world's most overpriced housing markets for under half a million? Provided the only thing that sleeps there is your...
RELIABLE AS THE ROCK
By the end of January, 75 per cent of kids in Newfoundland aged 5 to 11 had their first jab—the highest rate in the country by far. (The lowest? Alberta, at 37.5 per cent.) Newfoundland's secret: good...
INTERVIEW
Stephen Poloz talks with Marie-Danielle Smith about the economic dangers ahead, staying positive and the leadership skills of Jean-Luc Picard
Like so many conversations in this era, my talk with former Bank of Canada governor Stephen Poloz happened on a Zoom call. Mostly, we discussed his upcoming book, The Next Age of Uncertainty, a primer...
OPINION
The best-laid plans of party leaders
What happens when Ottawa is forced to do something it hates to do: actually talk about a difficult, complex issue Sometimes events set up a natural experiment. What happens when politicians have been...
THE POWER LIST
THE POWER LIST
50 Canadians who are forging paths, leading the debate and shaping how we think and live 01 The children who never came home INDIGENOUS AFFAIRS A society deaf to their cries finally chooses...
FEATURES
The Qiu files
A brilliant scientist was escorted from her lab by the RCMP more than two years ago. Xiangguo Qiu would seem an unlikely character in a tale of international intrigue. A mild-mannered scientist who...
Meet the small business owner creating community through food
How a Syrian refugee came to call Sault Ste. Marie home and created the life he didn't even know he wanted. In 2015, when George Al Khoury began his sponsorship process to come to Canada, he had never...
KELOWNA SHOWDOWN
CHUCK FIPKE DIDN'T GET RICH BY FOLLOWING THE CROWD. NOW THE CROWD IS BEATING A PATH TO HIS STREET, AND HE'S DOING ALL HE CAN TO KEEP IT AWAY. When a visitor pulls into his long driveway, Charles Fipke...
IDEAS
THE MAGIC OF DOMEE SHI
In her debut feature, the Canadian director plumbs her childhood for the story of your life There's a scene in Turning Red, the upcoming Pixar movie directed by Canadian wunderkind Domee Shi, that had...
WHEN THE SHELTER BECOMES A STORM
Les Ballets Jazz Montréal (BJM) celebrates 50 years with an ambitious and alluring new production called Vanishing Mélodies. Set to songs by award-winning Montreal musician Patrick Watson, the modern...
THE BFF QUOTIENT
Close relationships—about five of them—are as essential as food and water, says a new book Loneliness kills, and friendship preserves. There's really nothing else—not exercise or even quitting...
'THE PLANET IS HYPERVENTILATING'
British writer Ben Rawlence made a multi-year trip through the world's northernmost trees for The Treeline: The Last Forest and the Future of Life on Earth (St. Martin's Press, Feb. 15). Along the...
THOSE WERE THE DAYS
Photo booths had a unique ability to capture some of our silliest and most intimate moments, leaving us with a precious record of time The digital database photobooth.net tracks a dying culture,...
THREE TO READ
JAMEELA GREEN RUINS EVERYTHING by Zarqa Nawaz Simon & Schuster, March 8 As the creative force behind the CBC sitcom Little Mosque on the Prairie notes in her novel's afterword, writing a satire about...
MENACE IN THE MIST
Everyone knows that jet fuel is bad for the environment. But how about those contrails? The fact that airplanes are climate-damaging fuel hogs—aviation accounts for two per cent of human-caused...
RARE DISEASES
Conquering Rare Disease — Even In the Era of COVID
The long-awaited launch of Canada's Rare Disease Drug Strategy will help get therapies to people with rare diseases faster. As Canada prepares to pivot from reacting to COVID-19 as an unpredictable...
Taking Advantage of Every Moment Life Has to Offer
Living with generalized myasthenia gravis used to mean leading a very restricted life. New options are now changing that. When Ghassan Akl was 17, he suddenly found himself unable to lift a glass of...
Why It's Important to Recognize Signs of Rare Blood Disease
The road to a PNH diagnosis can take up to five years. That's why awareness is critical for both patients and physicians. Paroxysmal nocturnal hemoglobinuria (PNH) is an ultra-rare and acquired blood...
New Father with Rare Disease Works Hard to Access Potentially Life-changing Treatment
When you live with a progressive neuromuscular disease like spinal muscular atrophy (SMA), timely access to treatment is critical to retaining strength and ability. Jared Wayland and Sydney Dick of...
IDEAS
DEAR MS. EARLE
'You were the first person to take my writing seriously enough to criticize it,' writes KC Hoard to his Grade 10 English teacher When we walked into your English class one morning in October 2013, you...
Thank you
You just used 1 credit. You have left.