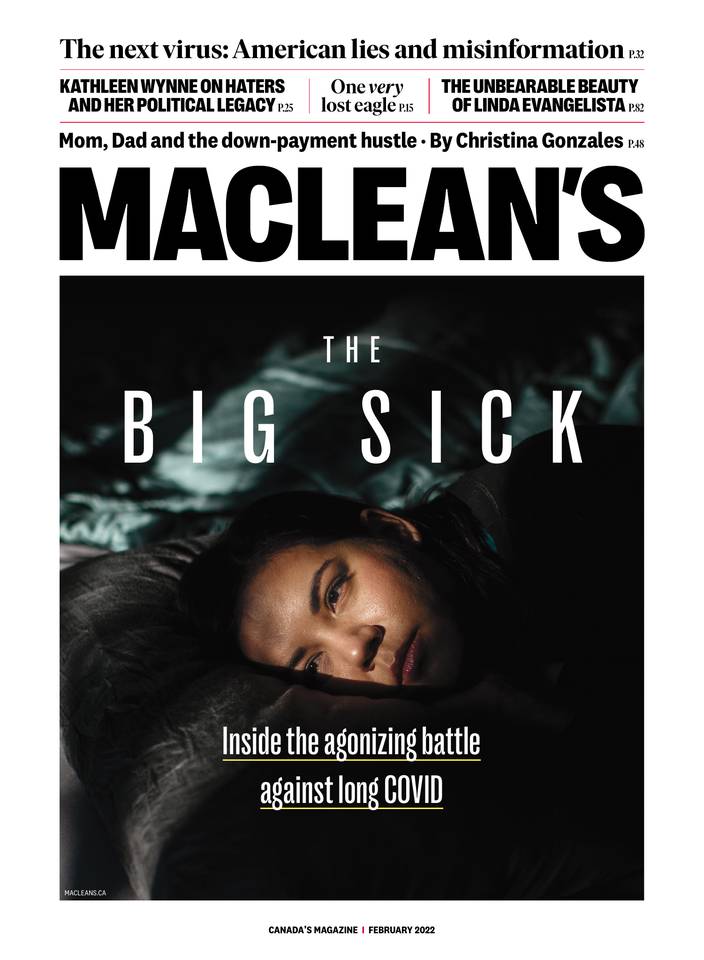 Canada's magazine since 1905
Summary
Why sunlight is always the best disinfectant—and how to let that light in
At the height of our recent federal election campaign, someone threw gravel at Prime Minister Justin Trudeau when he was campaigning in London, Ont. Police later charged the president of a nearby...
Read More
February 2022
EDITORIAL
Why sunlight is always the best disinfectant—and how to let that light in
At the height of our recent federal election campaign, someone threw gravel at Prime Minister Justin Trudeau when he was campaigning in London, Ont. Police later charged the president of a nearby...
LETTERS
SONGS OF SOLACE
I would like to express my appreciation for Katie Underwood's article on Céline Dion ("Coming back to us now," Torch Song, December 2021). It was beautifully written, funny and touching. Underwood...
BEARINGS
OPENINGS Feb. 18-27. Festival du Voyageur.
White, green, red and yellow for the Franco-Manitoban flag. Red, white and blue to represent L'Assomption, Que., the provenance of French-Canadian voyageurs to Canada's west. Black and red for the...
Brain over brine
Plans to flush out salt caverns for gas storage hit a wall of Mi'kmaq grandmothers Cheryl Maloney's eyes glossed over with tears as she stood near the bank of the Stewiacke River in the middle of Nova...
THE EAGLE HAS LANDED
A rare Steller's sea eagle—native to Russia, China and Japan—soared across North America, astonishing birders along the way. 1 DENALI NATIONAL PARK, ALASKA The eagle was first seen in the preserve...
What lies beneath
Wealthy homeowners are digging deep to get around building restrictions In Hoggs Hollow, an upscale Toronto neighbourhood, people love their trees. In November, many lawns bore a sign reading, "Stop...
Ryan Gemser on rescuing cattle by Sea-Doo during the B.C. floods
There was talk about moving cows from my friend's farm next door onto dry land, on Highway 1. We tried running the cows at first, to see if they would go on their own. That didn't work. So we jumped...
Hunting and gathering
Johnny Cash was looking for a new beginning. It was 1961 and his career was in a slump. Elvis Presley had crossed over to popular audiences; Cash had faltered." That's how Jonathan Holiff frames the...
Through the roof
Things came together about 4.5 billion years ago, and eventually landed on the bed of a very surprised woman in British Columbia At 11:35 p.m. on Oct. 3, Ruth Hamilton was rattled awake by her dog's...
LOST AND FOUND
A survey of rare discoveries from across the country THE SILVER HALF-GROAT Archaeologists have found the oldest English coin in Canada at the site of the earliest English settlement, in Cupids Bay,...
Rewinding with gusto
There's a house in Newfoundland where the video era lives on in all its grainy glory Corey Lynch has built a blue-and-yellow time machine in his St. John's basement. It's a portal to his own past, and...
GOOD NEWS WE ALL SCREAM FOR VACCINES
Five- to 11-year-olds have been lining up for COVID shots—a huge relief for parents as case counts rise and the Omicron variant spreads. In other news sure to make kids happy: Canadians have been...
INTERVIEW
Kathleen Wynne talks with Paul Wells about her real legacy, the roots of her political downfall and the private advice she gave to Doug Ford
Among the small number of Ontario Liberals who knew Kathleen Wynne would be speaking to Maclean's, there was considerable nervousness. Wynne was Ontario's premier for six years, the first woman and...
WHAT I'M READING
Among the best books she's read in recent months, Kathleen Wynne counts two novels by Richard Wagamese and a non-fiction work by two Toronto doctors. Also on her list: some bedtime reading. Starlight...
OPINION
Ditherers in a dangerous time
NORAD says the threats are higher than they've been in decades and action is needed now. Good luck getting Canada on board. Sooner or later, everyone visits Ottawa. Why, here at the end of November...
FEATURES
THE NEXT VIRUS
It's deadly and malicious, and there is no vaccine. How the American-fuelled spread of lies and misinformation is making us all sick—and what we can do to stop it. ON SEPT. 22, SHANON SHEPPARD of...
COVER STORY
WHEN THE VIRUS MOVES IN
UP TO HALF A MILLION CANADIANS ARE SUFFERING FROM DEBILITATING SYMPTOMS OF LONG COVID—AND FALLING THROUGH THE CRACKS OF A DEPLETED HEALTH-CARE SYSTEM ON CHRISTMAS MORNING IN 2020, Carrie Anna McGinn...
FEATURES
THE DOWN-PAYMENT HUSTLE
INSANE HOUSE PRICES AND RISING INEQUALITY ARE LEAVING ANYONE WITHOUT AN ACCOUNT AT THE BANK OF MOM AND DAD BEHIND THIRTY-FOUR-YEAR-OLD BROOKE SANCHEZ picks up her one- and two-year-old daughters Cali...
Peak performer
IN BEIJING, SNOWBOARDING STAR LAURIE BLOUIN WILL DRAW ON TWO DECADES OF HARD WORK AND HARD KNOCKS. THAT AND THE LYRICS OF A CERTAIN CANADIAN COUNTRY SINGER. Let's go, girls. Come on....
In need of a helping
Seniors in Vancouver's Chinatown are struggling through poverty, language barriers and outright racism to put food on the table On a hazy Friday morning, Gui Rong Ni, 72, is in her element at the...
THOSE LEFT BEHIND
Educated in a Canadian-funded school, they became Afghanistan's best and brightest young women. Today they live in fear, abandoned to the Taliban. THE DARK SPECTRES THAT HANG over Shazia Mohseni take...
MACLEAN'S
One of Canada's Leading Rewards Programs Just Got a Major Upgrade
The popular SCENE and Scotia Rewards programs just became Scene+, giving shoppers more opportunities to get rewarded. If you're an existing SCENE or Scotia Rewards member, you already know about the...
Rewards Your Way: A Guide to Scene+
From movies and dining to shopping to travel, Scene+ is your gateway to rewards your way. For a limited time, new members get 250 bonus points the first time you use your Scene+ card. ENTERTAINMENT:...
IDEAS
HOW SHOULD AN ARTIST BE?
Sheila Heti set out to write a book 'that no one can say what it's about.' We're going to give it a try. It's one of the last warm nights in October. I meet Sheila Heti at Bar Mordecai in Toronto for...
CUPID, SCHMUPID
The Valentine's Day holiday is so much more than an excuse for TV shows to do a romantic episode in February. It's also an excuse to make movies where characters are really depressed about the...
WHAT CALPURNIA WOULD SAY
Canadian playwright Audrey Dwyer had questions about Harper Lee's beloved 1960 novel To Kill a Mockingbird. So she wrote a comedic satire exploring racism and hypocrisy and named after the book's...
FREEING THE VAGUS NERVE
There is a long history of doctors who write, often beautifully, about the thin veil between life and death. Chris Honey, one of the most prominent neurosurgeons in Canada, joins them with The Tenth...
THE JOY OF CLUTTER
Surrounding ourselves with things we love is a salve in trying times People have always loved their stuff. Neanderthal hoarders probably packed their caves with shiny stones and fluffy feathers. From...
I AM WOMAN (ALSO, WARRIOR)
Lucy Lawless's Xena showed me a way to be feminine, and at the same time strong, fierce and unstoppable I recently changed my cellphone ringtone to Joseph LoDuca's The Warrior Princess, the once-...
WE'VE CRACKED IT
Some are as tiny as a coffee bean. Others are bigger than grapefruits. There are grey ones. Brown ones. Ivory ones. Speckled ones. They can look matte or shiny. Roundish or conical. Bird eggs have...
SO LONG, NEIGHBOUR
Was the attack on the Capitol the first salvo in America's undoing? Insurrection by Trump supporters, false flag operation by anti-Trump forces or a protest with a few difficult moments? American...
THREE TO READ
WHEN WE LOST OUR HEADS by Heather O'Neill HarperCollins, Feb. 1 Given this book's title and main character— 19th-century Montreal sugar baroness Marie Antoine—it's no surprise when Mary Robespierre...
THE UNBEARABLE BEAUTY OF LINDA EVANGELISTA
The supermodel's imperious gaze came to define the '90s. Now, she says a cosmetic procedure has stolen her looks, her livelihood, her very identity. So whose fault is that? Last September, the...
NANOLEARNING
The term that gives new meaning to 'quick study' In the internet age, short content is king. As we become increasingly accustomed to the lightning pace of platforms like Twitter and TikTok, a lengthy...
DROPPED IN THE OCEAN
Artists are populating seabeds with sculptures that attract divers while also asking whether they should really be there Snorkelling or scuba diving off the coast of Cancún, Mexico, is a great way to...
TO MY BIRTH MOTHER
'Thank you for your love and bravery,' Charmaine Traynor-Ruitenberg writes to the woman who gave her up for adoption I had chosen my outfit with great care, but when I arrived at Yorkdale Shopping...
Thank you
You just used 1 credit. You have left.