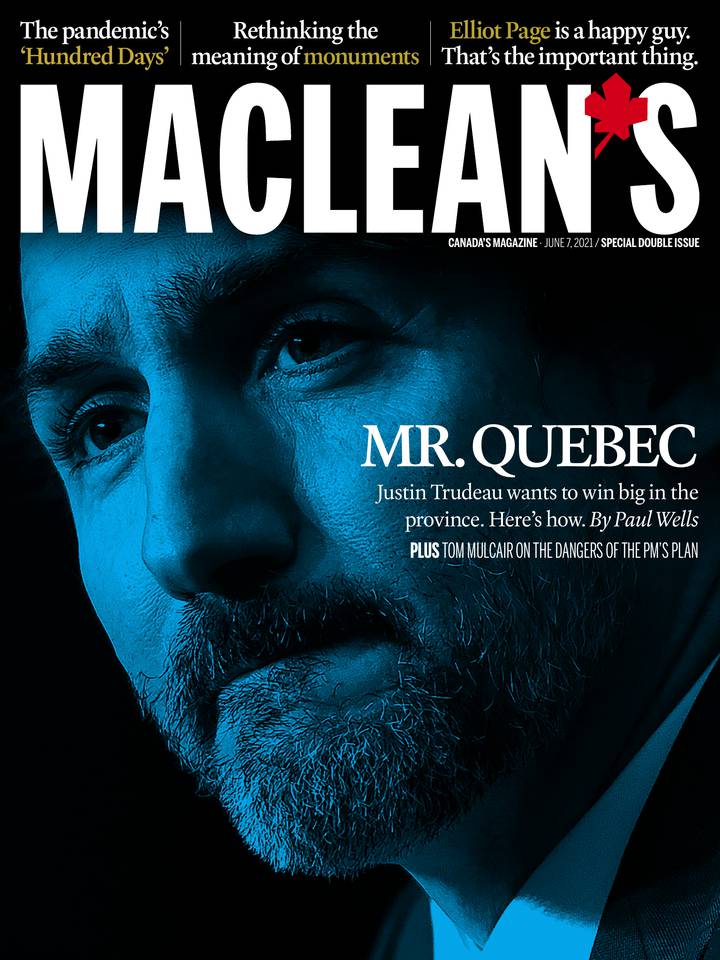 Canada's magazine since 1905
Summary
'I, for one, hold the U.S., as much as China, responsible for robbing the freedom of those two respectable Canadian citizens'
Great places to live Please stop publishing this type of article ("Best communities in Canada," Living, May 2021). The number of people coming here from the cities is ridiculous, and they are changing...
Read More
June 2021
LETTERS
'I, for one, hold the U.S., as much as China, responsible for robbing the freedom of those two respectable Canadian citizens'
Great places to live Please stop publishing this type of article ("Best communities in Canada," Living, May 2021). The number of people coming here from the cities is ridiculous, and they are changing...
NATIONAL
Trudeau le Québécois
The spreading of largesse; Guilbeault's quixotic quest; the relaxed response to Bill 96. The PM wants to win big in Quebec. Everyone's wondering, yet again, what Justin Trudeau's game is in Quebec. I...
A sneak attack on language rights
Bill 96 deserves much more than nodding approval of leaders in Ottawa. Failure to defend rights comes at a cost to our national unity. OPINION Quebec and the Constitution are back in the headlines and...
The latest going concern
Can Canadians stop the so-called 'Indian variant' from causing a fourth wave of the pandemic in this country? Canada's vaccination effort is picking up steam. Our case counts are going down. But there...
'This is my childhood'
At 14, Sophia Mathur has trained with Gore, marched with Greta and won a few battles on behalf of the planet Sophia Mathur was just nine years old when she made her first lobbying trip to Parliament...
INTERNATIONAL
Into the bush
Layton Keddy disappeared into the Australian wilderness, assuming he wouldn't be missed. He couldn't have been more wrong. Layton Keddy broke his toothbrush in half. He cut the tags off his clothes....
Winter really is coming
Russia's latest seabed claim reaches right to Canada's Arctic doorstep—a bully move that critics urge Ottawa to stand up to OPINION Over the past few weeks, the Russian president's ambitions have...
SOCIETY
A line in the concrete
Artist Ken Lum tackles an increasingly urgent question: Circumstances have a way of giving meaning to seemingly odd choices. Ten years ago, Ken Lum was an important figure in the Vancouver art scene....
A SPECIAL INTEREST SECTION BY MEDIAPLANET
The Cost of Vision Loss and Blindness in Canada
Vision loss (VL) has wide-ranging implications for individuals, communities, and societies. At the individual level, it affects work, income, self-esteem, dignity, family relationships, the ability to...
Diabetes Canada Alerts Canadians About Vision Damage and Blindness in People with Diabetes
It's been 100 years since the discovery of insulin. While the discovery has improved the health of people with diabetes, it isn't a cure. The prevalence and cost of diabetes continue to rise. There...
The COVID-19 Ripple Effect: Missed or Delayed Retinal Care
The health threats of the pandemic go far beyond COVID-19 itself, including the disruption of unrelated medical care. The pandemic has shifted daily patterns of life for everyone, but for some the...
Designing an Accessible Technoscape: A Future for Canadians with Vision Loss
The world of accessible technology is reaching a tipping point. And that's a good thing. For a long time, accessible and assistive devices — many designed for people living with life-altering...
SOCIETY
The pandemic's 'Hundred Days'
Canadians have gone through something akin to war, and the end is in sight. But history tells us the last months can be the cruelest. As more and more Canadians get vaccinated, there is a growing...
Dear Dad . . .
For Michael Gunther, road trips with his father, who now has Alzheimer's disease, were never really about the destination WE WERE ABOUT 80 km outside Flagstaff, Ariz., when I realized something was...
THE BEST FOR LAST
The marvel behind Marvel
In one of our favourite stories this week Jaime Weinman examines the remarkable run of Marvel Studios, and asks how the movie maker has not only managed to take over the world, but not lose its magic...
Thank you
You just used 1 credit. You have left.