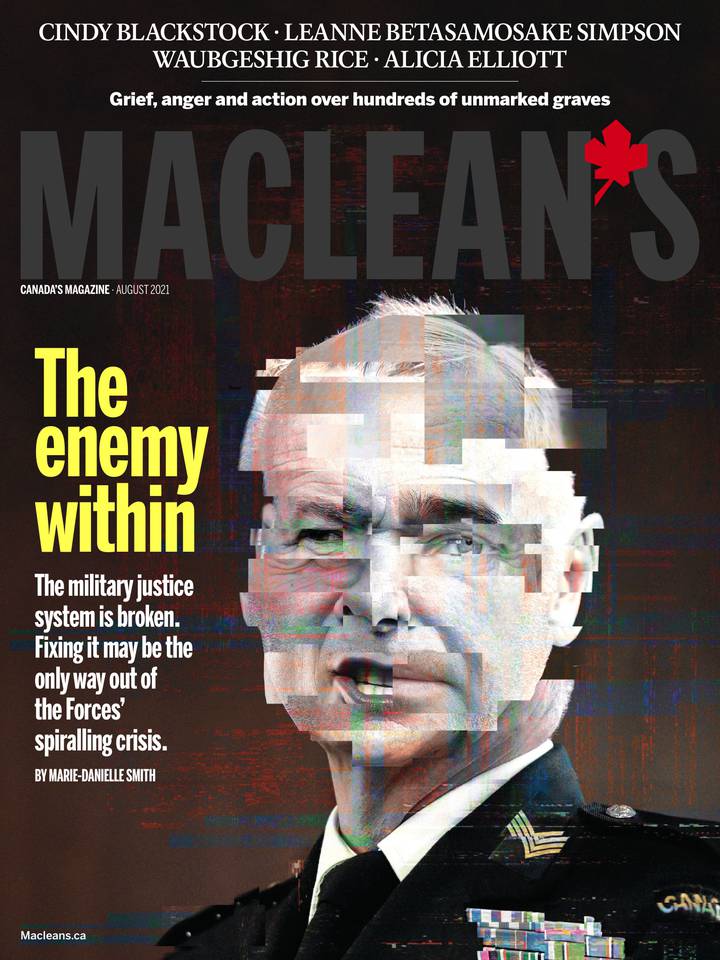 Canada's magazine since 1905
Summary
The real black mark
After her face appeared on the cover of a 1998 issue of Maclean's with the headline "Rape in the military," Dawn McIlmoyle remembers a severe backlash. "I got told that I was the worst thing to happen...
Read More
August 2021
THE EDITORIAL
The real black mark
After her face appeared on the cover of a 1998 issue of Maclean's with the headline "Rape in the military," Dawn McIlmoyle remembers a severe backlash. "I got told that I was the worst thing to happen...
NATIONAL NOTES
Judging a city by its covers
Montreal is one town that knows the difference between beauty and a hole in the ground There are two versions of this story. The straightforward one is that Montreal recently unveiled a new design for...
It's his name, for peat's sake
A B.C. distiller's battle against 'Big Scotch' is about more than the words on his whisky labels. It's about what's on his birth certificate. Graeme Macaloney's introduction to the spirits industry...
Greyhound's resting place
An empty way station where you could stretch your legs and feed the caged bears symbolizes the end of the bus line era In the restaurant's heyday, Supertest gas flowed from the pumps, hamburgers cost...
No fairy-tale ending
In Guelph, Ont. and other cities, officials fear delightful 'fairy doors' installed by park-goers are hurting the trees It was treated as a stealth operation. Adrian Ferrazzutti would put a small...
THE BIG PICTURE
In touch, at long last
Pamela Libralesso's 15-year-old son is cheerful, social and "brightens any room," she says. J. is non-verbal, has an intellectual disability and communicates mostly by touch (his family asked that we...
NATIONAL
The war inside the military
Fixing its badly broken justice system is now the most important mission facing the beleaguered Forces By Marie-Danielle Smith IT HAD BEEN four months since the end of an investigation into a man she...
Screaming into silence
Survivors' accounts of graves at residential schools were treated as 'stories,' says Cindy Blackstock. Now society can no longer look away. RESIDENTIAL SCHOOL SURVIVORS knew where the children were...
Just as our ancestors intended
At a traditional hide-tanning camp, Leanne Betasamosake Simpson finds brilliance the residential schools could not stamp out I WAS NEARING the end of the mandatory 14-day isolation period for non-...
A diploma with the wrong name
Waubgeshig Rice attended two schools bearing the tainted Ryerson moniker. Changing the name, he says, is the least an institution can do. MY REACTION TO the image of the fallen statue surprised me. I...
'This entire country is haunted'
As the horrors of residential schools sets in, Alicia Elliott asks what Canada's leaders and citizens will do to show they've changed A MERE 15-MINUTE drive from where I now type this in Brantford,...
'Canadians are waking up'
Outgoing AFN National Chief Perry Bellegarde on a critical decade of progress and the road ahead Perry Bellegarde has been involved in Indigenous politics since 1986. In July, that long run will come...
The butterfly effect
Maggie Mac Neil's push off the pool wall in Tokyo could be the power move that propels the young Canadian to medal glory Inside the state-of-the-art Toronto Pan Am Sports Centre, the starting...
Forgiving Jaskirat Sidhu
Who deserves absolution, and when, is one of humanity's most vexing questions—one families devastated by the Humboldt Broncos tragedy can't seem to avoid. SCOTT THOMAS REACHED for his necklace. It...
They Were Loved
The magnitude of COVID-19's impact on Canadians' lives is difficult to fathom. Canada has lost thousands of people to the pandemic, with each loss cascading throughout families and communities. They...
'Patient zero' fights back
A small-town doctor blamed for a COVID outbreak launches a counterattack in a politicized case Long before he was infected with COVID-19—and was wrongly accused of spreading it—Jean Robert Ngola...
Don't hesitate to listen
We need up to 90 per cent of the population to get shots. That means helping a critical minority feel confident about vaccines. Michelle DesRosiers is a non-binary parent and IT consultant in...
INTERNATIONAL
The unstated issue
A growing number of stateless peoples are locked in limbo, exposed to dangers the international community is too fractured to address If you have never heard of Al-Ahwaz, an ancient place of great...
EDUCATION
New kid on the blockchain
Over the past five years, digital finance has increasingly become part of business education Cryptocurrency courses have become a big deal in a short amount of time—much like cryptocurrencies...
Field to boardroom
Three elite athletes on the transferable skills that help them find success in their MBA programs There's a lot of overlap between the qualities athletes must possess to make it to the Olympics and...
SOCIETY
The teachings of Prince
The polymathic artist's first posthumous studio album releases this summer. Recorded in 2010, it remains ahead of its time. There's a special kind of skepticism that follows a posthumous album release...
The joy of meta-stardom
Ryan Reynolds opens up about the tyranny of happiness, and sharing his celebrity with fellow Canadians It's not possible to dislike Ryan Reynolds. The Deadpool star is perhaps best known for his...
Can we stay in this together?
A post-pandemic Architecture Biennale imagines how we'll live alongside fungi, bacteria—and each other Sculptures of Black African figures adorned in tribal body paint crowd the entrance of the 2021...
Dear Lola Conchita . . .
Separated by an ocean, Arvin Joaquin found comfort in his grandmother's letters. Now, he's sending her one of his own. I STILL REPLAY our recorded conversation from February 2020 when I came to the...
Thank you
You just used 1 credit. You have left.