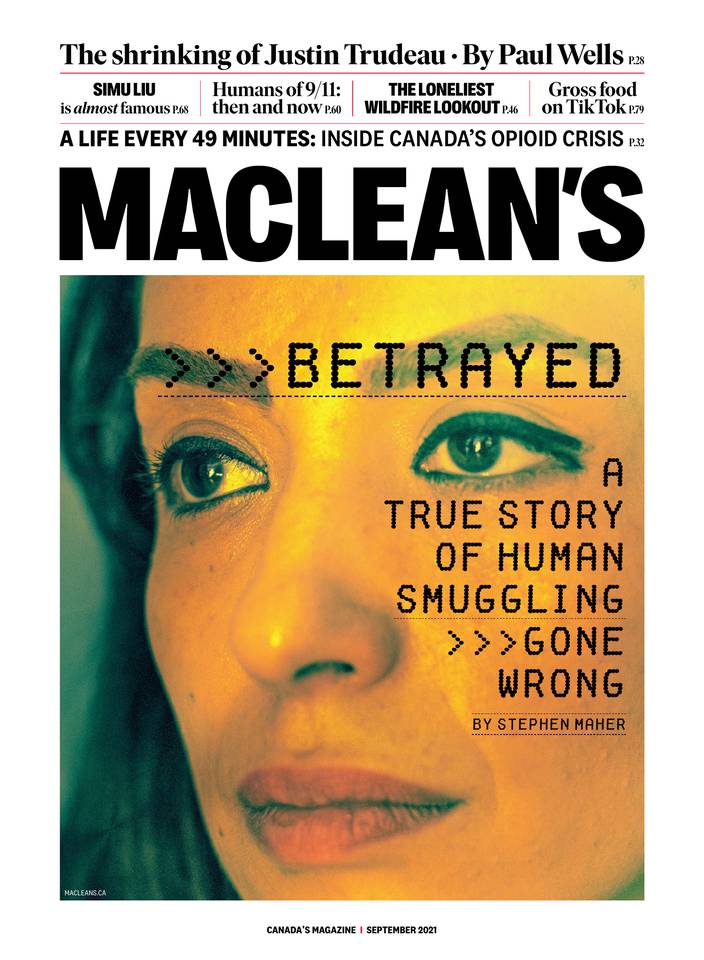 Canada's magazine since 1905
Summary
Leaning into beauty and knowledge, Maclean's meets the moment
When we began the process to redesign our print magazine exactly a year ago, we consulted some of the best editors in the world, from The Atlantic and Vanity Fair to The New Yorker. We surveyed...
Read More
September 2021
THE EDITORIAL
Leaning into beauty and knowledge, Maclean's meets the moment
When we began the process to redesign our print magazine exactly a year ago, we consulted some of the best editors in the world, from The Atlantic and Vanity Fair to The New Yorker. We surveyed...
LETTERS
UNMARKED HORROR
In response to the discovery of hundreds of unmarked graves at residential schools, Maclean's published essays by five prominent Indigenous writers ("The reckoning," Residential Schools, August 2021)....
BEARINGS
Cache for timber
Human gatherers of tree seeds are letting beady-eyed, bushy-tailed subcontractors take the lead The forest's location is secret. Chris McGee, tree seed collector, will permit only disclosure of the...
Ron Ignace on finding refuge from the Kamloops Residential School
I was born in a rural community. We'd be out riding horses, picking berries, working in the garden. We had about three generations living together. I was taken away and placed in residential school at...
Decamping paradise
Workers in Tofino, B.C., fear they'll be cast out of their home of last resort Melissa Leonard finishes her bartending shift and hears the familiar crash of waves on her bike ride home, the sound...
FROM THE ARCHIVE
CANADA'S MAGAZINE In his first issue as editor-in-chief, Peter C. Newman launched a newly redesigned Maclean's with a stirring promise to Canadians: "This magazine is woven into the dreams and...
A letter to my future self: Dr. Hayley Wickenheiser
Hockey legend Hayley Wickenheiser graduated from med school at the University of Calgary this year. At the beginning of her degree, students were asked to write a letter to their future selves; after...
The sour taste of a soda tax
How do you cut back on your pop intake when you can't drink the tap water? Synthesized with 50 grams of sugar in every can, Pineapple Crush has long been Newfoundland and Labrador's exclusive...
ON MUSICAL TASTES
In May, the PM joined Brandon Gonez, former CP24 reporter, on his YouTube channel, where he discussed the pandemic—though not before a "vibe check." What's he been listening to? "Reuben and the Dark...
REAL ESTATE
This large of plot of land on the north shore of Lake Erie has 'endless possibilities' and a low, low price. The catch? It's entirely underwater. —Shannon Proudfoot As a general rule, a real estate...
Doorway to a hidden past
A rare link to the history of Calgary's Chinese community is in jeopardy On a half-empty stretch of Ogden Road in Calgary stands an unassuming building, with plywood boards covering its windows and a...
THE ROARING 20s
Signs of an economic boom abound. The labour market is exploding—Canada added 230,700 jobs in June. The Bank of Canada forecasts 6.5 per cent economic growth this year, fuelled by the bumping U.S....
THE INTERVIEW
Retired senator and Indigenous jurist Murray Sinclair talks with Marie-Danielle Smith about reconciliation, anger, unmarked graves—and a headline for this story
I caught up with Murray Sinclair, the former chairman of the Indian Residential Schools Truth and Reconciliation Commission, in the midst of a national reckoning over this summer's discovery of...
Justin Trudeau puts his (small) mark on the world
The PM is set to become the longest-lasting leader in the world's most exclusive club—hailed by his team as 'dean of the G7.' His record on foreign aid, peacekeeping and Canada-U.S. relations points...
EVERY 49 MINUTES
From July 11 to July 17, 2020, toxic drugs killed at least 207 Canadians, according to data compiled by Maclean's. That is more than 29 people a day, for seven straight days.
That's how frequently people died of drug poisoning in Canada during one dreadful week last summer. Here, their mothers, fathers, brothers and sisters share a message: the opioid crisis touches...
WHERE THERE'S SMOKE
WHERE THERE'S SMOKE
Canada's wildfire lookouts live under constant threat that they will be replaced by technology. But they've never been more essential. "Thunder showers are expected again," a monotone voice reports...
ESCAPE FROM IRAN
ESCAPE FROM IRAN
Fake passports, river crossings and big money: Mahnaz Alizadeh's desperate struggle to find refuge in Canada The plan to get to Canada was ingenious, complex and terrifying. Mahnaz Alizadeh was...
LIFE IN THE SHADOW OF 9/11
LIFE IN THE SHADOW OF 9/11
TWENTY YEARS LATER, FIVE EXTRAORDINARY PEOPLE REFLECT ON HOW THEIR WORLDS CHANGED A DAY RELIVED By Shannon Proudfoot In the days afterward, Brian Clark would get phone calls from family members of his...
IDEAS
ALMOST FAMOUS
As Marvel's first Asian superhero, Canadian actor Simu Liu is on the cusp of becoming a household name. But becoming a superstar isn't his end game. Two years ago, Simu Liu decided to host a Toronto...
LIVING THE MEME
Kids and cats are cashing in on the latest digital craze: non-fungible tokens (NFTs). And they have plans. —Prajakta Dhopade DISASTER GIRL Zöe Roth made more than $400,000, 16 years after her four-...
BALLET IS BACK AND IT'S LIT
After a year-and-a-half-long pandemic hiatus, the National Ballet of Canada returns to the stage and in-person audiences this fall. Among its first productions is Angels' Atlas, the evocative modern...
DO I KNOW YOU?
My research into a deceitful serial dater led me to a realization: I kind of understood him From the very first time I heard about Mordechai Horowitz, I wanted to meet him. At first it was because one...
ONE FOR ALL
Algorithms are turning our living rooms into paint-by-numbers " Why do all apartments look like this now?" A friend has done a housing swap in Montreal and sends me a photo of the place she's staying...
'I WANTED JUSTICE'
Canadian Andrea Constand became a pivotal figure in the #MeToo movement in 2018 when her testimony about being sexually assaulted by Bill Cosby secured the former TV star's conviction. (Cosby was...
HUMAN BEHAVIOUR
We're all post-pandemic zombies who have forgotten how to interact. GETTING DRESSED By all means: Put on your pants. Even if you're not ready for non-stretch fabric. Avoid: The T-shirt you have worn...
THE YUCK FACTOR
Something about the pandemic inspired people to make the grossest food ever Don't feel bad if you couldn't turn away from the now-infamous video that starts with a woman pouring jars of tomato sauce...
The future of public washrooms
From touch-free technologies to clean air, post-pandemic washrooms will help keep you safe and comfortable, experts say If COVID-19 has made you wary of using public washrooms, you're not alone. About...
BUGS ARE PEOPLE, TOO
Common insects get the close-up treatment, revealing more depth than may be expected Lying down on a forest floor in Japan or Quebec or Costa Rica, Royal Canadian Geographical Society (RCGS)...
ETERNAL PLAGUE
The more we learn about pathogens, the clearer it becomes that we'll never escape them Historical writing is always rooted in present-day life, always an answer to what the past can illuminate about...
THREE TO READ
RETURN: WHY WE GO BACK TO WHERE WE COME FROM by Kamal Al-Solaylee HarperCollins, Sept. 7 In a world awash with migrants, many are looking not forward but back, to homes, families and languages left...
'SOLARPUNK'
The term to add to your vocabulary this month is all about a utopian future Solar panels masquerade as roads and stained-glass windows. Plant life is intertwined with infrastructure, and colourful...
DEAR GRANDMA
The compassion you've shown as a frontline worker during the pandemic, writes Kelsey Adams, is what society needs to rebuild You received your second COVID-19 vaccine on Jan. 5. I had the date...
ENDNOTES
1 KEEPING SECRETS
From "Cache for timber," p.12 Readers who test the attached GPS co-ordinates will find themselves looking at unlikely squirrel habitat. That's because our writer agreed to conceal the precise location...
Thank you
You just used 1 credit. You have left.