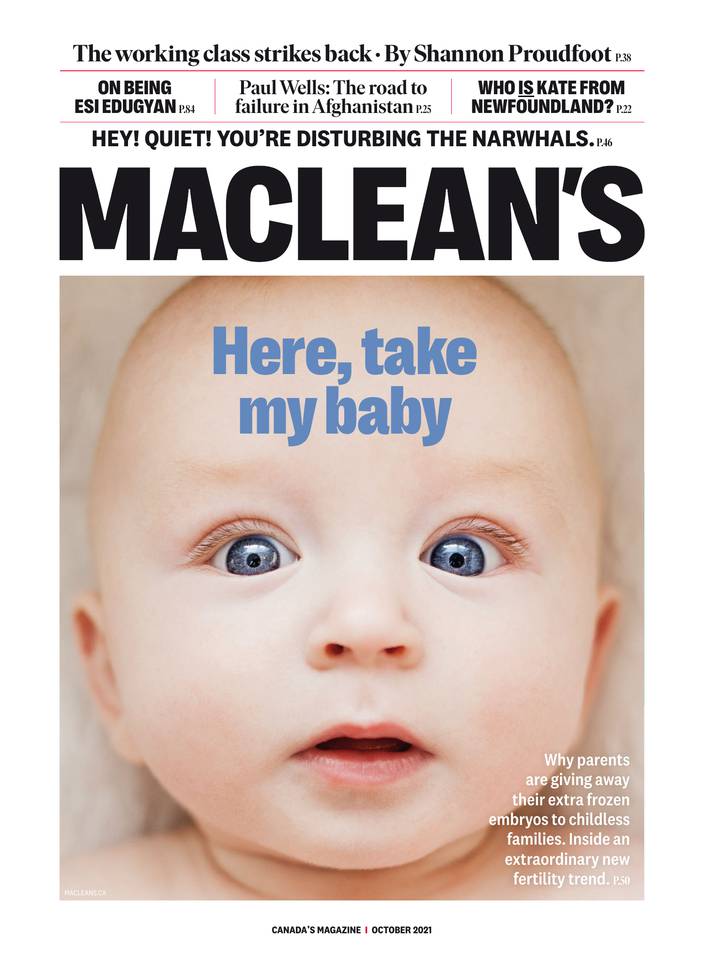 Canada's magazine since 1905
Summary
Food insecurity is at an all-time high. And there's an election on. So, let's talk.
For a century or more, Canadians have used a set of food-based clichés to describe their country—to each other, and to the world. Bread basket. Cornucopia. Land of plenty. Smug as they sound, these...
Read More
October 2021
THE EDITORIAL
Food insecurity is at an all-time high. And there's an election on. So, let's talk.
For a century or more, Canadians have used a set of food-based clichés to describe their country—to each other, and to the world. Bread basket. Cornucopia. Land of plenty. Smug as they sound, these...
LETTERS
THE MACLEAN'S MAKEOVER
What a wonderful surprise to open my mailbox to find the new Maclean's magazine for September. What a great new design all the way through. Looking forward to more issues. David Mossey, Cambridge,...
BEARINGS
OPENINGS Oct. 8 to Oct. 27. Across Canada.
For anyone still spinning from the triple axel of the last 18 months, Stars On Ice is offering a uniquely graceful catharsis. Its new show, Journey, explores the emotional arcs of the pandemic through...
Climbing the walls
Decades ago, wall lizards from the Mediterranean got a toehold near Victoria. Now they're island-hopping. To satisfy his Fitbit, Gavin Hanke frequently goes for long walks from his home in Victoria...
Revitalizing the road
Toronto's iconic Dundas Street is about to get a new, more inclusive identity. But renaming a major thoroughfare that runs through the heart of Canada's largest city is no small undertaking. There are...
A grocery bill that bites: Kyra Flaherty
NorthMart is owned by the North West Company, a Winnipeg-based grocery and retail company that also operates Northern, Quickstop and other chain stores in Northern Canada. And yes, this is the same...
Ahead by a century
Deep in B.C.'s Nechako River, there's a 100-year-old mama sturgeon whose eggs might help save her species The morning of April 30 dawned chilly and drizzly along the Nechako River in the middle of...
Daylight saving time
DST comes to an end in much of the country on Nov. 7, when clocks go back an hour and small children from coast to coast lose their minds and take their parents with them. Originally established in...
THE BOT ON THE HILL
Parlawatch is an artificial intelligence bot created by Toronto start-up Alphabyte Solutions to monitor action in Parliament. Here is the bot's take on the standout comments flung across the aisles...
REAL ESTATE
No water in winter. No septic field. No driveway to the front door. Welcome to the 'Tom Selleck house.' This Nova Scotia island home featured in the Jesse Stone TV movie series is best known by locals...
Ashley Lawrence on watching the shootout kick that electrified a nation
Right before that final game, I felt a calmness. I came back to the reason I started playing soccer, the feeling I get out on the field. And it was an exciting game. Coming away from the 90 minutes,...
The Kate of good hope
I went looking for one of the people those gorgeous Newfoundland tourism ads invite you to call. She has an elusive quality. I've been to Newfoundland and Labrador four times. Once, the ferry I was...
IBD Scholarship Helps Students Focus On Reaching Their Goals
AbbVie and Crohn's and Colitis Canada help alleviate some financial barriers so students can concentrate on school, extracurricular activities, and causes close to their hearts. Leslie Hernandez wants...
Travelling down the road to hell in Afghanistan
How did the West get things so terribly wrong? The signs of our failure were there if you stopped to take a look. So Joe Biden announced that the last American troops would leave Afghanistan, and...
THE INTERVIEW
Former justice minister Jody Wilson-Raybould talks with Marie-Danielle Smith about Ottawa's power problem—and how more free thinkers can change things
I SPOKE WITH Jody Wilson-Raybould shortly before the release of her political memoir, "Indian" in the Cabinet. The political memoir, published by HarperCollins, is an account of Wilson-Raybould's time...
Providing Critical Support and Research Funding for Rare Autoimmune Disease
Having a condition that causes hair loss can be very distressing. The Canadian Alopecia Areata Foundation offers vital resources, friendship, and support. Alopecia Areata is an autoimmune disease that...
FINDING DAVID LIGHTNING
DECADES AGO, A CREE ELDER WENT LOOKING FOR HIS BROTHER'S FINAL RESTING PLACE. HIS QUEST IS NOW A BEACON IN THE SEARCH FOR RESIDENTIAL SCHOOL GRAVES. The short, elderly man walked into the Red Deer...
'THE WORKING CLASS HAS HAD ENOUGH'
HOW A ONCE UNDERVALUED, IGNORED AND POLITICALLY SILENT GROUP IS FIGHTING BACK From Maggie's vantage point behind the cash register at a chain grocery store in a small British Columbia city, the first...
THE SOUND OF TOO MUCH NOISE
The Arctic narwhal is being threatened by a new enemy: the clamour of passing ships IN ALL OF NATURE, there is only one creature with a unicorn-like tusk packed with millions of nerve endings. The...
All (y) our children
We gave them embryos; they made our family bigger "Would you like to hold her?" Lisa asks. Having travelled more than 4,500 kilometres from B.C. to Quebec with my husband, Tyler, to meet three-month-...
Vertical inspiration
A team of Quebec adventurers has set out on a gruelling and unprecedented journey from the top to the bottom of Canada Guillaume Moreau could barely lift his feet. His knees were in too much pain as...
SPECIAL ADVERTISING FEATURE
FUTURE-PROOFING THE NEXT GENERATION
How private schools are preparing students for a future disrupted Who is Generation Alpha? Generation Alpha, Gen A, The Covid Generation: Whatever you call them, and only time will tell, a new cohort...
Social justice for a new generation
As the most diverse and civic-minded generation yet, kids today are poised to lead the charge for a better world. Youth activism isn't a new concept. In fact, historians can trace the involvement of...
Five questions to ask when considering an independent school
And why TMS might be the best fit for your children and family CHOOSING A SCHOOL for your child is one of the biggest decisions a family will make. With so many choices, it can be overwhelming to...
THE PRIVATE AND INDEPENDENT SCHOOL DIRECTORY TMS
8569 Bayview Ave., and 500 Elgin Mills Rd. E., Richmond Hill, Ont. tmsschool.ca Founded in 1961, TMS is a leading, accredited independent school in Richmond Hill, Ont., that offers a uniquely designed...
IDEAS
ESI EDUGYAN IS . . .
A two-time Giller winner. A public intellectual. Not a nutritionist. What else do you want to know? Esi Edugyan Page 1 of my search for Esi Edugyan turns up familiar information. She is the...
100 YEARS OF RILLA
Rilla of Ingleside, the eighth book in L.M. Montgomery's Anne of Green Gables series, turns 100 this year. Centring on Anne's youngest child, the novel's true subject is the First World War—Montgomery...
A MIGHTY VIDEO, POWERED BY THE ART OF ILLUSTRATION
THE MOMENT This shot is from one of the final scenes in the video and shows seven Black women in different stages of life, including the singer herself. "In this scene, the camera dollies forward to a...
MOISTURIZE NOW, PAY LATER
The bite-sized retail therapy our pandemic-weary populace doesn't need With full COVID vaccination rates reaching the 63 per cent mark in August, Canadians have a lot to feel good about. But what...
A SPECIAL INTEREST SECTION BY MEDIAPLANET
mRNA Technology and Its Significant Potential to Improve Human Health
Moderna's mission is to deliver on the promise of mRNA science to create a new generation of transformative vaccines and medicines — revolutionizing medicine today just as surgery revolutionized...
IDEAS
THE MEANING OF MARS
Farah Alibay's fixation with knowing how things work led to a career pondering life's biggest questions ASTOLD TO JESSICA LEE I operate Perseverance, NASA's rover on the surface of Mars—we have a team...
THREE TO READ
PRAYING TO THE WEST: HOW MUSLIMS SHAPED THE AMERICAS by Omar Mouallem Simon & Schuster, Sept. 21 Edmonton journalist and filmmaker Mouallem always saw his Muslim identity as something imposed upon him...
SLAVERY IS AT THE FOUNDATION OF MY LIBERAL LIFE
Toronto-born Alex Renton is a British investigative journalist and author whose maternal ancestors, the Fergusson family, once owned sugar plantations in Jamaica and Tobago. They were rather ordinary...
AND A SIDE OF FROZEN PIZZA . . .
The pandemic turned restaurants into grocery stores. So what happens now that in-person dining is coming back? Like many restaurateurs who focus on fresh pasta, Alida Solomon found that long strands...
'MULTIVERSE'
The term you're hearing more frequently combines comic-book cinema with quantum mechanics A random number is printed on the copyright page of theoretical physicist Sean Carroll's 2019 book Something...
Thank you
You just used 1 credit. You have left.