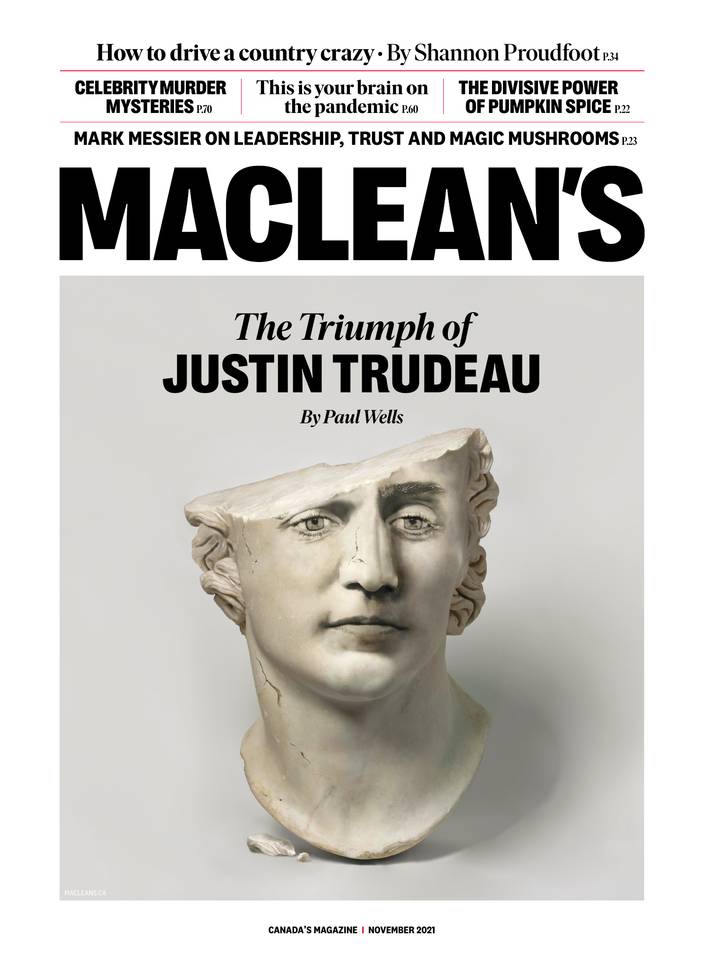 Canada's magazine since 1905
Summary
There's no 'I' in team, but there's two in politics. Funny, that.
We've got a lot of good election coverage for you this month, but maybe the best advice for the leaders of Canada's national political parties is in Marie-Danielle Smith's interview with hockey legend...
Read More
November 2021
THE EDITORIAL
There's no 'I' in team, but there's two in politics. Funny, that.
We've got a lot of good election coverage for you this month, but maybe the best advice for the leaders of Canada's national political parties is in Marie-Danielle Smith's interview with hockey legend...
LETTERS
THE OTHER EPIDEMIC
Thanks to Michael Friscolanti for his outstanding exposé on drug-poisoning deaths in Canada ("Every 49 minutes," September 2021). This article should outrage every North American. As Friscolanti...
BEARINGS
OPENINGS Nov. 25 to May 2022. Whistler Blackcomb.
Last year's ski season at Whistler Blackcomb, the largest destination ski resort in North America, was cut short by the pandemic and an alarming number of local COVID-19 cases fuelled by spring break...
Busting the crime cycle
Vancouver has finally put a dent in its long-running bike theft epidemic. All it took was one dedicated officer. When Const. Rob Brunt first walked into the Vancouver Police Department's property...
OTTAWA, WE HAVE A PROBLEM
Given a rising trend of "drone incidents" since 2014, Transport Canada commissioned a poll on drone use (cost: $61,167.78). It found that 13 per cent of Canadians use drones either for fun or work....
John Streicker on rapid snowmelt, and why he got into it up to his neck
I'm a climate scientist. I've been working on the issue for close to 30 years now. We had a really high flood in 2007, and they had been calling it a one-in-200-year event, although I tried to explain...
Symbols of a troubled past worth saving
One Nunavik village has chosen to preserve its disused Anglican church and excavate the ruins of its once-bustling Hudson Bay trading post to ensure the legacies of Christian missionary activity and...
Exit in two smiles
The drive into Calgary is worth a chuckle, thanks to one summer intern's serious idea to curb road rage Every Tuesday after the workday has begun in Calgary, Joseph Kruis can count on a handful of...
The watch that solved a 50-year mystery
In November 1990, a hunter found a watch while trekking through the jungle in northwest Burma (now Myanmar). It was weathered, as if it had spent decades in the vegetation. Five years later, the watch...
Free the dammed salmon
An abandoned dam in Washington state may be the only thing barring chinook and steelhead trout from the upper reaches of B.C.'s Similkameen River. If you tear it down, will they come? Over three weeks...
Pumpkin spice
It's almost difficult to remember now that pumpkin spice is an actual, uh, spice blend—of cinnamon, nutmeg, ginger and cloves—used in pumpkin pie given how ubiquitous the faux version has become,...
THE INTERVIEW
Hockey icon Mark Messier talks with Marie-Danielle Smith about leadership, mental health, hockey violence—and what he'll do when the New York Rangers call
He's a six-time Stanley Cup winner, the second most prolific playoff-points scorer ever, a two-time most valuable player in the NHL, a 15-time all-star and the only person ever to captain two...
THE TRIUMPH OF JUSTIN TRUDEAU
His third consecutive victory is legitimate and impressive. Why, then, does it feel like the country isn't any better off ? Justin Trudeau told a little victory party in Montreal on Sept. 20, election...
THE ELECTION TESTED A FED UP AND CONFUSED COUNTRY.
AND IT REVEALED SOME UNPLEASANT TRUTHS ABOUT CANADA'S NATIONAL MOOD AND WHERE WE'RE HEADED. Hyperbole and a Half is a slyly brilliant web comic in which author Allie Brosh uses manic, deliberately...
'Somewhere between conflict and peace'
In memory of her father and sister, Ilwad Elman pours herself into working with former child soldiers and sexual assault survivors in Somalia. The Nobel Peace Prize committee has noticed. Energy...
A HOUSE SITS STILL
COVID-19 HAS CLAIMED MORE THAN 27,000 LIVES IN CANADA. THIS IS ONE FAMILY'S STORY. Abhishek Saini tended to the plants in his garden. He'd grow zucchini and tomatoes, chili peppers and cilantro. He'd...
A journey into the veins of the Earth
Cave-diving photographer Jill Heinerth boldly swims where no one has swum before Piercing the permanent darkness that suffuses underwater caves, Jill Heinerth's lens produces arresting images of...
IDEAS
YOUR PANDEMIC BRAIN
Scientists are beginning to gauge how the last 18 months has rewired us—for better and worse There's a giant container of hand sanitizer in the front entryway of Sam Maglio's home. It's oversized....
RENTING EVERYTHING
What happens when the "sharing economy" meets blistering real estate and rental markets? A world where the tiniest slices of one's life can fetch a fee. Increasingly, if it's bolted down, it can be...
SOMETIMES A YOGURT POT IS MORE THAN A POT OF YOGURT
In the new CBC/HBO Max comedy Sort Of, creator and star Bilal Baig wrestles with identity, belonging and love. In this pivotal scene from the first episode, Baig's character, Sabi—a Pakistani, non-...
HERE BE BEARS
Biologist Gordon Stenhouse has observed grizzlies' respect for humans. He wishes we'd return the favour. I wanted to be a veterinarian, but I didn't get into vet school. So I went into wildlife...
THREE TO READ
12 BYTES: HOW WE GOT HERE, WHERE WE MIGHT GO NEXT by Jeanette Winterson Grove, Oct. 12 The author of Frankissstein (2020) has an abiding interest in the relationship between humans and their...
HOW VERY JAPANDI OF YOU
A blend of Japanese and Scandinavian aesthetics has created the new go-to style The word "escape" is a chameleon; an act of freedom that at some point evolved into another word for vacation. But when...
A COMEDIAN AND A PRIME MINISTER WALK INTO A RESTAURANT . . .
From two-minute "rants" to "Talking to Americans," rapid-fire speech has been the hallmark of Rick Mercer's career as a comedic icon. His memoir, Talking to Canadians (Doubleday Canada, Nov. 2), moves...
MYSTERIOUS REINCARNATIONS
This fall is a season for new or newly announced crime novels penned by people famous in other fields A former chief justice of the Supreme Court of Canada, a former U.S. secretary of state, a former...
RED FISH . . . BLUE FISH?
Anglers off the coast of British Columbia have long asked why the ling cod—a brown, bottom-dwelling fish found along the West Coast—is sometimes not brown at all, but an electric, ferocious blue. A...
'SEALIONING'
A harassment tactic using disingenuous questions—or another word for Twitter Over the decades, comics strips have birthed a number of words that became part of common speech. Consider "brainiac,"...
Thank you
You just used 1 credit. You have left.