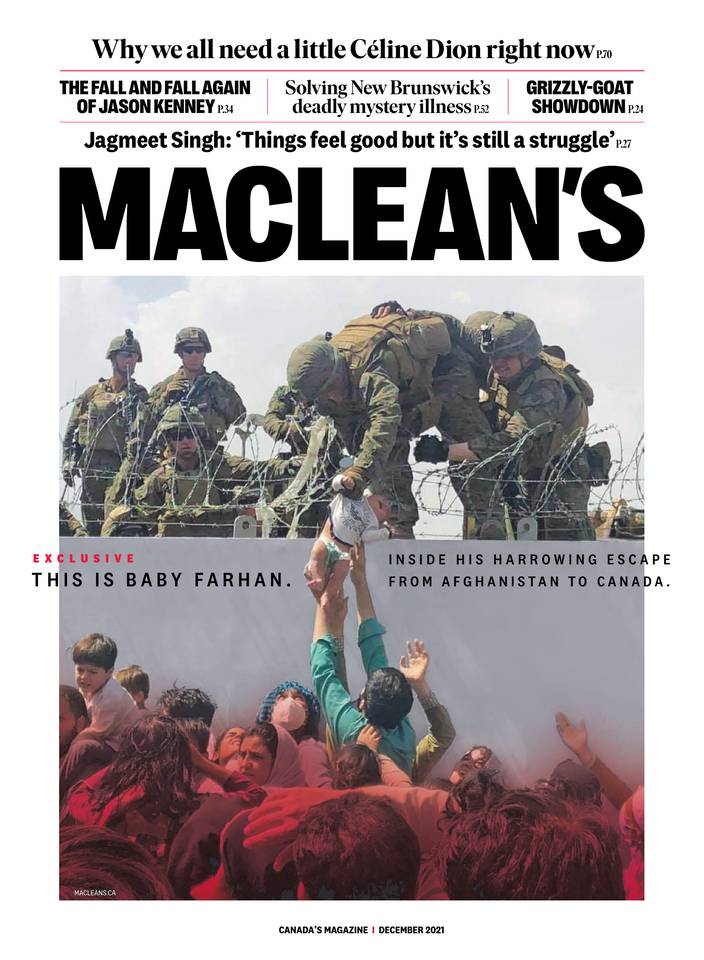 Canada's magazine since 1905
Summary
A split-second decision to hand a baby over barbed wire; a decades-long injustice
On the same day a baby was handed over a barbed-wire wall in Afghanistan, an election was underway in Canada; images of Prime Minister Trudeau at a Rideau Hall podium were easily juxtaposed with those...
Read More
December 2021
EDITORIAL
A split-second decision to hand a baby over barbed wire; a decades-long injustice
On the same day a baby was handed over a barbed-wire wall in Afghanistan, an election was underway in Canada; images of Prime Minister Trudeau at a Rideau Hall podium were easily juxtaposed with those...
BEARINGS
OPENINGS November to January. Calgary Zoo.
On a crisp autumn day, as elaborate lights are strung up in anticipation of the holiday season, an ungulate cries out. Pictured above is Zsa Zsa, one of the Calgary Zoo's resident camels, getting...
Good to the last gum drop
The flying Santa of Kuujjuaq is getting down to earth. Or so he says. In the far northeast of Quebec, in a community up the river from Ungava Bay, generations of villagers have known of a second man...
The question that shook an election
During the federal election campaign, the English-language leaders' debate provided a live manifestation of Canada's two solitudes when moderator Shachi Kurl asked Bloc Québécois leader Yves-François...
Above and beyond
Virgin Galactic's space tourists will be in the hands of an elite Canadian test pilot Jameel Janjua calls them "future astronauts." That's partly corporate speak—Virgin Galactic's preferred term for...
Dianne Whelan on finishing a six-year, solo crossing of the Trans Canada Trail
I was greeted on the shore by the daughters of the hereditary chief, and they walked the final mile with me. It's pretty powerful that they chose to do that, and then sing a song and tell the crowd...
Go get 'em, kid
A B.C. mountain goat proves that in nature, as in human society, the underdog always has a fighting chance It's a late summer day in the British Columbia Rockies. The skies are clear and the air is...
Miss Macphail
One hundred years ago, on Dec. 6, 1921, Agnes Macphail became the first woman elected to the House of Commons. This wry Maclean's profile, written by Charles Vining, gives a glimpse of how she was...
GOOD NEWS FACE THE TRUTH
A whistleblower testified in the U.S. that Facebook put profit ahead of children's safety and was stoking division. Former cabinet minister Catherine McKenna, a frequent target of awful online abuse,...
INTERVIEW
Jagmeet Singh talks with Marie-Danielle Smith about stolen ideas, a disappointing election result, how to create an inclusive Parliament—and when to say 'chardi kala'
I caught up with NDP Leader Jagmeet Singh on Parliament Hill on the same day that his new caucus of 25 MPs gathered for their first post-election meeting. Singh led the New Democrats to a modest...
BEARINGS
Imperfect people chasing perfect goals
I used to wonder where all the politicians with heart and wit went. Turns out they're in Montreal, trying to turn a parking lot into a place where people actually live. One of my pet theories is that...
FEATURES
The incredible sinking man
Jason Kenney fumbled Alberta's pandemic response so badly that his job as premier is now in jeopardy. How it all went wrong. Saturday morning at a rec centre parking lot in south Calgary. Flapjacks....
COVER STORY
THIS IS BABY FARHAN
Pressed between the Taliban, a suffocating crowd and a wall, his parents had no time to think, to say goodbye or to turn back They don't know who sees them first. Someone. "They have a baby!" A call...
FEATURES
The race for answers
Dozens of people in New Brunswick are sick with a mystery illness. At least six have died. Are governments doing enough to save lives? One Sunday night in October 2019, Gabrielle Cormier set her alarm...
Demanding divestment
University students across Canada are frustrated by the slow pace of halting dangerous climate change, and they are wielding their power to do something about it Emily Lowan paced the pavement outside...
A new generation of nurses
Ontario nursing schools are seeing a huge uptick in applications, with interest driven, in part, by the pandemic. It comes at a moment when the province is facing a dire shortage of nurses. When 23...
IDEAS
COMING BACK TO US NOW
Céline Dion is the emotional defibrillator for this exact moment. And we've never needed her more. "You can say no, but do you mind if I turn on my Céline Dion playlist?" When I hear this, I am face-...
LIGHT-BULB MOMENTS
COVID-19 sparked a number of inventions—some practical and some niche. Here are a few of those wacky and wonderful creations: PURIFIED PERSONAL SPACE Some pandemic office-goers invested in desk-sized...
A TENDER MOMENT OF TRUTH IN SCARBOROUGH
The film adaptation of Catherine Hernandez's 2017 novel, Scarborough, premiered at TIFF and was a runner-up for the People's Choice Award. It follows three children whose lives intersect in a low-...
WINNING IS FOR THE BIRDS
Move over, Monopoly. Hop on the bus, Battleship. Today's board games are more into nature and teamwork than money and war. Just before the pandemic hit, a new board game arrived in hobby stores:...
DIEPPE THROUGH A DIFFERENT LENS
The failure of the Second World War raid on Dieppe on Aug. 19, 1942—which saw 3,367 Canadians killed, wounded or captured—has inevitably been viewed through a nationalistic lens in this country. While...
HAVING "THE TALK" WITH YOUR PARENTS
How retirement communities provide choice and support seniors' independence, health and well-being Seniors between the ages of 65 and 79 are the happiest of all age groups, according to a U.K. study...
BEETLEMANIA
Pat Bouchard is on a mission to make sure each and every species of Coleoptera is properly named Spending a few years rooting through rotted logs in snake-infested tropical forests on remote...
THREE TO READ
SMALL THINGS LIKE THESE by Claire Keegan Grove Press, Nov. 30 Readers can dispute whether the newest work from the brilliant Irish short story writer is truly—at 114 pages—a novel. But there is no...
RESPECT YOUR ELDERS
A new book offers a version of history in which our ancient ancestors were more civilized than we are We like to think of ourselves as living in scientific times, but what if the familiar story of...
MANAGING DIABETES
Every Action Makes a Difference This Diabetes Awareness Month
We all play a role in ending diabetes. No matter how big or small, every action makes a difference. November is Diabetes Awareness Month and a time to shine a light on a disease that affects close to...
Despite Diabetes, the Show Must Go On
Nothing stops comedian, actress, and jazz musician Lea DeLaria — not even type 2 diabetes. We spoke to the Orange Is the New Black star about how her life has changed following her diagnosis and how...
Continuous Glucose Monitoring System Provides Improved Diabetes Management
For people living with diabetes, monitoring glucose levels is one of the most important steps in managing the disease. "Diabetes requires continuous maintenance of glucose levels in the desirable...
This has absolutely changed the way I live. The control I have now is so empowering.
absolutely changed the way I live. The control I have now is so empowering. To know what my glucose level is and where it's headed at a glance is unbelievable. I feel more in control, and that's going...
For People Living with Diabetes, Regular Hearing Assessments Are Crucial
People living with diabetes know that managing their symptoms is key to maintaining a healthy lifestyle. We know that fluctuations in blood sugar levels can have an effect on the retinas, kidneys, and...
Exploring the Connection Between Diabetes and Heart Disease
For Canadians living with type 2 diabetes (T2D), taking an active role in the protection of your heart is critical. Dr. Shelley Zieroth discusses actions that T2D patients can take to help prevent...
Sanofi Canada Is Invested in Improving the Lives of People with Diabetes
Sanofi Canada's focus on the patient experience and innovative way of working aim to achieve the best outcomes for Canadians living with diabetes. Diabetes is one of the major contributors to the...
IDEAS
CONDUCTING ELECTRICITY
Montreal has a habit of falling in love with its symphony directors. And it has a new beau. The Orchestre symphonique de Montréal didn't become Canada's most prominent orchestra by preaching only to...
BUBBLE HEAD
The tree-dwelling anole lizard lives on shrubs and is mostly found in the Caribbean and South America. Also known as anolis, the ones that live by a river can dive underwater for up to 20 minutes when...
'CARDENING'
A new term for taking one of our favourite pandemic-inspired pastimes on the road It all started when Adam Overland's colleague at Minneapolis's Southwest Journal gave him a petunia. To transport his...
PROSTATE CANCER AWARENESS
How a Month of Moustaches May Be the Key to Beating Prostate Cancer
Men's health charity Movember kicks off its annual fundraising campaign every November 1st, encouraging participants to grow moustaches throughout the month in the name of men's health. While the...
When It Comes to Prostate Cancer, Awareness and Early Diagnosis Save Lives
After adopting a healthy lifestyle and losing over 50 pounds, Charlie Taylor was in the best shape of his life — but then he was diagnosed with prostate cancer. We chatted with Charlie to learn about...
Taking Control of Prostate Cancer
How well do you know your body? Knowing what's normal for you helps you notice changes. When you notice something different about your body — like a new growth or lump, increased fatigue, or dramatic...
Advances in Prostate Cancer Treatment Are Giving Men New Hope
Advances in prostate cancer treatment have burgeoned in the past decade, giving new hope to patients and their loved ones. Today, a prostate cancer diagnosis is bad news, but it's not always bleak....
Addressing the Top Questions Men with Prostate Cancer Ask
Men diagnosed with prostate cancer face many challenges. Here are some of their most frequently-asked questions. What are the signs and symptoms of prostate cancer? Common signs and symptoms of...
Thank you
You just used 1 credit. You have left.