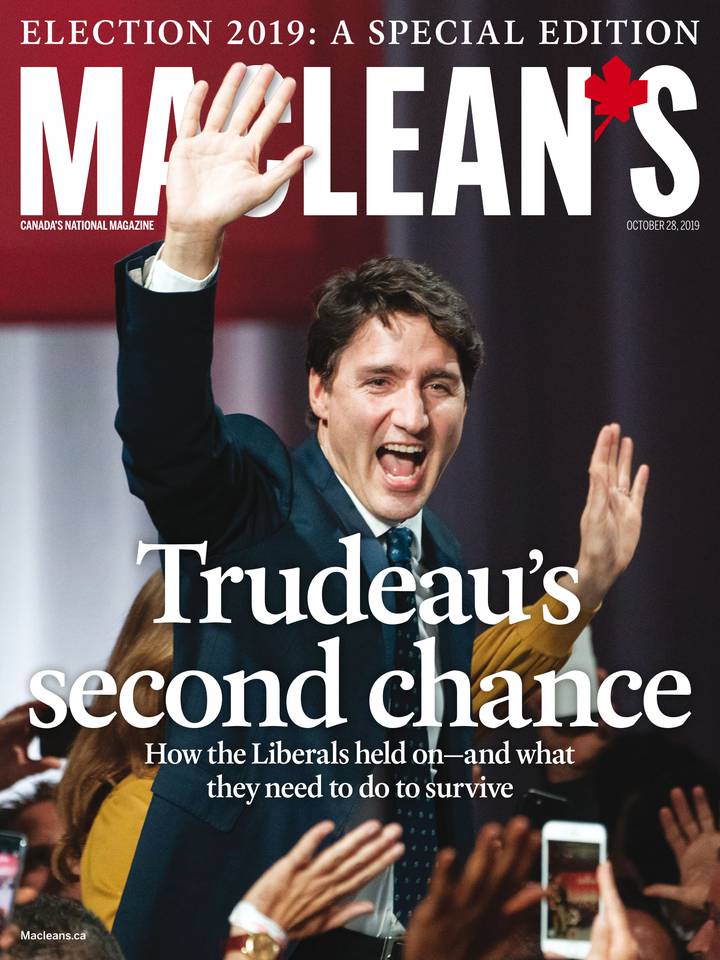 Canada's national current affairs and news magazine
THE COLUMNISTS
Abandoning the U.S. ship
Things are not going well for American foreign policy. At the geopolitical level, tectonic shifts in world power are leading to a relative decline in American dominance. China has risen to dominate...
Read More
October 28, 2019
THE COLUMNISTS
Abandoning the U.S. ship
Things are not going well for American foreign policy. At the geopolitical level, tectonic shifts in world power are leading to a relative decline in American dominance. China has risen to dominate...
The weak and the free
At last, a clear counter-argument to democrats' assertion that "freedom isn't free" in Hong Kong. And the long-awaited counter-argument is this: "Freedom isn't free." In reply to the three words that...
NATIONAL
The story of a gruelling campaign
The path to a Liberal minority was paved with low points and messy moments. In this election, there were no undiluted victories. EVEN BEFORE THE biggest rally of Justin Trudeau's 2019 re-election bid...
'I should have known better'
A racist photo of Justin Trudeau emerged—and it kept getting worse THE LIBERAL TOUR was about to depart from Halifax for Winnipeg on the evening of Sept. 18, when everyone's phones blew up with...
Can we talk taxes?
There was one thing the Liberals and Tories agreed on: the middle class needed their help It took Trudeau just four days to pirouette from the blackface calamity to a single-minded determination to...
Taking to the streets
The climate strikes offered an opportunity, and an unexpected risk "AFFORDABILITY" MAY HAVE been the animating mantra of politicians during the federal race, but citizen concern over climate change...
'That's the beauty of Canada'
After being written off, Jagmeet Singh showed what he was made of THE SECOND LEADERS debate of the campaign—a French-language debate on TVA—would begin on Oct. 2, at 8 p.m., in the network's Montreal...
Enter the Bloc
In the first French debate, a new force emerged. It would soon haunt the Liberals. EVEN AFTER the astonishing revelations about Justin Trudeau's adolescence and young adulthood as a serial blackfacer,...
Gone are the 'good guys'
A decision was due over a landmark Indigenous child welfare ruling. Justin Trudeau had run out of time. CINDY BLACKSTOCK SPENT her Friday morning repeatedly checking the Federal Court website to see...
Thanksgiving
Ten days out, the polls started to swing—and Andrew Scheer was smiling A KNOT OF photographers and reporters waited on a beach for Andrew Scheer's arrival in Tsawwassen, B.C., on Oct. 11, looking at a...
Misstatements and misdirection
As the leaders took the low road, minority scenarios were the talk of the race's final days IT'S A SAFE assumption that nobody watching the final, frantic days of the campaign was contemplating the...
His father's footsteps
After his humbling, Justin Trudeau will need a new plan and allies TRUDEAU HAS NEVER shied away from reminding voters about his father. One way he does it is by conjuring up nostalgic images of Pierre...
Chaos theory
In an era of uncertainty, the leaders were unprepared. Now can Justin Trudeau learn from his mistakes? It was the kind of campaign that has people quoting Gramsci. "This is like that quote from...
If only hugs were votes
Against the backdrop of widespread climate concern, how could the Greens not gain substantial ground? "Mother Earth is here," a Green party supporter declared as Green Leader Elizabeth May walked into...
The truth is out there
Conservatives must now reckon with the message they were selling, which worked great in two provinces, but not the other eight If Andrew Scheer and Justin Trudeau seem to have agreed on one...
We called it
In every region the 338Canada projection was on the mark, and correctly identified the winner in 299 of 338 districts Here is a brief post-mortem of last night's election results compared with the...
Not these guys again
Yves-François Blanchet won support talking not of separatism but of Bill 21—a political issue which may have a simple solution in the end Serge Savard, who played for the Montreal Canadiens for 17...
The Bloc unfurls its flag over Quebec once again
Quebecers have voted, and once again the impact of their decision was felt across the country When Quebecers vote, they vote loudly. For the past three elections, residents have swung from Bloc...
Now, about SNC-Lavalin
With the Liberals reduced to a minority, the opposition parties must use their leverage to demand a judicial inquiry into the affair On an election night short of silver linings, Jody Wilson-...
Hello to a better future
The southern Alberta city of Lethbridge has found a special way to honour its longstanding connection to the Blackfoot people On the day Jordan Head was taken from his family, his language was taken,...
INTERNATIONAL
The state America is in
The road to the White House leads through Ohio, where some Democrat frontrunners hope radical new policy prescriptions can turn voters away from Trump Tim Caudill presses his rough hands together to...
SOCIETY
'That's my Auntie'
When Paul Seesequasis started posting archival images of Indigenous communities on social media thousands of people responded Paul Seesequasis's new book, Blanket Toss Under Midnight Sun, curates...
Royal pains
In a new documentary, the prince and duchess share personal, and at times raw, reflections on their experiences in the media's spotlight On the penultimate day of their tour of southern Africa earlier...
Dear Son . . .
Kelly Wilk tells her eight-year-old how he gave her the strength to carry on after the tragic death of her partner and his Mamma PEOPLE TELL YOU that becoming a parent is an adjustment. That many...
THE BEST FOR LAST
Bling on the champions
In one of our favourite stories this week Aaron Hutchins goes behind the scenes to discover what you put on a diamond-encrusted bauble to make an NBA star smile. (More diamonds, of course.) When Kyle...
Thank you
You just used 1 credit. You have left.