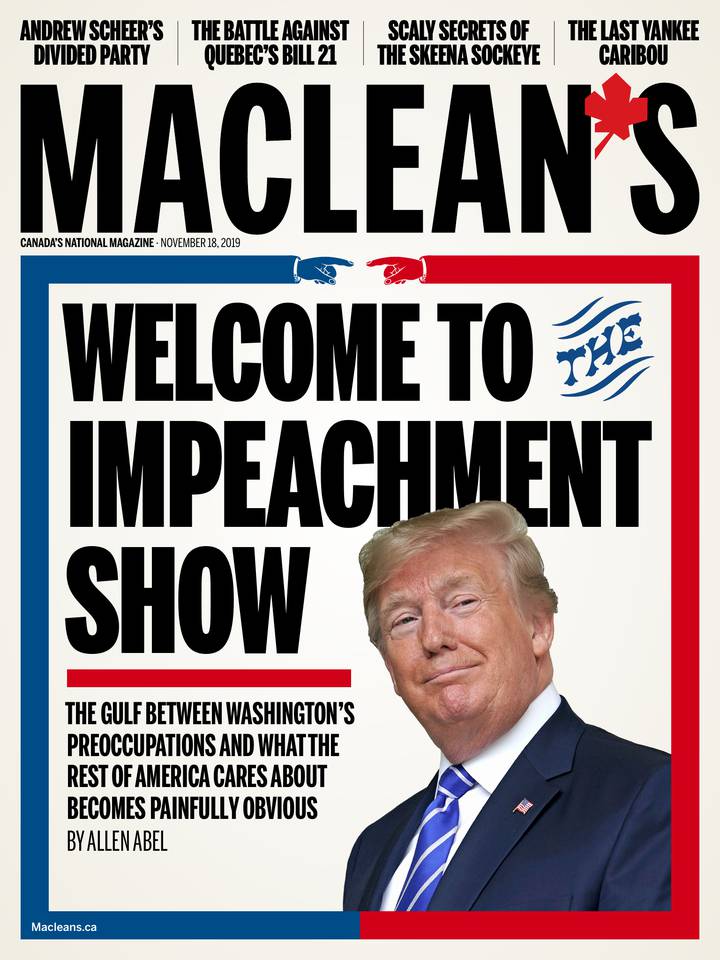 Maclean's
November 18, 2019
Preview
Canada's national current affairs and news magazine
THE COLUMNISTS
Andrew Scheer's divided party
Andrew Scheer, who last week looked like a dead leader walking, has made it through a gruelling caucus meeting and looks ready to fight all the way to the party's convention in April, where he will...
Read More
November 18, 2019
THE COLUMNISTS
Andrew Scheer's divided party
Andrew Scheer, who last week looked like a dead leader walking, has made it through a gruelling caucus meeting and looks ready to fight all the way to the party's convention in April, where he will...
Guns and white supremacists don't mix
When Justin Trudeau was first elected as Prime Minister, he promised a new Canada—one based on a commitment to feminism and Indigenous rights. He also promised to address the loopholes in the gun laws...
NATIONAL
The battle against Bill 21
A Montreal school board is challenging the province's controversial religious symbols ban. Here's how it plans to win. Sure, the leaders of Canada's federal political parties didn't have much to say...
Who voted for Justin Trudeau?
The Liberals won many of the same voters as in 2015. Statistics Canada data shows who backed them and where the Tories fell short. When John Brassard was knocking on doors in Barrie, Ont. in this...
The last Yankee caribou
The Americans have declared the 'Gray Ghost' herd effectively extinct in their country. Why won't Canada take action? High in the mountain wilderness outside Revelstoke, B.C., lives Canada's most...
INTERNATIONAL
A live impeachment
The gulf between Washington's preoccupations and what the rest of America cares about was painfully obvious at the first hearing Crooked Hillary couldn't do it. Big Jim the G-Man couldn't do it...
SOCIETY
What the notebooks knew
Long-lost field journals reveal today's salmon stocks are in dramatically worse shape than imagined It was a rare window into the past: small black field notebooks from the first decades of the last...
MEDIA PLANET
From Thickness to Thriving: How One Woman Maximizes Life with COPD
C hronic obstructive pulmonary discase (COPD) is a progressive lung discasc that results in breathing problems and poor airflow. Its impact on paticnts quality of life can be devastating, and its...
Understanding Pneumonia: Could Your Age Put You at Risk?
Pneumonia is a disease that everyone is aware of, but few know just how serious it can be. Those who do understand best, unfortunately, are those who have lived through it personally and those who...
New Advances Provide Hope for Canadians with Lung Cancer
Complex cancers demand complex solutions Lung cancer can be categorized into two types: small cell lung cancer (SCLC) and non-small cell lung cancer (NSCLC). NSCLC accounts for 80 to 85 percent of...
SOCIETY
Finding the facts in the fiction
All the little things—and big things—to watch out for in season three of The Crown. Warning: there are spoilers. Warning: there are season three spoilers, both large and small, contained within this...
THE BODY Bill Bryson
With a combination of geniality and wit unmatched since P.G. Wodehouse, not to mention an ability to synthesize vast amounts of data, Bryson has crafted a career's worth of bestsellers. The most...
BEYOND THE KNOWN Andrew Rader
Optimism about the future of human civilization is no common thing these days—for good reason, many of us would chorus—and Rader, who at times glosses over past atrocities, can be gratingly cheerful....
PEACE AND GOOD ORDER Harold R. Johnson
An acclaimed author and member of the Montreal Lake Cree Nation who lives on his family trapline in Saskatchewan, Johnson has also worked as both a Crown and defence lawyer. Now he wants to blow up...
ART AND RIVALRY Carol Bishop-Gwyn
Canada has never had a power art couple to match Mary and Christopher Pratt, and not just because they are both deservedly celebrated painters. Any contenders for the title would have to top the...
MUDLARK Lara Maiklem
Mudlarking was once a livelihood for Londoners who scoured the banks of the Thames in search of items to sell. Today, mudlarkers like Maiklem have a different aim. For 15 years she has wandered the...
THE INNOCENTS Michael Crummey
The only title on all three of Canada's major literary prize lists this year richly deserves its accolades. From River Thieves through Sweetland to The Innocents, Crummey has always written brilliant...
AKIN Emma Donoghue
In Room, the novel that brought her international fame, Donoghue explored the life shared by a kidnapped mother and her five-year-old son, both trapped in a small garden shed since his birth. The...
QUICHOTTE Salman Rushdie
Halfway through Rushdie's picaresque new novel, its eponymous protagonist and his son, Sancho, pause their journey cross-America in a New Jersey town where people keep turning into mastodons. It's an...
FRANKISSSTEIN Jeanette Winterson
Most novels about artificial intelligence are set in the future, but ever the contrarian—her 2011 memoir is called Why Be Normal When You Can Be Happy?—Winterson zings back and forth between the...
AGENT RUNNING IN THE FIELD John le Carré
When last seen in 2017's A Legacy of Spies—which had roots stretching back to his 1963 masterpiece, The Spy Who Came in From the Cold—le Carré, then 85, was tidying up his legacy as the greatest spy...
THE BEST FOR LAST
Class war on the water
In one of our favourite stories this week Marie-Danielle Smith chronicles how a proposed expansion of the Royal Vancouver Yacht Club has pitted the yacht folk against rowers who have long plied the...
Thank you
You just used 1 credit. You have left.