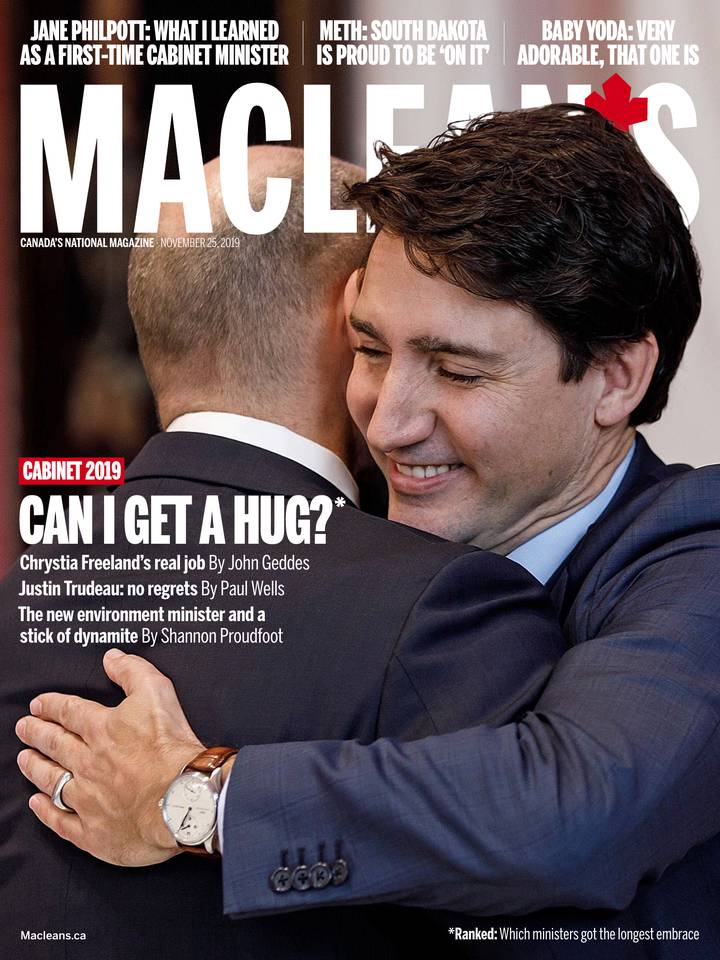 Maclean's
November 25, 2019
Preview
Canada's national current affairs and news magazine
THE COLUMNISTS
Trudeau 2.0: Je ne regrette rien
Today we have naming of parts. If you have a minister of middle-class prosperity and a minister of economic development and an entirely separate minister of rural economic development and a minister...
Read More
November 25, 2019
THE COLUMNISTS
Trudeau 2.0: Je ne regrette rien
Today we have naming of parts. If you have a minister of middle-class prosperity and a minister of economic development and an entirely separate minister of rural economic development and a minister...
NATIONAL
Freeland's real role
Trudeau's new deputy PM is about getting a job done behind closed doors, not winning over voters—least of all in Alberta You can take the gal out of Alberta, they say, presumably, but you can't take...
The minister and a stick of dynamite
Jonathan Wilkinson has a hard job ahead overseeing the climate file. When it came time for Jonathan Wilkinson to walk to the front of the delightfully garish Tent Room at Rideau Hall to be sworn in as...
Still blurry on the western front
A cabinet shuffle was never going to solve Trudeau's regional problem, so instead he tried some overdue words of respect Rather than that stunt-cabinetmaking idea of appointing a non-MP to be Minister...
Still hugging it out?
In 2015, Trudeau spent up to 12 seconds embracing new cabinet ministers. Here's how this year's swearing-in ceremony compares. Last time around, new Prime Minister Justin Trudeau—an admitted "good...
So you made cabinet. Now what?
Ask intelligent questions, Jane Philpott advises, and declare your mind and your opinion—just as you swore you would do Congratulations to the cabinet ministers of the 43rd Parliament. You've reached...
Strongman manoeuvre
A question rang out when Kenney fired his election commissioner. A question rang out across Alberta (and beyond) as people learned that Jason Kenney's government will legislatively turf the elections...
INTERNATIONAL
The Great Presumer
Gordon Sondland, star witness at the impeachment hearings, cited a 'clear quid pro quo.' But by afternoon he was backtracking. "I am so excited that a Yogurtland finally opened in my neighborhood!"...
South Dakota is proud to be 'on' meth
A Midwestern state tests the theory that there's no such thing as bad press South Dakota has a meth problem. According to government data, in 2016, police raided nine meth labs, seizing 64 pounds of...
'These people have nothing to lose'
Protests sweeping Iran are different than those before, says human rights activist Masih Alinejad. This time, the government is scared. The protests began last Friday, and before the weekend was over,...
What has Canada done for Bolivia?
The response from Canada has been empty platitudes about 'fair and transparent' elections and 'standing with the democratic will' A few years before the historian and author C.L.R James published his...
SOCIETY
A royal on the rocks
After a disastrous BBC interview that led many organizations to cut ties with him, Prince Andrew is stepping back from public duties Four days. Well, 93 hours, to be precise. That's the time from when...
MEDIA PLANET
THERE'S NEVER BEEN A BETTER TIME TO BE TREATED FOR PROSTATE CANCER
In 2011, Steve Turner of London, ON was a grandfather of two, a bladder cancer survivor, and still loving his job at the London Health Sciences Centre. He was in good health and high spirits when a...
PROSTATE CANCER TODAY: SURVIVAL IS UP, QUALITY OF LIFE IS IMPROVING
Prostate cancer is the single most common cancer affecting men in Canada and worldwide. The good news is that with effective screening and new treatments, the survival and even cure rate grows year...
NOT JUST SURVIVING PROSTATE CANCER, BUT SURVIVING WELL
Prostate cancer treatments are improving every year. Today, survival rates are at roughly 95 percent five years after diagnosis, and many individual cases of prostate cancer are effectively curable....
SOCIETY
Dear brother . . .
Sheila Morrison tells her younger brother how much she regrets ignoring him while they grew up I AM FOUR, jabbing my Peter Rabbit bowl of quivering strawberry Jell-O studded with Del Monte fruit...
THE BEST FOR LAST
Very adorable, that one is
In one of our favourite stories this week Marie-Danielle Smith writes about the breakout animatronic star of 2020, Baby Yoda—and why he gives us, at last, a real reason for hope AS SOON AS you see it,...
Thank you
You just used 1 credit. You have left.