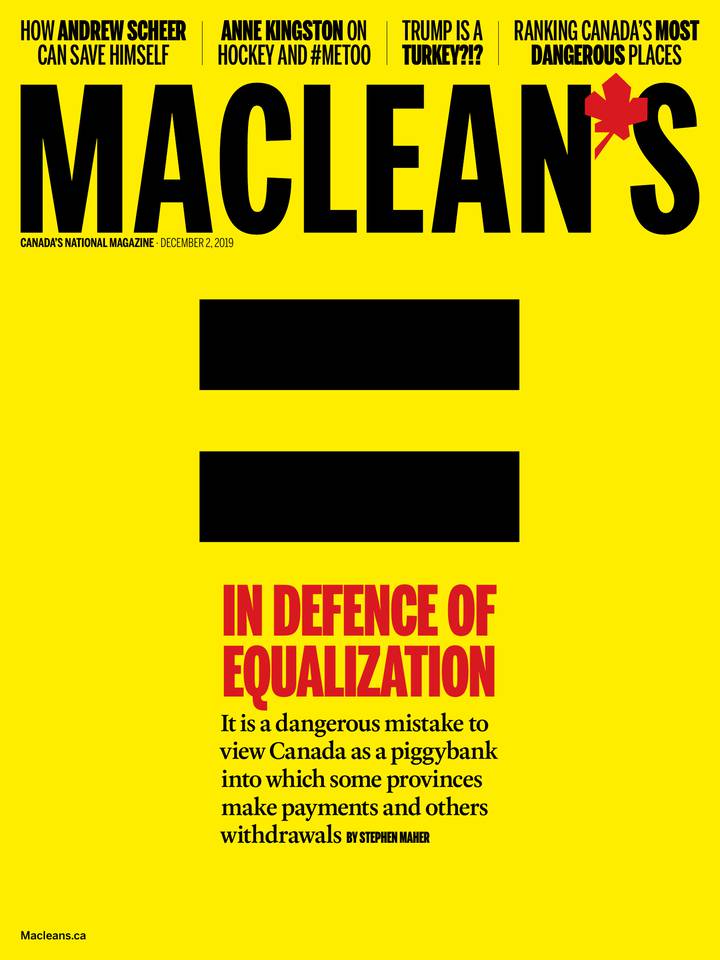 Maclean's
December 02, 2019
Preview
Canada's national current affairs and news magazine
THE COLUMNISTS
Ottawa goes meek and gentle with Beijing
With Beijing's most determined allies decisively crushed by a democratic alliance in Hong Kong's district elections over the weekend, at least somebody's putting up some kind of a fight against Xi...
Read More
December 2, 2019
THE COLUMNISTS
Ottawa goes meek and gentle with Beijing
With Beijing's most determined allies decisively crushed by a democratic alliance in Hong Kong's district elections over the weekend, at least somebody's putting up some kind of a fight against Xi...
#MeToo's influence reaches coaches' corner
Given the recent cascade of first-person player testimony about abusive hockey coaches, it's tempting to say hockey's having its "#MeToo moment." But exposure of the systematic abuse of power and...
NATIONAL
In defence of equalization
It is a dangerous mistake to view Canada as a piggybank into which some provinces make payments and others withdrawals Hugh and Sybil Forbes were living in a trailer park on the outskirts of Fort...
The Conservatives' choices
The party aims to build a winning coalition, stay united and infuriate Liberals. Only one person has done it in the last 30 years. On Friday Andrew Scheer will address the United Conservative Party...
Saving Andrew Scheer
Staffing changes and listening tours won't rescue him. Andrew Scheer needs a plan and a major makeover, fast. It's a poor workman who blames his tools but Andrew Scheer doesn't exactly have much in...
Catherine McKenna's emotion
Some people found McKenna's tearful ode to her children 'uncomfortable.' I believe it showed strength. Catherine McKenna has had a difficult four years. The MP for Ottawa Centre and former minister of...
'Pharmacare now'
Why there has never been a better time for the government to launch a universal public drug plan OPINION A Liberal minority government led by a prime minister with an international following. An NDP...
What would Trudeau do without Chrystia Freeland?
The deputy PM met with Jason Kenney just as the rail strike ended, reinforcing her rep as the government's real problem-solver As foreign affairs minister, Chrystia Freeland accomplished what few...
The people Via Rail is leaving behind
The Crown corporation's new no-cash rule for buying food hurts the 10 per cent of the population that doesn't have a credit card At the end of October, Via Rail announced that it would only accept...
Canada's violent crime capital
The northern city of Thompson, Man., is struggling with stabbings, assaults and other offences. It can't solve the problem on its own. It's the "machete kids" that worry Donnel Jonsson most. The...
How we ranked Canada's most dangerous places
The national crime rate has crept up, and some communities have a much bigger problem than others It's bad news for municipalities that have previously found themselves labelled Canada's most...
Canada's 20 most dangerous places
Our 2020 ranking of the places with the highest level of overall crime in the country Based on Statistics Canada data compiled by Maclean's for its annual ranking of Canada's most dangerous places,...
INTERNATIONAL
An unimpeachable 'Trump'
'This turkey is not controversial,' said a Long Island innkeeper. The American republic looks toward Thanksgiving and Christmas, its president only to a long season of fury and distraction and...
SOCIETY
Disease in a dish
Alternatives to testing drugs on animals include taking cells from cadavers and engineering them through 3D-bioprinting Over lunch at the Canadian Centre for Alternatives to Animal Methods (CCAAM),...
The only thing Prince Andrew can do now
Either he comes clean—and helps bring Epstein to account—or Prince Andrew commits himself to a life of obscure ignominy Having immolated in spectacular fashion on the nation's top news broadcast, it...
THE BEST FOR LAST
The confusion box
In one of our favourite stories this week Jaime J.Weinman reports on the new streaming services that are cropping up: It can be a challenge to know what to watch and where. Not to mention how much...
Thank you
You just used 1 credit. You have left.