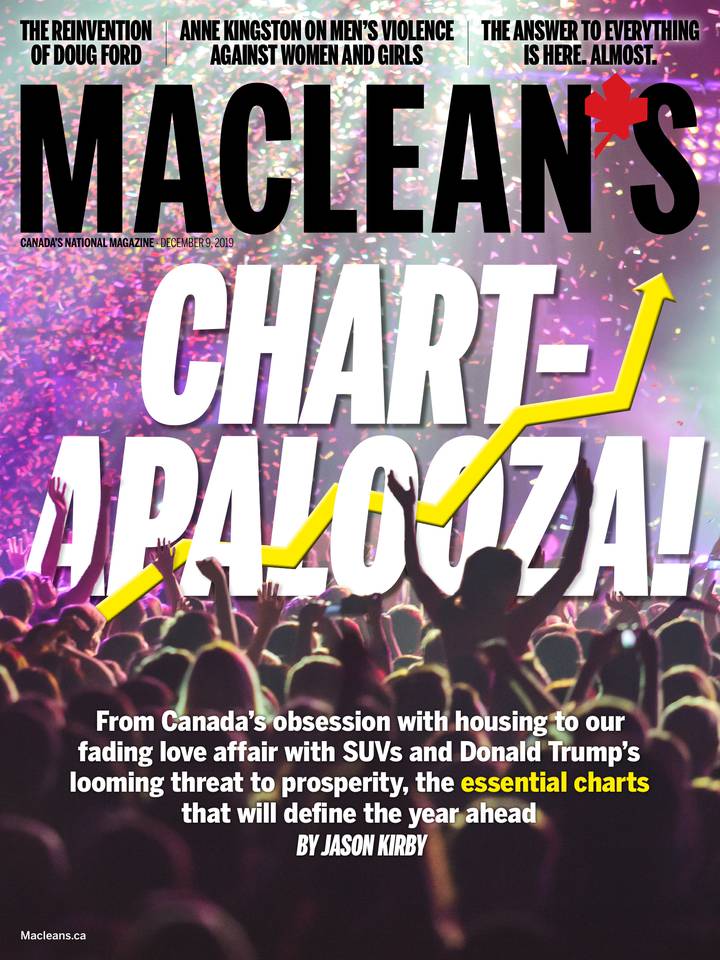 Maclean's
December 09, 2019
Preview
Canada's national current affairs and news magazine
THE COLUMNISTS
Call 'violence against women' what it really is
We're more than a week into the now-institutionalized time of year devoted to eliminating "violence against women." Nov. 25, International Day for the Elimination of Violence Against Women, marked the...
Read More
December 9, 2019
THE COLUMNISTS
Call 'violence against women' what it really is
We're more than a week into the now-institutionalized time of year devoted to eliminating "violence against women." Nov. 25, International Day for the Elimination of Violence Against Women, marked the...
NATIONAL
More will be done
If the Liberals' goal was to be deliberately vague, well, the Trudeau team's speechwriters absolutely nailed it Well, they're back. It's hard to fault a government for doing what it said it would....
Trudeau pours on the restraint
The minority Liberal government's Speech from the Throne was a vaguer road map than the confident, shiny plan of 2015 The previous post-election Speech from the Throne of Justin Trudeau's government,...
Don't be a jerk
A plea to new MPs: You're going to see your colleagues heckle, and it's a stain on the beating heart of our country. Welcome to Ottawa! Let me begin by assuring you it gets warmer. I recommend finding...
From residential school runaway to MP
The trailblazing former cabinet minister, Ethel Blondin-Andrew, is year's Maclean's Lifetime Achievement Award winner Ethel Blondin-Andrew's story might easily have been one of many turned short and...
No more Mr. Mean guy
There's a plan to rescue Doug Ford's unpopular premiership: stop picking fights and play well with others—including the Prime Minister Toronto's happiest day in many years was not a good day for Doug...
A potential great leap forward
A Senate motion puts the Liberals at a crossroads. Will they break with their party's entrenched pro-China lobby? A long-overdue parliamentary showdown with the Beijing-friendly wing of the Liberal...
Who likes Andrew Scheer?
Alberta Conservatives gathered to listen to their federal party leader. Even that crowd was not very impressed. Andrew Scheer stood in front of a room full of Alberta Conservatives who were given blue...
Facebook-era McCarthyism
Alberta's economy is in turmoil, and Jason Kenney is waging a war against those who were allegedly disloyal to the oil and gas sector OPINION Quick: What do you remember about the 2004 federal...
The truth about dangerous cities
How can we talk about crime—and where it's happening—without talking about the conditions that create and sustain it? Canadian anthropologist Wade Davis tells a story in his 2004 Massey Lectures about...
INTERNATIONAL
The 'safe zone' lie
Turkey vowed to rid northern Syria of terrorists and create a 'safe zone' for refugees. Instead, terrorists have taken over. Almost two months after Turkish forces rumbled into Syria's north, the...
Macron's slap-down of Trump says much about the state of world politics
'Let's be serious,' the French president told his U.S. counterpart, while keeping a straight face When a reporter asked President Donald Trump and his French counterpart, Emmanuel Macron, about...
ECONOMY
Charts to watch in 2020
Canada's obsession with housing continues, its love affair with SUVs begins to fade and Donald Trump looms large as a threat to prosperity. By Jason Kirby Growth will lift if trade uncertainty abates...
SOCIETY
The answer to everything
Quantum computing will solve problems so complex we don't even know we have them It's been hailed as a breakthrough on the scale of the Wright brothers' first motorized airplane flight: a quantum...
MEDIA PLANET
Canada's New Approach for Innovative Therapies
Following years of advocacy led by the Canadian Organization for Rare Disorders, the Canadian rare diseases community finally has something to cheer about. In December 2018, the provincial and...
Working Towards Pharmacare With Dr. Eric Hoskins
Prescription medicines offer great promise for people with acute and chronic illnesses. Yet for many Canadians, they remain too expensive and out of reach. onein five households reports a family...
How the Future of IBD Care Lies in Telemedicine
Living with inflammatory bowel disease (IBD) can be an incredibly challenging reality. The 270,000 Canadians living with Crohn's disease or ulcerative colitis (the main forms of IBD) are often...
Specialty Pharmacies Help Rare Disease Patients Navigate Their Treatment Journey
ving with a rare disease can be a chal-| lenging and overwhelming time for the estimated 3 million Canadians who are affected. Often the path to the right treatment can feel like an uphill climb, with...
Seeing the Big Picture: How Data Integration Can Improve Health Care Outcomes
he Canadian health care system 1s a wonder in many ways. Unfortunately, though our medical technology is twenty-first century, the way we leverage data is stuck in the dark ages. The information age...
Travel Smart: How Access to Prevention Can Save Your Vacation
A reported 98 percent of travellers will make a food or drink error within the first few days of arriving at a foreign destination. And that can result in traveller's diarrhea — most often caused by...
How Virtual Care Solutions Improve Access to Health Care
Today, five million Canadians do not have a family doctor, and more than half find it difficult to get quick access to after-hours care. "Given this landscape, people are either trying to find an...
How Canadian Orthopaedic Surgical Innovation Is Changing Lives
At just 34 years old, Adam, an Ottawaarea heavy machine mechanic, was plagued by unrelenting, and steadily worsening, pain in his knee. Despite trying every non-surgical treatment option available,...
SOCIETY
Real-life whodunnits
True-crime investigations into the deaths and disappearances of Canadian tycoons reveal shoddy police work One hundred years ago, on Dec. 2, 1919, 53-year-old Ambrose Small disappeared, never to be...
A deadly disparity
When I tried to kill myself, I received the diagnosis and ongoing help I needed. Why don't Indigenous people? A 10-year-old killed herself at Makwa Sahgaiehcan First Nation on Nov. 21. A 10-year-old....
THE BEST FOR LAST
Shining a very big light on inequality
In one of our favourite stories this week Adrienne Tanner reports on Vancouver's latest piece of public art: a vision of opulence in the type of space where homeless people seek shelter The 3,400 kg...
Thank you
You just used 1 credit. You have left.