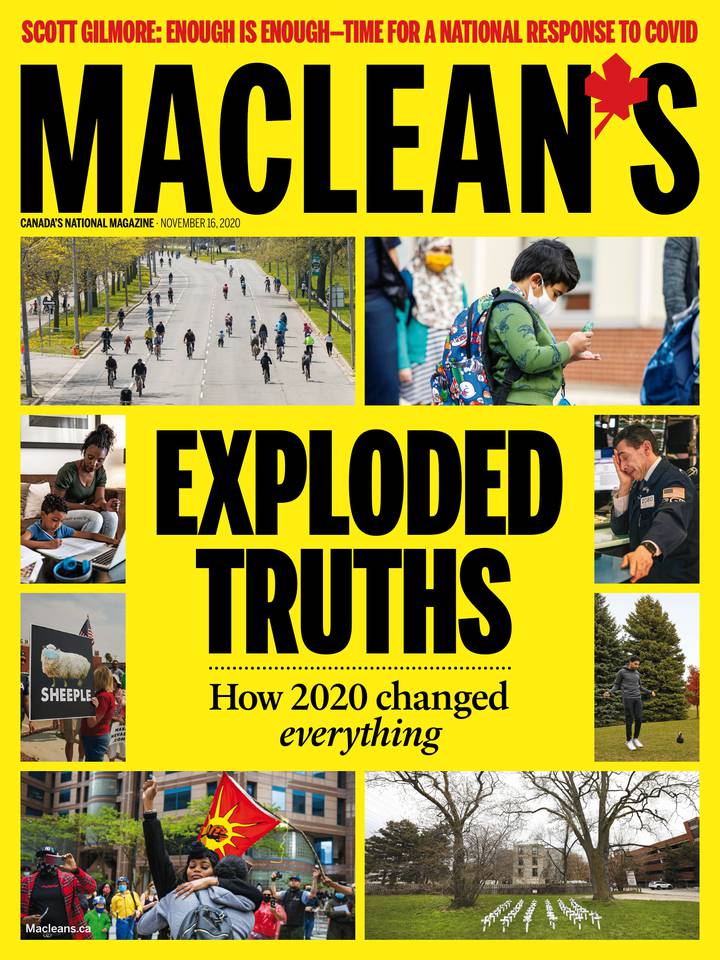 Maclean's
November 16, 2020
Preview
Canada's national current affairs and news magazine
Summary
Truths, exploded
It seems almost cruel to point this out, but 2020 was once considered an aspirational year. Thanks to its association with perfect eyesight, "Vision 2020" had an extensive reign as the preferred title...
Read More
November 16, 2020
THE EDITORIAL
Truths, exploded
It seems almost cruel to point this out, but 2020 was once considered an aspirational year. Thanks to its association with perfect eyesight, "Vision 2020" had an extensive reign as the preferred title...
THE COLUMNISTS
It's time for a national response to COVID
The COVID vaccine is here, we're all saved. Except, not yet. And not all of us. The drug companies need to complete their trials. Then billions of doses need to be manufactured, and then the general...
Biden's bench strength
I tend to agree with author Timothy Snyder, who argues that Donald Trump's refusal to acknowledge the thumping defeat he has suffered is not a trivial tantrum. If the President could make it stick, he...
EXPLODED TRUTHS
'Democracy is destiny'
The worst system except for all the others has been under attack for years. Trump just made us notice. It's not easy to run for the presidency of your country when you find yourself facing charges of...
'The future is virtual'
It has become clear in more ways than we would have thought to count: you actually need to be there Return with us now to a simpler time, a time when the future seemed clean and elegant and drawn in...
'Rich countries can overcome'
The awful response to the pandemic put the final nail in the myth of liberal democracy's pre-eminence Like so many people of my generation, I remember the day in 1991 the Berlin Wall fell. The...
'In a crisis, leaders will lead'
The job description is right in their title, but too many simply failed to show up for work History is fond of remembering leaders during times of crisis. Wartime quotes by Franklin Roosevelt and...
'Women are winning at work'
The economic crisis exposed troubling inequalities and obstacles once thought a thing of the past If you are a working-age woman, chances are you grew up knowing that, someday, you would be expected...
'The individual is supreme'
Our decades-long love affair with rugged independence has suddenly fallen away If there's one symbol we'll remember from a year we'd rather forget, it's the mask. That fabric first line of defence...
'The stock market has meaning'
Long treated as a key economic indicator by many, it is now completely detached from our grim reality While America's COVID-19 body count continued to grind higher in October, and the U.S. flashed...
'Climate change can't be stopped'
After decades of planet-threatening growth, emissions fell off a cliff. Environmentalists sense a turning point. Readers occupied with COVID-19 and American politics may be forgiven for having missed...
'We value our seniors'
Decades of promises to improve the quality of life of elderly Canadians have gone unfulfilled "You are a waste of space," a nurse told 88-year-old Mary Wilton in the summer of 2019 after the...
'Kids are resilient'
Children's ability to bounce back has been pushed to a breaking point, and exposed some ugly inequalities My son is six and eagerly learning to write, though his sentences sometimes require arrows to...
'Running errands is boring'
Rushing out to get milk was once the height of tedium. Today, it's an anxiety-inducing thrill ride. Think back to the before times and what it felt like to realize there was only a teaspoon of milk...
'We need gyms'
The pandemic shutdown forced a reality check: all that time spent in the gym was more luxury than necessity What's the first thing that comes to mind when you think about health and fitness? Most...
'Bureaucracy is slow'
The pandemic forced a culture shift on government, proving that red tape really can be cut When governments get something right, generous politicians sometimes give the credit to hard-working public...
'You can ignore racism'
Denying systemic racism is no longer tenable. But will the outrage of the past summer translate to substantive change? It is a hard thing, to think of a deeply held notion that has been dispelled when...
THE BEST FOR LAST
The royal treatment
In one of our favourite stories this week Patricia Treble delves into the new season of The Crown, which focuses on the doomed fairy-tale royal couple and the British prime minister of the day,...
Thank you
You just used 1 credit. You have left.