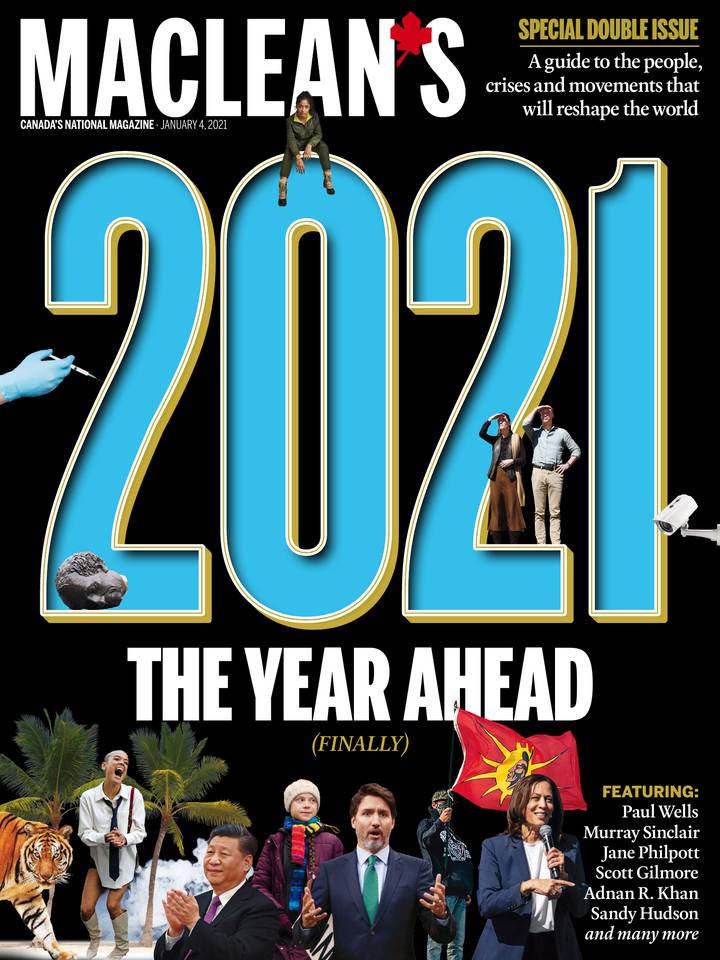 Canada's national current affairs and news magazine
Summary
Decanting prisons
CANADA'S PRISONS HAVE been hit hard by COVID-19. Could the response to date point to a more just and efficient criminal justice system once the crisis is over? The chance of becoming infected with...
Read More
January 4, 2021
THE EDITORIAL
Decanting prisons
CANADA'S PRISONS HAVE been hit hard by COVID-19. Could the response to date point to a more just and efficient criminal justice system once the crisis is over? The chance of becoming infected with...
THE COLUMNISTS
Leadership for all our relations
Discovering the pandemic's real toll, bracing for turbulent times and protecting life's small joys. There is much to hope for in 2021. And a lot of work to do. In 2021, we must act to protect the...
Slowly counting the dead
"Hindsight is 20/20," or so the saying goes. Maybe the catchphrase was a foreshadowing. Maybe it was a clue that 2020 would be the year we will perpetually analyze in retrospect, evaluating the...
The year of empathy
My father's family were Russian Jews. Most left for Britain at the beginning of the 20th century, but some remained. We kept in contact with part of the clan, and as a child I met my very Russian,...
To reckon and not reconcile
At the beginning of the pandemic, and at a time when Canadian government officials were locking down daily life and telling Canadians to stay home, Dene National Chief Norman Yakeleya echoed the words...
2021: Once more but with feeling
My favourite poet is T.S. Eliot, mostly because I never took second-year English and he was about as far as I got in the canon. Regardless, Eliot wrote in his poem "Little Gidding" that "to make an...
NATIONAL
Old man Trudeau
The leader who rode youthful optimism to power will now contend with a pack of fresh faces in a likely election year After Donald Trump had been defeated by president-elect Joe Biden, but before Trump...
Relationship advice
A Biden-Trudeau partnership will require real work, and breaking a decades-old trend of leader pairings gone bad Don't bank on this, but there's a chance that the big political story of 2021 will be a...
Ottawa's gambit
There will be a new foreign policy agenda: getting ahead (and getting heard) in an unfriendly, chaotic world In the iconic West Wing episode "Hartsfield's Landing"—recently adapted by most of the...
Calling out inaction
First Nations are demanding recognition of rights in a chain of potential flashpoints across the country NO REGION is exempt from the challenge of fulfilling Indigenous rights through action—a...
Home ice disadvantage
Will Canada finally mount a come-from-behind effort to join the global icebreaker arms race? Joe Clark wasn't the first Canadian politician to promise the world's most powerful icebreaker, and he...
ELECTRIC BLANKETS ARE COOL AGAIN
The urbanite spins a record on the turntable and shakes a cocktail under the soft light of an Edison bulb. Drive-in movie theatres are closed for the season, so what will it be tonight? Maybe a jigsaw...
Burying Sir John A. Macdonald
The first prime minister will no longer be put on a pedestal as the debate turns to what to put up in his place Mi'kmaq historian Daniel Paul believes that Sir John A. Macdonald's days in the sun are...
Friend and foil
Is Ottawa Jason Kenney's benefactor or his political straw man? Either way, he's never needed the feds more. A mid-year fiscal update showed Alberta getting uncomfortably close to levels of reliance...
A SPECIAL INTEREST SECTION BY MEDIAPLANET
Let's End Diabetes Together
In 2021, we'll mark the 100th anniversary of the discovery of insulin — a revolutionary scientific achievement that has changed the lives of people with diabetes. Co-discovered by Canada's Sir...
How Digital Access Is Improving Health Care
Shifting from paper to electronic medical records (EMRs) lets Canadians become more engaged in their health care. With COVID-19 prompting wide and rapid uptake of virtual care, the pressure to...
Why Data Is the Key to Managing Your Health
You know your height, weight, and current medications. But do you know the results of your last lab test? For many of us, personal health information (PHI) remains siloed in clinicians' electronic...
INTERNATIONAL
Patient Access & Empowerment
The first step to advocating for better access to medical information, treatments, and care is gaining a solid understanding of the health care system we're a part of. Mediaplanet asked leading...
Trump reloaded
Tens of millions of Americans are not about to give up on Donald Trump's politics. One small town in Idaho may offer a taste of what's in store for the United States. Back at the end of October,...
President on the lam
In a bid to avoid prison, where might Donald Trump run? Our complex scoring system points to one perfect place. Donald Trump seems particularly ill-suited to prison life. Although self-awareness is...
PIÑATA CAKES BUST OUT
TENNAYA RACH WAS laid off from her job as an event planning assistant at a Toronto hotel last spring, when COVID-19 made it clear there wouldn't be any events for a good, long time. Now she has turned...
A SPECIAL INTEREST SECTION BY MEDIAPLANET
Lung Health & Infectious Disease
During the Pandemic, We All Need One Less Thing to Worry About 2020 has had a lot of twists and turns. The COVID-19 pandemic introduced Canadians to physical distancing, masks, and large-scale remote...
Please Follow Britain's Guidance
You may wonder why an American professor accepted an invitation from the Canadian Vaping Association to author an article about e-cigarettes. In part, it's because I want to apologize to you for the...
Antibiotics May Cure Infections, but They Also Kill Beneficial Microbes
Infections — especially during their winter peak — can leave us weak and susceptible to other illnesses. Bacterial and viral infections are associated with disruptive changes in the intestinal...
ECONOMY
The boss is watching
The pandemic unleashed new forms of digital employee surveillance that are likely here to stay In a video he recorded on his smartphone—in-person tours are out of the question these days—senior...
DRY ICE GETS HOT
When assessing the logistical challenges of distributing hundreds of millions of coronavirus vaccine doses across North America, a University of Texas molecular scientist remarked during a recent...
SOCIETY
Their (cautious) kingdom come
As Will and Kate assume more duties, we get a glimpse of the future monarchy: casual, private and just a bit bland The destiny of the elder son of the heir to the throne was set from birth. His Royal...
Fresh faces and old(er) friends
In 2021, Canadians will be all over big and small screens plus—COVID permitting—singing to live audiences again. By Jaime Weinman Simu Liu The Kim's Convenience actor was chosen by Marvel Studios to...
Rebirth and reclamation
A cultural renaissance is blooming in Canada, led by Black and Indigenous artists and writers On Gaukel Street in Kitchener, Ont., perpendicular to city hall, a black bear greets pedestrians with...
'Courage and truth'
Black Lives Matter activists on what needs to happen next Sandy Hudson is a co-founder of Black Lives Matter Toronto (BLM-TO) and a bestselling author and public intellectual who is currently living...
A SPECIAL INTEREST SECTION BY MEDIAPLANET
Q&A with D ragons' Den
Dragons' Den's Jim Treliving, Manjit Minhas, Arlene Dickinson, Lane Merrifield, Vincenzo Guzzo, and Michele Romanow weigh in on how entrepreneurs and small businesses have adapted to the new normal...
Transformation in a Time of Crisis
If a business didn't have a digital presence before the pandemic, it more than likely has one now. In fact, Salesforce estimates that the pandemic has led to 10 years' worth of e-commerce adoption in...
In the Midst of the Pandemic, the Workplace Revolution Is Here
Society is in the midst of a modern-day workplace revolution as COVID-19 completely resets how and where we do our jobs. What started as a short-term reaction to the pandemic is quickly becoming a...
Small Business, Big Change: Innovation in Canada's Entrepreneurship Community
As the COVID-19 pandemic progresses, it's vital to celebrate the Canadian entrepreneurs who are disrupting their industries and delivering thoughtful, innovative solutions to consumers. However, it's...
Make Working from Home Work Better for Your Employees
When COVID-19 forced Canadians to start working from home, many thought it was a short-term solution. However, a recent survey reveals that most Canadians have new expectations about the future of...
Small Businesses Get High Value from Samsung Tech Solutions
Innovative IT-ready and mobile solutions from Samsung offer the perfect support for SMBs looking to adapt to our new normal. In a notoriously difficult year, Canadian small- and medium-sized...
SOCIETY
Comfort, clarity and a little escape
Echoes of 2020 will permeate the design trends of 2021, with a focus on wellness, diversity and an extra kick to your kombucha. By Alicia Cox Thomson Home Decor: Sweet Escape From the nostalgic charm...
OF PLAIN BROWN WRAPPERS
CIGAR STORES HAVE long overwhelmed the senses with pungent aromas. But a new sensation—a visual one—will overtake walk-in humidors and emporiums in 2021: drabness. The familiar sea of colourful boxes...
Joy to the world
The pandemic wreaked global trauma in 2020. But the crisis also offers a chance to appreciate life's gifts. In October 2015, when Sarah Jackson was due to wed, the bride-to-be made one critical...
Dear acquaintance . . .
We barely knew each other, but those casual chats meant more than I ever realized YOU HAVE BEEN a small but necessary part of my life for the past two years. We didn't plan our meetings like I did...
Thank you
You just used 1 credit. You have left.